Epeolatry Book Review: Classic Monsters Unleashed, ed. James Aquilone


Disclosure:
Our reviews may contain affiliate links. If you purchase something through the links in this article we may receive a small commission or referral fee. This happens without any additional cost to you.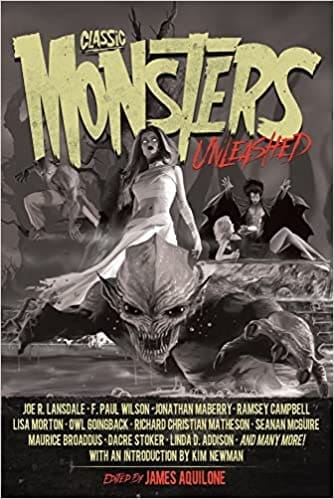 Title: Classic Monsters Unleashed
Author: Various, ed. James Aquilone
Publisher: Crystal Lake Publishing/Black Spot Books
Genre: Horror
Release Date: 12th July, 2022
Synopsis:
Stories of famous monsters in a new horror anthology featuring Joe R. Lansdale, F. Paul Wilson, Jonathan Maberry, Ramsey Campbell, and many others.
Dracula, Frankenstein's Monster, the Bride of Frankenstein, Dr. Jekyll and Mr. Hyde, Dr. Moreau, the Headless Horseman, the Invisible Man, the Phantom of the Opera, the Wicked Witch of the West—they're all here, in this collection of horror short stories that reimagine, subvert, and pay homage to our favorite monsters and creatures.
Written by the biggest names in the genre—including Joe R. Lansdale, F. Paul Wilson, Jonathan Maberry, Ramsey Campbell, Lisa Morton, Owl Goingback, Richard Christian Matheson, Seanan McGuire, Maurice Broaddus, Dacre Stoker, Linda D. Addison, Alessandro Manzetti, Tim Waggoner, John Palisano, Mercedes M. Yardley, Lucy A. Snyder, Gary A. Braunbeck, Rena Mason, and Monique Snyman.
And monstrously illustrated by Colton Worley and Mister Sam Shearon.
Monsters represent a good portion of classical horror fiction (Dracula, Frankenstein's creature, The Wolf Man, The Zombie, The Phantom of the Opera, The Invisible Man, etc.) so revisiting these horrific creatures became a logical choice for a new short story anthology.
The present volume includes twenty-nine tales and a poem, too much material allowing for a systematic review of its contents.
Specific stories have especially impressed this reviewer and here they are:
"Dreams" by F Paul Wilson is an excellent, vivid piece addressing and following up Frankenstein's monster account from the creature's point of view.
"The Viscount and the Phantom" by Lucy A Snyder is an enticing gothic story inspired by The Phantom of The Opera, blending violence and weirdness in a sinister atmosphere.
Michael Knost contributes "The Nightbird", a strong, perceptive take on vampirism and the loneliness of the vampire condition.
I'm not quite sure who the monster inspiring "Give Me Your Hand" by David Surface, overlooked in the pre-publication reviews, yet it's one of the very best pieces in the volume for its dark atmosphere, and the perfect mix between reality and dream.
Gary A Braunbeck provides "Mai Doon Izhan" an insightful tale revisiting werewolves in a vivid yet delicate fashion.
Among the other numerous contributors, I'd like to mention distinguished authors Ramsey Campbell, Joe R Lansdale, Alessandro Manzetti, Richard Christian Matheson, Lisa Morton, Simon Bestwick, John Palisano, and Tim Wagonner. In my opinion their stories included therein are not always up to par but I'm sure their fans will find a good reason for rejoicing.
Just take your pick.


/5
About the Author
Latest Posts
Mario Guslandi was born in Milan, Italy, where he currently lives. A long time fan of dark fiction (especially short stories)he's probably the only Italian who reviews horror and supernatural tales in English. Over the years his reviews have appeared in many genre sites such as Horrorworld, The British Fantasy Society, Hellnotes, Emerald City, SF Revu, Thirteen O' Clock, etc.