Disclosure:
Our reviews may contain affiliate links. If you purchase something through the links in this article we may receive a small commission or referral fee. This happens without any additional cost to you.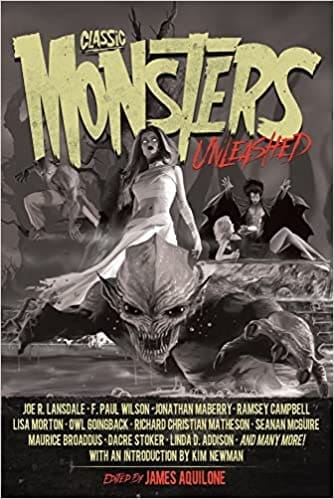 Title: Classic Monsters Unleashed
Author: Various, ed. James Aquilone
Publisher: Crystal Lake Publishing/Black Spot Books
Genre: Horror
Release Date: 12th July, 2022
Synopsis:
Stories of famous monsters in a new horror anthology featuring Joe R. Lansdale, F. Paul Wilson, Jonathan Maberry, Ramsey Campbell, and many others.
Dracula, Frankenstein's Monster, the Bride of Frankenstein, Dr. Jekyll and Mr. Hyde, Dr. Moreau, the Headless Horseman, the Invisible Man, the Phantom of the Opera, the Wicked Witch of the West—they're all here, in this collection of horror short stories that reimagine, subvert, and pay homage to our favorite monsters and creatures.
Written by the biggest names in the genre—including Joe R. Lansdale, F. Paul Wilson, Jonathan Maberry, Ramsey Campbell, Lisa Morton, Owl Goingback, Richard Christian Matheson, Seanan McGuire, Maurice Broaddus, Dacre Stoker, Linda D. Addison, Alessandro Manzetti, Tim Waggoner, John Palisano, Mercedes M. Yardley, Lucy A. Snyder, Gary A. Braunbeck, Rena Mason, and Monique Snyman.
And monstrously illustrated by Colton Worley and Mister Sam Shearon.