Epeolatry Book Review: All the Dead Lie Down by Kyrie McCauley


Disclosure:
Our reviews may contain affiliate links. If you purchase something through the links in this article we may receive a small commission or referral fee. This happens without any additional cost to you.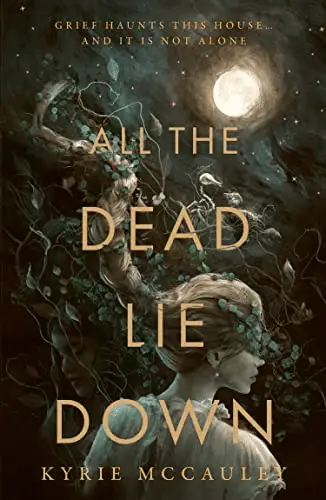 Title: All the Dead Lie Down
Author: Kyrie McCauley
Genre: YA Horror/ LGBTQ/ Supernatural
Publisher: Magpie
Release Date: 25th May, 2023
Synopsis: The Haunting of Bly Manor meets House of Salt and Sorrows in award-winning author Kyrie McCauley's contemporary YA gothic romance about a dark family lineage, the ghosts of grief, and the lines we'll cross for love.
The Sleeping House was very much awake . . .
Days after a tragedy leaves Marin Blythe alone in the world, she receives a surprising invitation from Alice Lovelace—an acclaimed horror writer and childhood friend of Marin's mother. Alice offers her a nanny position at Lovelace House, the family's coastal Maine estate.
Marin accepts and soon finds herself minding Alice's peculiar girls. Thea buries her dolls one by one, hosting a series of funerals, while Wren does everything in her power to drive Marin away. Then Alice's eldest daughter returns home unexpectedly. Evie Hallowell is every bit as strange as her younger sisters, and yet Marin is quickly drawn in by Evie's compelling behavior and ethereal grace.
But as Marin settles in, she can't escape the anxiety that follows her like a shadow. Dead birds appear in Marin's room. The children's pranks escalate. Something dangerous lurks in the woods, leaving mutilated animals in its wake. All is not well at Lovelace House, and Marin must unravel its secrets before they consume her.
I am drawn to stories about haunted houses, and their haunted occupants, with dark forests holding dark secrets in the background, family mysteries, deaths, and more than a hint of the supernatural at play – so this novel, McCauley's début title with Magpie Books, ticked all those boxes and more than delivered. 
Up front: I absolutely devoured this book with relish and loved the characters. It's not often I can say I was swept up into the silky-smooth narrative and was walking alongside the mainly female cast of characters.
Marin Blythe has been orphaned after a horrific accident. Aged seventeen she is alone in the world – or so she thinks – until an old friend of her late mother, the famous and wealthy horror writer, Alice Lovelace, offers her a job and a lifeline as nanny to Alice's young daughters, Wren and Thea.
So far, so wonderful and Marin is delighted to accept the offer. 
However, the girls are not welcoming nor easy to like. The youngest, Thea, (an affectionate little girl) has the odd habit of burying her dolls in the nearby woods; the oldest, Wren, plots horrible pranks aimed to get rid of their new nanny; Alice is an absent and distracted parent; only the cook/housekeeper Neera has a kind word for Marin.
Hovering over the entire family is the spectre of the recent death of Charles Hallowell, father and husband and anchor to normality. The women are wrecked on the rocks of grief, and rudderless.
Meanwhile in the (dark, dark) woods, something is waking and stalks the shadows scaring the girls and Marin. 
Marin however is desperate to fit in, to belong and find a second home with the Lovelaces, her only tie to her mother. Yet how can she, when the girls seem to want her gone? She can feel the web of lies and deceit around her.
Into this heady, bizarre atmosphere Evie, the eldest of the trio of Lovelace daughters, arrives home from college, unexpectedly. Who summoned her back? And why?
Evie is unlike anyone Marin has ever met. She has secrets which will turn Marin's life, emotions, and world upside down. Evie also holds the answers to: The horror in the woods, the forest cemetery, the secrets the House hides, her father's tragic drowning, Alice's increasingly destructive behaviour, why death seems to stalk the family.
I don't want to give anything away in this review, for there are several delicious twists and reveals to enjoy in the latter half of the novel – one of which was a real shocker, at least to this reader.
The finale in the flooded basement and underground crypt (I do love a spooky crypt – happy sigh), is excitingly written, powerfully dramatic, and very creepy.
However, there is also a tender and rather wonderful love story threaded through the supernatural goings on – the one between Evie and Marin. McCauley paints the young women's burgeoning romantic feelings with a delicate brush. Both girls have lost so much, both are at sea in grief, both have secrets (some bigger than others), and both want to belong to someone. You can't help but root for them. 
McCauley has created a magical, dark, fascinating world filled with strong, bewitching women, who must carve their destinies from the diabolic hand they've been dealt. 
Don't hesitate; step into that world and be enchanted.


/5
About the Author
Latest Posts
Alyson lives in the UK; her fiction has been published widely in print anthologies – DeadCades, Women in Horror Annual 2, Trembling with Fear 1 &2, Coffin Bell Journal 1 and Stories from Stone and in ezines, most often on the Horror Tree site, Siren's Call and The Casket of Fictional Delights. In May 2019 Night of the Rider, was published by Demain, in their Short Sharp Shocks! E book series and reached the amazon kindle top 10 best seller lists. Her work has been read on podcasts (eg Ladies of Horror), shortlisted in competitions and published in charity anthologies. Future work will appear in anthologies from Things in the Well, Mortal Realm and Twisted Wing Publishers.
She performs at open mics, teaches, edits and hangs out with her dog on the moor in all weathers.
https://alysonfayewordpress.wordpress.com/
Twitter @AlysonFaye2