Epeolatry Book Review: A Scream Full of Ghosts by Jane Nightshade


Disclosure:
Our reviews may contain affiliate links. If you purchase something through the links in this article we may receive a small commission or referral fee. This happens without any additional cost to you.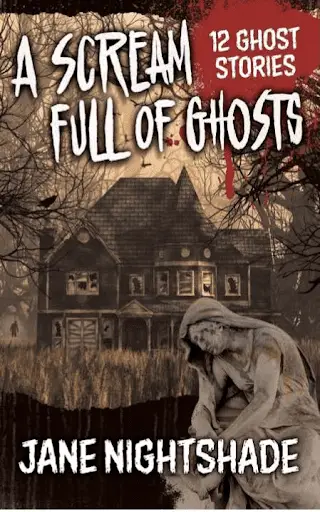 Title: A Scream Full of Ghosts
Author: Jane Nightshade
Publisher: Dark Inn Books
Genre: Horror literature and Fiction, Short stories
Release date: 20th May, 2023
Synopsis: Jane Nightshade updates the traditional Victorian ghost story for the age of the Internet in her debut collection of stories, A Scream Full of Ghosts. With 12 terrifying paranormal tales, there is a haunting story for every lover of the macabre.
A young couple trying to figure out why the hardwood floors in their brand-new tract house appear to be haunted: an unemployed single mom who cancels her home meals subscription service but can't get rid of the delivery man; a couple of YouTubers whose plans to make a viral video go darkly awry; and a jilted young lawyer who finally finds the perfect woman, except that there's something terribly wrong with one of her arms. These and other ghostly delights are just a few shuddery pages away in A Scream Full of Ghosts.
Everybody likes a good ghost story, especially if well told and if the narrator is able to avoid the standard genre clichés (not an easy task, believe me).
So welcome to Jane Nighshade for joining us and for providing a bunch of new ghost stories.
Obviously not all the featured tales are great (that would be superhuman and ghostly indeed!) but most of them entertained and elicited those gentle shivers that we are looking for.
"The Beekeeper's House" is an engrossing tale where a couple recently moved into a country house and must endure the curse of nasty bees haunting the area.
"The Brotherhood of the Traveling…Thing" is a pretty good tale revolving around a wax statue which is not really what it looks. "Footdazzle" is a dark story where a pair of fancy shoes attract the attention of a long dead former actor.
In "Red Onion", a kind of modern fairy tale, a mysterious man helps a young mother feed and protect her kid. The entertaining "Regeneration Wood" tells how the supernatural bursts the quiet life of an ordinary family.
Enjoy your ghosts!

/5
About the Author
Latest Posts
Mario Guslandi was born in Milan, Italy, where he currently lives. A long time fan of dark fiction (especially short stories)he's probably the only Italian who reviews horror and supernatural tales in English. Over the years his reviews have appeared in many genre sites such as Horrorworld, The British Fantasy Society, Hellnotes, Emerald City, SF Revu, Thirteen O' Clock, etc.