Dark Horse Expands Partnership With Penguin Random House Publisher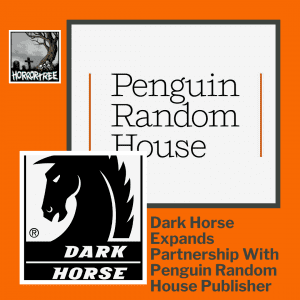 Dark Horse Comics, known for their comics, graphic novels, and mangas with such titles as Mazebook, Outlander, Army of Darkness, and The Thing, has expanded its partnership with Penguin Random House Publisher to distribute Dark Horse's newly published and back list comic book periodicals, graphic novels and manga to the Direct Market comic shops. This is a multi-year agreement that will begin June 1, 2023. This will be an expansion of the current collaboration of the distribution of Dark Horse's front list and backlist to bookstores.  "It's an exciting time for the industry, and our move to Penguin Random House for Direct Market Distribution comes after our successful partnership in bookstore distribution. Random House will help us expand our reach to retailers and fans around the globe," shared Dark Horse Founder and CEO Mike Richardson.
              The goal for Random House Books is to give more support to brick-and-mortar comic book shops, especially the independently owned ones. Support of these stores will help to keep the love alive and encourage new love of comics, graphic novels, and manga among readers. One of the ways to do this will be through the new million-square-foot distribution center in Hampstead, Maryland, as one of the supply chain hubs.
              Richardson stated that although Dark Horse would be moving to Penguin Random House, their previous distribution partner, Diamond Distribution, will still be able carrying Dark Horse products. Dark Horse and Diamond Distribution have been working together for nearly 30 years. Richardson also thanked Diamond Distribution for all the support over the years.
              President of Penguin Random House Publisher Services, Jeff Abraham, said, "We are incredibly proud of our long-standing partnership with Dark Horse and are excited to reach new heights with this expansion. We've grown together in an ever-evolving retail landscape for graphic storytelling, and er see this next step as further commitment to supporting Dark Horse, and our retail partners, well into the future."
About the Author
Latest Posts
After losing my job of 15 years almost a year ago I decided to pursue my dream of being a freelance writer. I have a few novels and many short stories tucked away while I write for the local paper as well as write books reviews with the occasional interview.
I am the proud Mom of three Pitbulls, a turtle, a snake and many mice. I prefer horror and mysteries but I also have a vast selection of history books. I also love Minions.?