Epeolatry Book Review: Mazebook by Jeff Lemire


Disclosure:
Our reviews may contain affiliate links. If you purchase something through the links in this article we may receive a small commission or referral fee. This happens without any additional cost to you.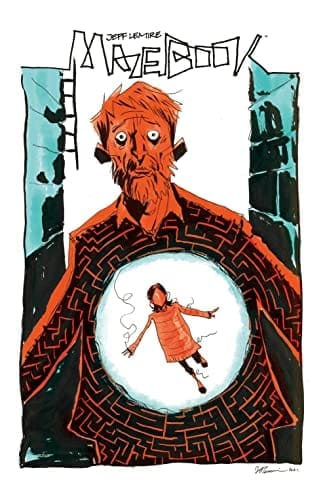 Title: Mazebook
Editors: Jeff Lemire
Publisher: Dark Horse Books
Genre: Horror
Release Date: 5th July, 2022
Synopsis: From New York Times bestselling and Eisner award-winning Black Hammer creator Jeff Lemire comes this ambitious and haunting graphic novel about family, mourning, and reality.

A lonely building inspector still grieving the loss of his puzzle-loving daughter receives a mysterious phone call one night from a girl claiming it's her and that she's trapped in the middle of a labyrinth. Convinced that this child is contacting him from beyond this world, he uses an unfinished maze from one of her journals and a map of the city to trace an intricate path through a different plane of reality on an intense and melancholy adventure to bring his daughter back home.
Collects issues #1-5 of The Mazebook and featuring a sketchbook section and pinups by Andrea Sorrentino, Dustin Nguyen, Dean Ormston, Matt Kindt, and Gabriel Hernández Walta!
With Jeff Lemire, readers are always in for a treat. And he has been prolific as of late, so there is no shortage of new works by him. His latest release is Mazebook from Dark Horse Books.
Years back, William lost his child, but, unlike his ex-wife, he has not yet moved on. He goes through the motions and gets through each repetitive day as he continues to fear losing the memory of his daughter. Until his daughter mysteriously calls him on the phone and leads him on a winding journey.
Mazebook deals with themes of loss and how to move on. William cannot let go of his past and feels that by doing so, he would forsake his lost daughter. As readers dive deeper into the current state of his life, they will delve through new mysteries that fill the world around him.
Much of the book is in a monotone line art style, which the reader might find very approachable. The style reflects the mood of the character in those instances. Color enters the picture when he thinks back on his daughter and her interests, for example, her red sweater and her obsession with mazes, and when they sneak into his everyday mundane world. And much like his other work (Primordial, Gideon Fall), Lemire toys with the traditional layout of the comic book page. Some artists don't quite pull this off and it can feel gimmicky, but Lemire ties these variations from standard into the story. It always enhances and never distracts.
If you like a great story and would love to experience some of the magic Lemire infuses in his graphic works, definitely give Mazebook a try.

/5
About the Author
Latest Posts
Joe lives with his wife and son in the Pacific Northwest where the Cascade Mountains meet the Salish Sea. He enjoys writing in the weird, horror, and fantasy genres.
Growing up he enjoyed R. L. Stine's Goosebumps books as well as classics like Dune, and Lord of the Rings. In college he discovered Stephen King, and later Mark Danielewski's House of Leaves and authors like Clive Barker and Laird Barron.
Joe's short story, 'Gustav Floats', was published in Dim Shores Presents Volume 2. In the spring of 2021 his story, 'The Pigeon Lied' comes out in Howls From Hell.
You can follow Joe on the following social media sites:
Twitter, Good Reads, Facebook, and Instagram!