'Cradle' Blog Tour: Honoring Yet Defying the Genre Standards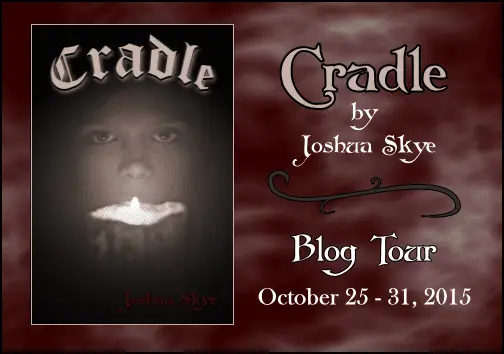 Honoring Yet Defying the Genre Standards
By Joshua Skye
I don't just write horror, I am an unapologetic and rabid fan of the genre! From Stephen King to Dario Argento, from Linnea Quigley to Jamie Lee Curtis, and from Dr. Orloff to Freddy Krueger I have a burning affinity for it all, a love which I am told is often very evident in my writing. I know the genre inside and out, a scholar of sorts as familiar with the psychological archetypes that make up the horror pantheon as I am the writers and directors creating them, the characters representing them, and the actors portraying them. I love everything about horror, frankly I always have, and I love being a genre writer.
Everyone knows the dominate three archetypes of the genre, the virgin, the doomsayer, and the fiend. I get a thrill from honoring yet defying these genre standards.
In Cradle you'll find my deeply flawed, but no less heroic, protagonist from Angels, Kincaid, in a supportive role. He's best friends with the new male lead, Radley, and becomes the genre's archetype of the "doomsayer" as presented by me, of course. He's not old, eccentrically weird, or unkempt in some way… homeless, impecunious, or crazy. Yet one might argue he fits those descriptions in charmingly idiosyncratic ways.
Just as in Angels, Kincaid represented the "virgin" and yet was actually the antithesis of that stereotype—not female and not actually virginal, Radley is the defiant protagonist in Cradle, again not female and not virginal. His journey into the darkness is ushered in the wake of Kincaid's dire warnings which Radley has failed to heed. If only he'd listened to the forewarning, chose to follow his friend's advise and not ventured to that damnable small town or taken up residence in the cursed abode known as Habersham House… if only. If. Only.
The horror he encounters, that monster that goes bump in the night in the shadowed rooms of Habersham House, stalking his prey, once again defies the archetype of the genre's "bad guy" while representing it perfectly. The demonic presence preys on innocence, even warping it in a disquieting conclusion that disobeys our often far-too coveted modern horror statutes. Sweet and twisted the journey. Put your thumbs out and hitch a ride with Radley to the deepest, darkest vales of Crepuscule's Cradle and spend the night at Habersham House!
I like to distort the classic prototypes and make them my own, both preserving the traditional horror pantheon and skewing it in my favor. In Cradle, I've done just that.
—
Cradle
Joshua Skye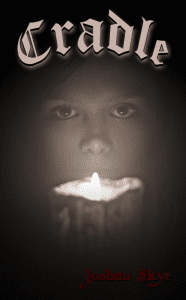 In the deepest vale of Crepuscule's Cradle, in the cul-de-sac at the end of Direful Hollow Road, is a once grand Folk-Victorian home known as The Habersham House. It's a place haunted by far more than rot and neglect – evil dwells here, an evil that craves children.
Eight-year-old Scott Michaels-Greene has a fascination for tales of the strange and unusual, especially local folklore. His favorite story is the one about Habersham House; a ruined old place where many curious children have disappeared.
Hours away from Crepuscule's Cradle, in Philadelphia, author Radley Barrette has just lost the love of his life to a random act of violence. Amongst his endowments from Danny's estate is an old house in the backwoods of Pennsylvania, Habersham House. Though grief stricken at leaving behind the only home he and Danny had ever known, he knows he cannot remain in the city. Besides, the isolation may be just what he needs to clear his mind of the writer's block he's suffering from.
Crepuscule's Cradle is not as he imagined. The locals are inhospitable. The skeletal forest surrounding it is as unwelcoming as the town. And the house itself – there is something menacing, something angry inhabiting it with him, and it's hungry. Radley's world slowly begins to unravel; the fringes of his reality begin to fray. In the midst of his breakdown, a local boy with an unhealthy fascination for Habersham House begins sneaking around and the evil residing within has taken notice.
Blending fantasy with horror, Crepuscule's Cradle is the darkest of fairy tales. The morbidity of classic folklore and contemporary style weaves a web of slowly encroaching unease. Radley Barrette' winter bound home is more than a haunted house, and Crepuscule's Cradle is more than a mere horror tale. It's a bedtime story that will pull you into its icy embrace, lull you into a disquiet state, and leave you shivering in the dark.
Cradle is available online at:
Amazon: US | UK | Australia | Canada | Germany | Italy | France | Spain | Japan | Mexico | Brazil | India | The Netherlands
Amazon Print: US | UK | Canada | Germany | Italy | France | Spain | Japan | Mexico | Brazil | India
Barnes & Noble (Print & eBook)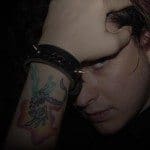 About the Author – Award winning, bestselling author Joshua Skye was born in Jamestown, New York. Growing up, he split his time between Pennsylvania and Texas. Ultimately he settled in the DFW area with his partner, Ray – of nearly two decades, and their son Syrian. They share their lives with two dogs, Gizmo and Gypsy, and a chinchilla named Bella. Skye's short fiction has appeared in numerous anthologies including Childhood Nightmares: Under the Bed, and periodicals such as The Sirens Call. He is the author of over ten critically acclaimed novels, among them The Angels of Autumn that takes place in the same nightmarish universe as Cradle.