WiHM 2023: Saddle Up! 5 Supernatural Westerns by Women For Your TBR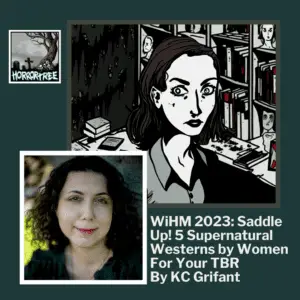 Saddle Up! 5 Supernatural Westerns by Women For Your TBR
By KC Grifant
In honor of Women of Horror month, here's a roundup of five relatively recent supernatural westerns by my fellow "weird west" authors you don't want to miss. So shake off your boots, hang up your hat, and settle in!
If you're new around these parts, the "weird west" mashes Old West elements with other genres, such as horror, science fiction and fantasy. Think The Wild Wild West, Preacher, Jonah Hex, the Dark Tower series or Cowboys & Aliens. The weird west is where you'll find werewolves, demons, zombies, aliens, and other speculative elements lurking in the vast landscapes of the American West. 
Novels, novellas, anthologies and graphic novels in this genre range from blood-soaked extreme tales to more light-hearted adventures. Here are five with a supernatural hook to kick off your weird western TBR.
1: The Night Silver River Run Red by Christine Morgan (Death's Head Press)
Some things, according to Cody McCall, are worth risking a whipping. Such as, sneaking out with your friends after dark for a peek at the traveling show setting up just outside of town. Oddities, the signs promise. Marvels. Grotesqueries. Exotic attractions and mysterious magics. Not as if they'd be allowed to attend otherwise, not with parents and preacher and schoolmarm all disapproving. But how often does a chance like this come along? There isn't much else by way of excitement in quiet, peaceful Silver River, a once-prosperous boom town slowly gone bust. Worth risking a whipping, sure. Worth risking life and limb, and maybe more? Worth risking being ripped to pieces by ravenous, inhuman brutes? Worth crossing paths with those strange, silent cult-folk from the high valley? Worth all the fire and bloodshed and horror and death? Because something far worse than any ordinary traveling show has come to town, and one thing is for certain: those who survive, if any, will never forget the night Silver River run red.
Note: Check out Death's Head Press for many more splatter western offerings, including Red Station by Kenzie Jennings and Shadow of the Vulture by Regina Garza Mitchell.
2: On Stolen Land by Stephanie Rabig 
When a prairie-mad settler murders Milton Allen's brother and his family, the wealthy rancher offers an enormous bounty to bring the culprit in. Ada Marshall and Pearl Beckwourth, bounty hunters with twenty years experience, assume this is yet another straightforward job. But when a fellow bounty hunter is torn to pieces not fifty feet away from their camp, their natural wariness grows, and in the tiny, isolated valley town of Woodlawn, they learn that the attacker may not even be human…
3: Sisters of the Wild Sage: A Weird Western Collection by Nicole Givens Kurtz (Mocha Memoirs Press)
When someone with a pistol meets someone with a magic wand, the pistol loses. From Nicole Givens Kurtz comes a collection of weird western short stories nestled in the often horrific American past and tucked into the parched future. Here are tales of talisman, magic, and the power of ancients wielded by those strong enough to endure the harsh new frontier. These rugged individuals brought not only their belongings but their eastern beliefs with them. They weren't ready for the west. Are you? Saddle up. Escape to a West as weird and wonderful as one might imagine.
4: The Devil's Revolver by V.S. McGrath (Brain Mill Press)
The first book in an epic, magic-clad series, The Devil's Revolver, opens with a shooting competition and takes off across the landscape after a brutal double murder and kidnapping—to which revenge is the only answer. Hettie Alabama, 17, leads her crew of underdogs with her father's cursed revolver, magicked to take a year off her life each time she kills someone with it. It's no way for a ranch girl to grow up, but grow up she does, her scars and determination to rescue her vulnerable younger sister deepening with every year of life she loses. 
Note: This is a 4-book series, so there's plenty for the hungry reader to dive into.
5: Weird West Otherworld Outlaws series by Tammy Salyer
A sawbones fae with a supernatural-sized grudge, a necromancer gnome obsessed with pixie dust, and a hoodoo cowgirl with a Sharps buffalo rifle and damn good aim—the Tuatha Dé Danann will never know what hit 'em. Book 1 in the Otherworld Outlaw series is an action-packed romp through the Wild West, loaded with living myths, dark magic, and bloodthirsty monsters aplenty.
Note: The Otherworld Outlaws series includes Gnome on the Range, Deadwood or Alive, and Hex 'Em High.
Bonus list!
If you're raring for more, there's no shortage of weird western stories by women, many of which have supernatural and horror leanings. Here's a few more:
-Territory by Emma Bull
-River of Teeth by Sarah Gailey
–A Book of Tongues by Gemma Files 
–Six-Gun Snow White by Catherynne M. Valente (novella)
–Tread of Angels by Rebecca Roanhorse (novella)
–Queer Weird West Tales, edited by Julie Booza (anthology)
–Pretty Deadly by Kelly Sue DeConnick (graphic novel)
–Salvation Spring by TC Parker
Still not enough? Keep an eye out for upcoming, brand-spanking-new weird west books releasing in 2023 at this frequently updated list:
https://weirdwestfiction.com/2023/02/21/featured-2023-weird-west-new-book-releases/ 
About the Author
Latest Posts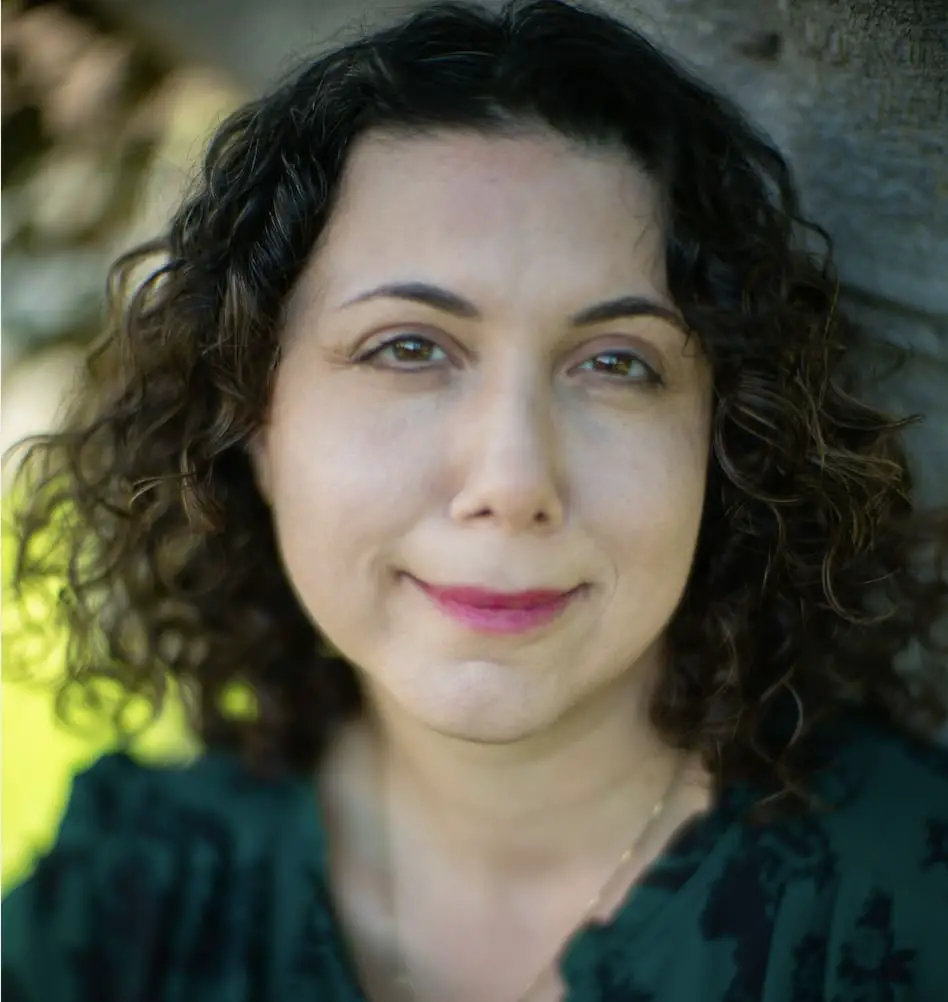 KC Grifant is an award-winning Southern Californian writer whose internationally published horror, fantasy, science fiction and weird west stories have appeared in podcasts, anthologies and magazines. Her tales have appeared in Unnerving Magazine, Cosmic Horror Monthly, Dark Matter Magazine, the British SF Association's Fission Magazine, Tales to Terrify, the Lovecraft eZine, and many others. She has also written for dozens of anthologies, including: Chromophobia; Trembling with Fear – Year One; Musings of the Muse; Dancing in the Shadows – A Tribute to Anne Rice; Field Notes from a Nightmare; The One That Got Away; Shadowy Natures; Beyond the Infinite – Tales from the Outer Reaches; and the Stoker-nominated Fright Mare: Women Write Horror.
In addition to a weird west novel, MELINDA WEST: MONSTER GUNSLINGER (Brigids Gate Press, Feb 2023), KC's weird western short stories have appeared or are forthcoming in: Andromeda Spaceways Magazine; Six Guns Straight From Hell: Vol 3; SNAFU: Dead or Alive; Queer Weird West Tales; Along Harrowed Trails; Uchronia: Alternate Histories & Alternate Worlds; and Amongst Friends. 
For details, visit www.KCGrifant.com or @kcgrifant.