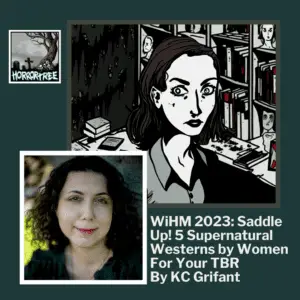 Saddle Up! 5 Supernatural Westerns by Women For Your TBR
By KC Grifant
In honor of Women of Horror month, here's a roundup of five relatively recent supernatural westerns by my fellow "weird west" authors you don't want to miss. So shake off your boots, hang up your hat, and settle in!
If you're new around these parts, the "weird west" mashes Old West elements with other genres, such as horror, science fiction and fantasy. Think The Wild Wild West, Preacher, Jonah Hex, the Dark Tower series or Cowboys & Aliens. The weird west is where you'll find werewolves, demons, zombies, aliens, and other speculative elements lurking in the vast landscapes of the American West. 
Novels, novellas, anthologies and graphic novels in this genre range from blood-soaked extreme tales to more light-hearted adventures. Here are five with a supernatural hook to kick off your weird western TBR.