5 Tips for Writing a Horror Weird Western
By KC Grifant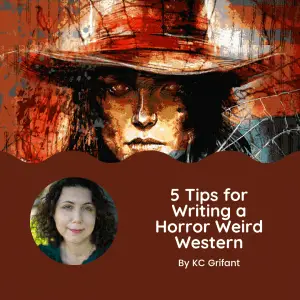 There's no doubt about it: there has been a recent surge in historical horror fiction, especially in the "Weird West" category. Maybe you've read a recent anthology featuring horror tales that take place in the Old West or come across "splatter westerns." Whatever the case, the Weird West genre is making a comeback. Read on for more about this fascinating genre as well as tips for writing your own weird western.
What is the Weird West?
The term "Weird West" emerged around the 1970s with the debut of DC's Weird Western Tales. Since then, Weird West stories have appeared in popular culture mediums, like Deadlands, The Wild Wild West, Preacher, Jonah Hex and many more.
Very generally, the Weird West fuses elements of the American West—including folklore, settings and aesthetics—with genres like horror, science fiction and/or fantasy. Horror is one of the most common fusions, featuring tales of haunted lands, monsters and brutal encounters that reflect some of the darker violence of the times. The subgenre sometimes also crosses over to—or is often used synonymously with—gothic westerns, historic fantasies, alternate histories, and splatter westerns (more on that below).