REMAINS TO BE TOLD – An interview with Kiwi author Bryce Stevens

REMAINS TO BE TOLD – An interview with Kiwi author Bryce Stevens
In this unique interview series, we chat with the contributors of Kiwi horror anthology Remains to Be Told: Dark Tales of Aotearoa, edited by five-time Bram Stoker Award-winner Lee Murray (Clan Destine Press, 1 October). 
Today, we welcome author and editor Bryce Stevens, whose short story "The Spaces Between" appears in the anthology. 
Tell us about your story in the anthology.  
Finding I was of Māori Heritage later in life and my growing up in Auckland and Hamilton, attending predominantly Māori/Pacific Island schools was the main inspiration for the tale. I'd always had Māori friends at schools and in the workplace. During my twenties I had Māori friends teaching me the language. Of course, being a young man, I had been most interested in the naughty words. 
What, in your view, are the core elements of Aotearoa horror? What makes Kiwi horror unique?  
Isolation plays a big part. Also, there is a rich cultural mix of Polynesian peoples, allowing for a wide range of ideas. I have always been attracted to tales of the South Seas and jungles – stories set on small island chains. It is the exotic, a blend of the mystery and the unknown. Even in recent tales I have characters encountering peoples with unusual rituals and finding strange flora and fauna in swamps and hidden glades of remote islands. 
Aotearoa has many haunted / weird places –Tarawera, St James theatre, St Bathans are famous examples – but it also full of quiet unease, uncanny objects, unexpected occurrences. Please share an everyday observation if you have one. 
I visited The Chatham Islands in 2003. There I found a lifestyle I had not seen since I was a boy growing up in Marlborough and Pelorus Sound. Scenes of my childhood and places lived have always featured in my tales. As I grew into adulthood and, in later decades, I have retained a nostalgia for my early years and have romanticised these places and times in fiction and given those locales a sense of mystery and the strange. 
Would you like to share a paragraph from your story? 
Ben opened his eyes. He wasn't alone in the darkness. The air in his room smelled of sodden leaves after a week of rain. He lifted his head from the pillow, while pulling his feet from the end of the bed. She was back again: the girl in the fog with the strange face. Her shoulder drooped as if dislocated. Black holes winked where her eyes should be. His mattress dipped as if weight had been applied, and a dark shape moved towards him, like a malformed head, and a sigh of warm fetid air played across his face. He scrambled back across the mattress as the thing slowly opened its mouth. 
What draws you to horror?  
I have always been drawn to the darker aspects of fiction. As a very young boy I enjoyed the sinister suggestions of The Brother's Grimm. I remember a favourite being "The Tinderbox". When it came to writing fiction, I felt and feel most comfortable telling stories with an undercurrent of unease. 
Horror is affective, which means it is different for all of us. What book/author scared you most, and why? Or which horror book do you wish you'd written? 
I enjoyed the early work of Stephen King. Misery was an eye-opener. I have always been drawn to short-form fiction rather than novels. Clive Barker's Books of Blood and Ramsey Campbells story collections have been favourites. Some of the tales of these two are terrifying. 
Can you suggest other Kiwi dark fiction/ horror we should be reading?  
First that comes to mind is Lucy Sussex. I have been a fan of lucy's work for many years. I enjoy Tracie McBride's short form fiction; have read two collections of Tracie's and the works is of a high standard. I like Marty Young's work. Have to say, Dan Rabarts is top notch. 
What's coming up for you on the writing front?  
I am putting the finishing touches on my new story collection, which contains nine shorts and a novella. I have yet to attempt to find a publisher for this book. Any publisher interested in having a look, I am happy to oblige. 
Thanks for stopping by, Bryce!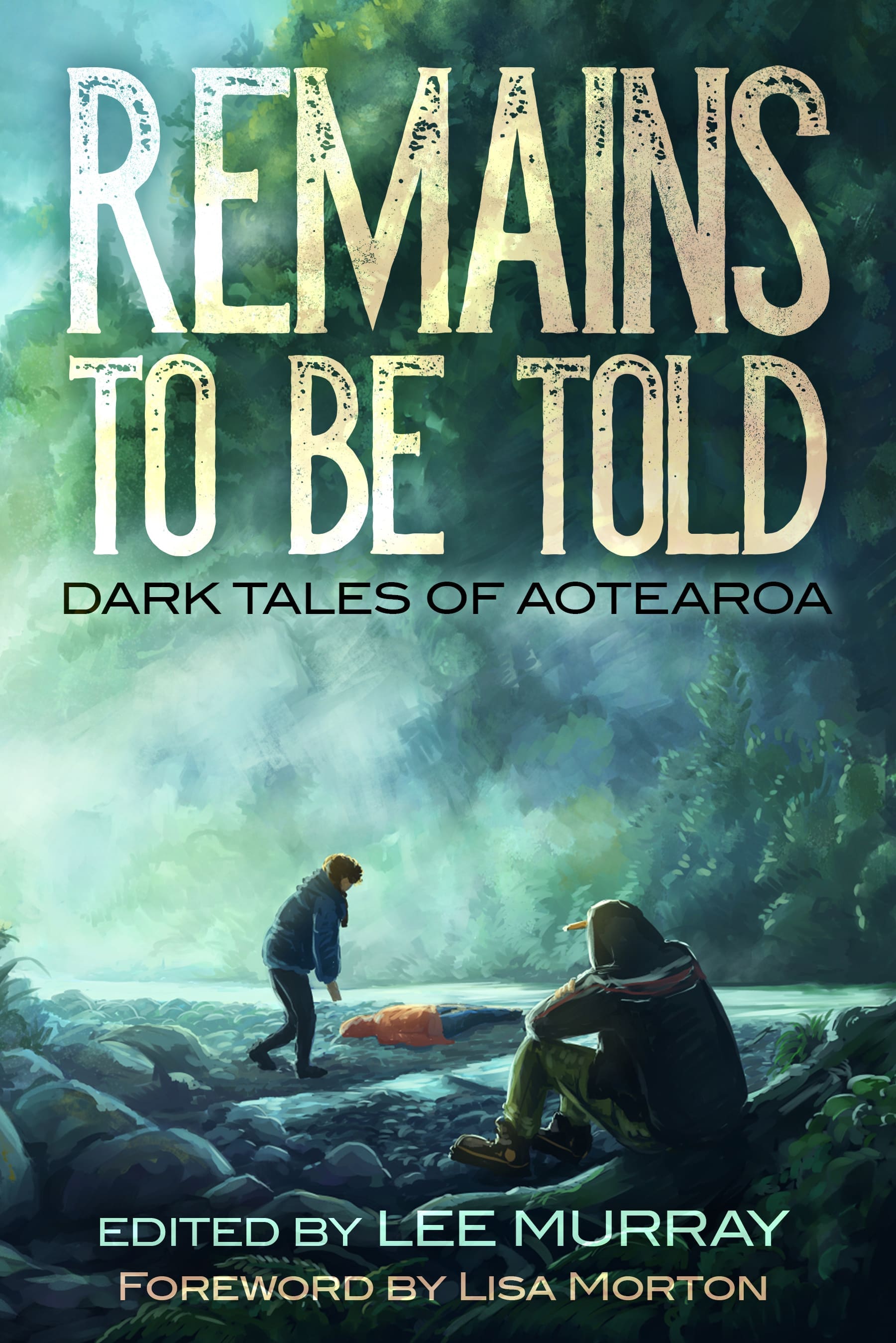 Featuring uncanny disturbances, death, and the dank breath of the native bush, Remains to be Told: Dark Tales of Aotearoa is an anthology of dark stories and poems mired in the shifting landscape of the long white cloud, and deeply imbued with the myth, culture, and character of Aotearoa-New Zealand. Laced with intrigue, suspense, horror, and even a touch of humour, and comprising a range of subgenres, the volume showcases some of the best homegrown and Kiwi-at-heart voices working in dark fiction today. 
Includes stories and poems by Neil Gaiman, Owen Marshall, Gina Cole, Tim Jones, Lee Murray, Dan Rabarts, Marty Young, Debbie Cowens, Paul Mannering, Tracie McBride, Kirsten McKenzie, Jacqui Greaves, Nikky Lee, William Cook, Bryce Stevens, Kathryn Burnett, Celine Murray, Denver Grenell, Del Gibson & Helena Claudia. Foreword by six-time Bram Stoker Award-winner, Lisa Morton.  
Remains to be Told: Dark Tales of Aotearoa is published by Clan Destine Press Australia with the kind support of Creative New Zealand. Original cover art by Sir Julius Vogel Award-winner, Emma Weakley. https://www.clandestinepress.net/products/remains-to-be-told 
Bryce Stevens has collaborated with some of the biggest names in international horror. A former editor of Terror Australis Magazine and Bloodsongs Magazine, with Christopher Sequeira and Steve Proposch he has co-edited Cthulhu Deep Down Under, Cthulhu Land of the Long White Cloud, War of the Worlds: Battleground Australia, and Caped Fear: Superhuman Horror Stories, and his work has appeared Ellen Datlow's Years Best Horror Honourable Mention and Recommended Reading lists on multiple occasions. Of Māori descent, Stevens has been writing horror tales under the pen name David Kuraria since 2015. To chat with Bryce, DM him on fb. https://www.facebook.com/bryce.stevens.16906 
About the Author
Latest Posts
The Horror Tree is a resource for horror authors which was created in 2011. The main goal when starting the site was to include all of the latest horror anthologies and publishers that are taking paying submissions. A resource useful for both new and experienced publishers alike looking for an outlet for their written material!