Taking Submissions: Your Body is Not Your Body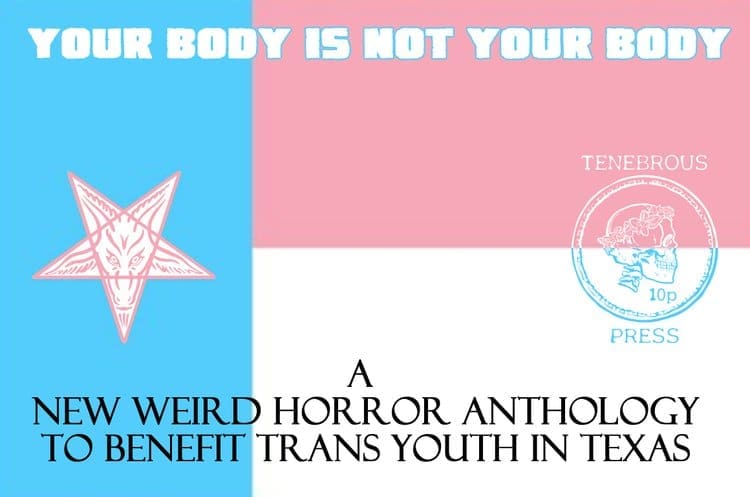 Deadline: March 3rd 2022
Payment: Undeclared token payment, initially a pure donation anthology
Theme: New Weird Horror
Note: Sorry for the short notice, just hit my inbox.
Note: Trans and Gender Non-Conforming creators only
Extreme conditions demand extreme responses. This is perhaps not the most well-organized submissions call, but when has pragmatism ever stopped us? This one comes from the guts; we'll figure out the rest as we go along.
We are now accepting submissions for Your Body is Not Your Body: A New Weird Horror Anthology to combat Texas' attempts to criminalize Trans youth. All proceeds from the sale of this anthology will go directly to Equality Texas (https://www.equalitytexas.org/).
***EDIT 02.24.22***: a multitude of generous Horror fans have begun contributing to a creator compensation fund, so this project WILL NOW be paying all accepted creators; we don't want to speculate as to the amount, but it will be something.
If you are interested in contributing to this creator compensation fund, donate here.
Alright, so what do we want?
*4,000 words maximum (no minimum)
*Reprints are acceptable, but we need to know the original place of publication. No more than two submissions per creator, please.
*Genre: New Weird Horror. What that means to us: the immediacy of classic Pulp Horror with a deeper dive into the human condition and an (un)healthy injection of Surrealism. We love Magical Realism, Body Horror, Optimistic Nihilism, Folk Horror, genre splicing of all stripes. Needless to say: feel free to let your political rage and righteous anger runneth f*ck*ng over. Today is a day for Big Weird Sledgehammers, not subtlety (though we love quiet Weird Horror too!)
*Trans and Gender Non-Conforming creators only, please. Alex and I are grateful beyond words that so many folks are standing up as allies alongside us, but for this project it is critical that we allow those with the most at risk to have the microphone. Full stop.
*SUBMISSIONS ARE DUE IN ONE WEEK: THE LAST CLOCK IN THE WORLD ON THURSDAY, MARCH 3rd, 2022. Not a lot of time, I know, but y'all are great under pressure with the right motivation; I have faith.
VISUAL ARTISTS/ILLUSTRATORS: a metric f*ckt*n of you have been reaching out to offer your services. Here are the deets.
Alright, I wrote all that in ten (fourteen & counting!) minutes and I know I left a bunch of shit out. I'm sure there will be addendums, so check back sometime later in the week.
Thanks y'all,
Matt & Alex
Via: Tenebrous Press.
About the Author
Latest Posts
Stuart Conover is a father, husband, published author, blogger, geek, entrepreneur, horror fanatic, and runs a few websites including Horror Tree!