Taking Submissions: Counting Bodies Like Sheep (Early Listing)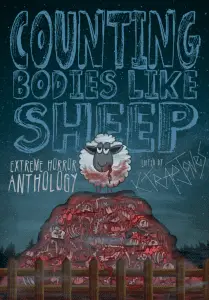 Submission Window: January 1st, 2022 – March 1st, 2022
Payment: 3 cents per word and a contributors copy
Theme: Fast-paced gory stories
The Evil Cookie Publishing specializes in horror anthologies and novels/novellas within the realm of Splatterpunk / Extreme Horror / Dark Humor.
Title: Counting Bodies Like Sheep
Book Type: Extreme Horror Anthology
Editor: K. Trap Jones
Theme: Open
Short story Length: 3,000 word MAX
Pay: 3 cents per word + 1 Paperback
No Reprints
No Multiple Subs
No Simultaneous Subs
Rights: Exclusive worldwide print/electronic/digital rights for one (1) year
Sub Date Begins: Jan 1, 2022
Sub Date Ends: Mar 1, 2022
Any subs sent before or after the dates will be crumbled up and fed to the sheep
Submit To: [email protected]
Subject Line: SHEEP SUB: (story title) by (author name)
EDITOR'S NOTE: I'm looking for fast-paced gory stories with the perfect blend of Extreme Horror + Splatterpunk + Dark Humor elements. Nothing involving children and I'm not a big fan of heavy religious or political plots.
Via: The Evil Cookie.
About the Author
Latest Posts
Angelique Fawns writes horror, fantasy, kids short stories, and freelance journalism. Her day job is producing promos and after hours she takes care of her farm full of goats, horses, chickens, and her family. She has no idea how she finds time to write. She currently has stories in Ellery Queen, DreamForge Anvil, and Third Flatiron's Gotta Wear Eclipse Glasses. You can follow her work and get writing tips and submission hints at http://fawns.ca/.