Six Hundred Sixty Six Bottles of Blood on the Wall: Horror Realm Con


I just kicked the weekend's teeth in. Let me tell you what happened. There will probably be even more typos than usual in one of my posts. I'm hungover and exhausted, but I've got to get this written now. Bear with me, it's pretty awesome.
This weekend I drove about 4.5 hours from Dayton, Ohio to Pittsburg, Pennsylvania for a small horror convention called Horror Realm Con. I went to meet and make friends. I also went to sell books. Beforehand, I talked to some publishers and got some deals and took about 40 books. I didn't sell a single one. Not even with my marketing gimmick of brining in a six-foot tall stuffed squid. Hell, that was a lot of fun anyway. Obviously I wanted to sell a few books, but I don't care. The experience was worth it.
I'm home now and despite the exhaustion and the road trip (I totally had to pull over and take a car nap) and all that stuff, I can't stop smiling. All kinds of cool stuff happened. I'm going to fire the bullet points at you shotgun style because my brain isn't functioning on any kind of level that will lead to anything in the ball park of linear coherence.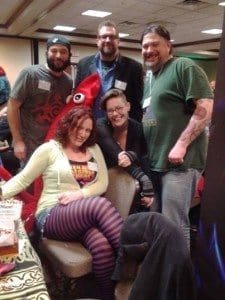 A big attraction to Horror Realm Con for me was the abundance of people associated with the podcast that has been oh so good to me, The Wicked Library. Also, my initial contact with several of these people came from my gig writing for HorrorTree. That's pretty cool too! I got to meet Nelson Pyles, the voice of TWL (too bad Maddie Von Stark lives on the other side of the country) a founder of TWL Johnny Axx, and several other writers who have had stories featured on The Wicked Library, including two of the most recent Jessica McHugh and Mae March.
I've known Mae for about a year now, but we'd never met. She heard my story "Smoke" on TWL and sent me a friend request on FB and we've chatted off and on ever since. I'm not sure how I got so serious about actually driving 4 hours (my old roommate often jokes that I never leave a 5 mile radius around my house) but I said I was thinking about it and she convinced me to pull the trigger.
Mae said that her and her friend, artist and Tarot reader Lee Bradford had a dealer table and I could share it with them if I wanted. I wanted. They were cool as hell. I've not met in person too many people I've only known online as this is only really my second convention, but I hope the way things worked out with those two sets the pace for the rest of my life. They were both awesome, generous, cool, fair, funny, you name it, those two were it and it made feel super comfortable in a room where I didn't know a soul.
Right behind our vendor table was the vendor table for Post Mortem Press. If you don't know them GET TO KNOW THEM. They are doing great things and though I've yet to publish with them (and have received a staggering number of rejections haha) they are probably my favorite small press. I liked them a lot before this con and after getting to meet and hang out with Mr. and Mrs. Beebe, the two that run the show, my affection for that press has only grown.
Also directly at my back was the legendary pair made of Nelson Pyles and Jessica McHugh. Coolness all around. Never a moment of awkwardness, just cool conversation whether it had to do with reading and writing or all kinds of other profane avenues of conversation. It was like after I shook their hands, I'd already known them and I can't wait to hang out with that pair again. So much fun.
The two of them and Eric Beebe put on a great panel that was entertaining, casual and educational. I enjoyed listening to them talk about processes. Nelson wakes up before dawn and lightly touches the keys to not wake up the rest of his family. McHugh writes almost everything by hand and basically has pen and a notebook stapled to her palms. Then I got to grill them all with my own questions afterwards. It couldn't have gone any better I don't think.
Going in I had a vague idea of who these people were. I've seen them around facebook, read them, and interacted with them online to varying degrees. They were every bit as cool as I expected and more.
And most importantly, they were good to me and that means everything. Hopefully I returned their actions in equal measure.
Thank you guys. You've got a friend and fan for life over here.
HARD TRANSISTION.
Another group of people that I knew pretty much only in name also made a profound impact on me.
There's an underground film making company based in Pittsburgh that goes by the name of Toe Tag.
Anyone ever heard of them?
They are lead by a married team of awesomness personified in Fred and Shelby Vogel.
They are (in)famous for a movie they did several years ago called "August Underground Mordum." Watching this movie actually gave me the idea for the novel I'm currently working on. Weird how things works out. I don't want to say too much but that was one of the earliest movies they made and it's stuck with me and given me ideas of my own.
I saw about half of a more recent Toe Tag film simply titled "Murder Collection Volume 1" at a late night screening. Following that, I saw films by two other members of Toe Tag. The other films were fantastic. Keith Voigt's short film "Lust" delivered a hardcore exploration of the title word and made me cringe. Jason Hoover's "I Am No One" was one of the most unique takes on a serial killer I've seen recently, which really sticks out in a repetitive and saturated market. That one will make you squirm with almost zero blood and guts.
I don't know. I might have gone to the screenings anyway. I was already thinking about it. But what really sold me was an afternoon panel with the guys from Toe Tag. Fred Vogel, Keith Voigt, and Jason Hoover.
I enjoyed listening to them talk about their movies and their backstories and their goals and experiences. Especially Fred Vogel. He struck me. Rarely do you encounter someone so passionate, so driven and so intelligent and crazy about their craft as Fred Vogel. I'm not taking anything away from the other two as I see them following in Fred's footsteps and coming out the other side. They support each other. They believe in each other and it's awesome to see that kind of chemistry.
I don't know that any of you have seen any of Toe Tag's movies and if you seek them out, be warned, they will mess you up. They aren't like anything you've seen before. These are the epitome of underground hardcore. This stuff WILL mess with your head. But that's where the power lies.
Having seen "August Underground Mordum," I kind of knew what to expect when I sat in for the evening films and even though I KNEW going in that I was probably going to be rattled, I still got rattled. The last scene in Murder Collection really got under my skin.
Here's the cool part.
Credits roll and Fred walks in.
He just says, "Thanks for watching my movie." That's pretty much it. He might have asked if anyone had any questions, I don't remember since my brain was trying to digest what it had just seen. He also told us that the autopsy scene won an award and even though it was up against Hollywood competition.
Our faces had to have looked like we'd either just seen a murder, a ghost or we were going to be sick. Fred doesn't apologize he doesn't do anything but express genuine gratitude for us taking interest in his movie.
I'm think he was serious but I don't know for sure when he said in the panel that he's on some kind of FBI watch list based solely on the content he creates. But he owns it and I think that's what I like about him the most. No hesitation, always pushing forward. In the panel he described his life and the pursuit of his craft as a chess game and that no matter what he never stops moving forward. I'm taking that, applying to my own life and I'll always thank him for that idea put just that way.
Also he's just a really cool guy. Smart, savvy, charismatic, he's got it all. I got to talk to him for a bit at the after party. He plays a character in "August Underground Mordum." Seeing him play that character and meeting him in real life will reveal the man's talent. Night and day. I can't put into words how surreal it was to see one of his movies and then an hour later seeing him rocking the dance floor with his wife to Def Leppard. Shelby wasn't at the panel but I got to meet her at the after party. She's awesome too. I like everything about Toe Tag even if they twist my stomach.
I don't know about anyone else but with my crew, since it was daylight savings time, the time went from 1am to like 5am in the blink of an eye.
We slept for about 2 hours and then it was time to head back to the con.
I got to catch them the Toe Tag crew on my way out Sunday afternoon and bought a Toe Tag shirt. I will wear it loud and I will wear it proud. Since my books weren't selling at all, I gave them a few. Hopefully they enjoy them.
There were a bunch of other highlights throughout the trip as well, but I'll cap it here. I'm so happy I went even if I didn't sell a single book. I think I'm gonna send a bunch of them to soldiers overseas instead. I'm cool with that.
This was my second major con experience and it served its purpose. I met people, had a blast and most importantly I LEARNED SOME THINGS.
Big thanks to Mae March and Lee Bradford, the whole Post Mortem Press Crew, Nelson, Jessica and the Toe Tag crew, Fred, Jason and Keith. I'm looking forward to crossing paths with them again and frequently and in pairs. I sure hope so.
To anyone associated with Horror Realm Con, here's a heartfelt thank you. I'm a fan for life and would love to come back.
I'm tired and I'm hungover as hell. But I'm proud and I'm happy. And that always trumps a hangover.
Now I can get back to work on my own craft with some new experiences and some new ideas.
Time to get nasty.
Keep reading, keep writing, and keep it real,
KGSL
About the Author
Latest Posts
Kerry G.S. Lipp is a wannabe writer working hard to drop the wanna be part. He teaches English at a community college by evening and works as a civilian on a military base by night, and usually sleeps during the day. He's not a big fan of the sun. His stories are currently available in the anthologies Lucha Gore and Under The Knife and several more will follow in 2013. His parents have started reading his stories and it appears that he is now out of the will. Follow him on Twitter @kerrylipp. You can read his short 'Smoke' at SNM Magazine.