WiHM 12: Quick Six Questions With Carmilla Voiez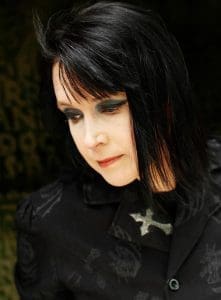 Welcome to The Horror Tree, and thank you for participating in Women In Horror Month. First, tell us a bit about yourself and your interest in horror.
I'm a <cough> 49 year-old mother of two daughters and life-long Goth who writes in various horror genres, from magic-filled dark-fantasy, and psychological through to slashers. I suspect what distinguishes my work most is that I write first and foremost about women, and I write sympathetic antagonists (or villains). I adore a complicated and compelling baddie. I grew up with Hammer Horror, and perhaps that's what turned me towards the dark-side of film and fiction. It certainly encouraged me to think of horror and sexuality as being intrinsically linked.

Why is Women In Horror Month important, and what do you say to someone who says 'Oh, I don't care if it's by a man, a woman, etc., as long as it's a good story'?"
I am certain that the secret to any writer's success is exposure. There are elements in every community, and I don't believe horror is any different, which are reactionary, hierarchical, and protect the privilege of those already at the top. Women have been traditionally told to shut up or remove themselves from public spaces, which is why things like Women in Horror Month matter.
Who are some Women In Horror (or other women) who have influenced your work, and why?
The late, great Storm Constantine, whose fantasy was frequently driven by horror and vice versa. I'm also a fan of emerging voices like Kenzie Jennings and Eden Royce. And I'm amazed (although I probably shouldn't be) and the diversity of female voices in horror. I believe I've been influenced more by male horror writers Like Clive Barker, but that's probably because I encountered them earlier. What I do get from other female writers is a wonderful sense of community and shared struggle.

2020 will probably be remembered as a TERRIBLE year for many of us; tell me something GOOD that happened in the past 12 months.
I wrote a huge amount in 2020, two novels (one of which was co-written with Faith Marlow), and countless short stories (some of which have yet to find homes). As someone who is naturally socially awkward, I found the isolation of 2020 actually benefited my mental health in some ways. 2021 feels harder. I want it to be over now.
What have you got planned for Women in Horror Month, and the coming months of 2021?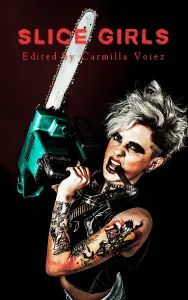 A wonderful collection of short stories about female villains is being released by Mocha Memoirs Press on the 9th February. You can find it here – http://smarturl.it/slicegirls. I'm featuring a series of interviews with the writers who contributed to the collection on my own blog, which can be found on my website – www.carmillavoiez.com. In these interviews, we discuss their stories and talk about women in horror. Further into the year I plan to release the final book of the Starblood series and a third graphic novel. We're also looking for a publisher for the co-written Gothic Horror novel. I've left my old publisher, so some of my books will be temporarily unavailable for ninety days. I'll be celebrating the re-release of those and the release of the final book in May and June.

Is there anything else you'd like to tell our readers? Thanks for participating in Women in Horror Month!
About the Author
Latest Posts
Selene MacLeod is a night operator and sometime writing hobbyist. She holds a BA in Communications from Wilfrid Laurier University and resides in Kitchener, Ontario. Her work has appeared in several horror and crime fiction anthologies, most recently Shotgun Honey, Drag Noir (Fox Spirit Books); and the upcoming Freakshow: Freakishly Fascinating Tales of Mystery and Suspense (Copper Pen Press), and Tragedy Queens (Clash Media).She's most excited about editing a charity anthology for Nocturnicorn Books called Anthem: A Tribute to Leonard Cohen, due out late 2017.