Introducing #BetaPitchWeek, an Event for Authors and Readers June 11th – 18th 2021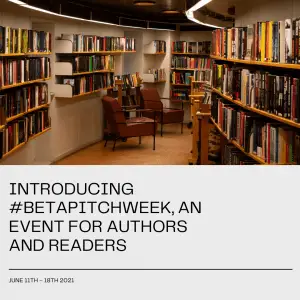 Introducing #BetaPitchWeek, an Event for Authors and Readers
By: Holley Cornetto
So, you've written the draft. That's supposed to be the hard part, right? In order to make your manuscript the best it can be, the logical next step is to find readers to give critical feedback. Some writers are lucky enough to have writing groups or friends to do beta reading for them, but others struggle to find people willing and able to read and critique their work. 
That's where #BetaPitchWeek comes in. 
The brainchild of Eerie River Publishing's Michelle River, #BetaPitchWeek is a writer's solution to where and how to find people willing to read and provide feedback on their work. 
So, what is #BetaPitchWeek? It is a bi-annual online event to help readers and writers connect with one another. This year, the first event will be taking place June 11th – 18th. 
Authors are tasked to post either a 60-second video, or a Tweet with a brief pitch of their story, using the hashtag #BetaPitchWeek and the corresponding genre tags. 

Readers will search the #BetaPitchWeek to look through the author pitches and find ones they are interested in reading. Readers will comment on the video or Tweet, and connect with the author to receive the story. 
The one rule? If you submit something as an author, you must also be willing to serve as a reader. This keeps things fair and balanced, and ensures that there are enough readers. 
More details can be found on the web at: https://www.betapitchweek.com
Michelle River was kind enough to answer a few questions about the event.
What was the initial spark behind this idea?
The idea was spurred on by a few comments on a TikTok video I did about the importance of beta readers for authors.  I was in the process of getting more information about where to find beta readers when someone suggested authors look to social media platforms like TikTok and Twitter and just ask people. We are constantly on social media, so it only makes sense to reach out on here as well. I know that some authors have great success pitching through their platforms and thought if we made it an event that everyone felt comfortable doing, hopefully we could get their work in the hands of those elusive beta readers. 
What are you hoping to accomplish through #BetaPitchWeek?
The main goal is to see authors helping authors and finding those that are looking for a beta reader, a beta reader. Being an indie author is hard work and sometimes very lonely. In my experience, the indie author community is a welcoming and supportive group, but not everyone knows that. My hope is that the author community will rally around the idea and get on board with helping each other out and reading for each other. I am also hoping this event will allow those that are hesitant to take the next step in their writing career and will take the plunge and let someone read their story. The hardest part is the first step, so hopefully this can be someone's first step.
What would you like to say to authors and readers who might be considering participating in the event?
This event is supposed to be fun and no pressure. Get inspiration pictures, graphics, get excited, and just be yourself. Even if you don't find a reader, sometimes getting excited and pumped about your book all over again can do wonders for editing and your self-confidence. If someone approaches you make sure you are clear with your requests for feedback and also let them know if there are any potential trigger warnings. You should also make sure you are vetting the reader as much as you can. We do not suggest texting or sharing personal information like addresses. 
For readers that are looking to participate, be kind but honest. An important step in any writer's journey is getting that critical feedback, so if you are committing to reading something read it in full and provide feedback in the time requested, and only take on as many as you can read in that timeframe. 
Where can we find you on social media?
Twitter  @Mriver_Writes
TikTok: @misplacedcomma
About the Author
Latest Posts
Holley Cornetto was born and raised in Alabama, but now lives in New Jersey where she writes dark fantasy, horror, and weird fiction. To date, her writing appears in over a dozen magazines and anthologies. To indulge her love of books and stories, she became a librarian. She is also a writer, because the only thing better than being surrounded by stories is to create them herself. In 2021, she earned an MFA in fiction writing from Lindenwood University. She is a proud member of the Horror Writers Association.