Hermione Lee: Finding Otherworldly Success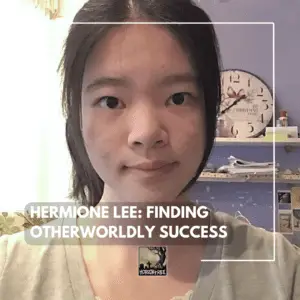 Hermione Lee: Finding Otherworldly Success
By Angelique Fawns
Hermione Lee is a teenage scribe born and raised in Taiwan. She's penned more than fifteen novels and likes to dabble in multiple genres. She has tried her hand at paranormal, fantasy, horror, YA, middle-grade, and romance.
 In 2021, her Otherworld trilogy won The Literary Titan Silver Award, first place in the Critters Annual Readers Poll for Best Sci-Fi and Fantasy Novel/Best YA Book, and first place in the Paranormal Guild Reviewers' Choice Awards. The First Buds of Spring, Heart of the Forest, Where the Magic Lies, and The Lost Siren won the Literary Titan Gold Book Award in 2022. Where the Magic Lies also won the gold medal in the Moonbeam Children's Book Awards in 2022.
She recently also added a few 2022 Critter Awards to her roster, including Best Children's Book for Heart of the Forest, and Best Book Cover Artwork for Once Upon an Enchantress.
 I met Hermione in my Wulf Pack writer's group and sat down with her to learn how this young writer found success and her voice.
AF: When did you first decide that you wanted to become a writer? 
HL: I was ten when I first started to write my first book. It was about three cousins who resent each other but are forced to cooperate when coming across a mysterious leaf letter. However, I quit writing after two months, because my ten-year-old self couldn't stand my writing. I came up with the idea to write In the Name of the Otherworld, my first novel, when I was nearly fourteen. I finished it in six months, and during the enjoyable process, I knew I would have a future in the writing industry. A small update on the book I tried to write when I was ten: I rewrote it and made it a children's novel last year, and it became an Amazon bestseller and won two awards. 
AF: How did you learn your craft? Is there a particular structure you use to outline your novels?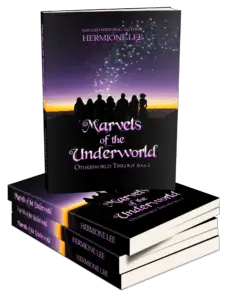 HL: I explored the writing field on my own before I came across the Writers of the Future forum and Wulf Moon. He and many of the kind writers there taught me the craft of writing and how important prose, tone, and style were. Because of them, my writing improved significantly. I always outline my novels before starting them.  Setting word counts for each chapter, placing important plot twists or points in certain chapters, and titling them after I know what each of them is roughly about. Here's something interesting: twelve of my seventeen finished novels are written in an irregular sequence—meaning I didn't write chapters one, two, three…, but instead jumped around and picked the easier or more exciting chapters to tackle first. However, if I'm dealing with a story I'm not very confident in, I will still write it in order.
AF: One genre you've has success with is fantasy romance. What's the difference between fantasy versus paranormal romance?
HL:  The difference between paranormal romance and fantasy romance is that paranormal usually refers to scary creatures like vampires, werewolves, witches, shifters, devils, or angels, and most of the time, those stories take place in the real world. On the other hand, fantasy romances involve fairies, elves, mermaids…less scary creatures. I am working on a young adult paranormal romance right now called Stars, Clouds, and Shadows. It's about an angel and a devil who are meant to kill each other but fall in love instead.
Since you mentioned genres, I'd like to elaborate on the genres of my books. The Otherworld Trilogy is young fantasy adventure, and so is Once Upon an Enchantress. The First Buds of Spring, Where the Magic Lies, and The Lost Siren are YA fantasy romances, and Heart of the Forest is middle-grade fantasy adventure. (Those are my published books.) Some of my novels featuring adult protagonists (like the psychological horror/thriller/dark fantasy novel Helen's Tale, an Otherworld Trilogy companion novel) will be published later this year. However, I don't like labeling my books because I think anyone, regardless of age, can enjoy any book whether intended for adults, young adults, or children.
AF: Tell us about your publishing journey. Do you have an agent? Are you an indie publisher? How do you market?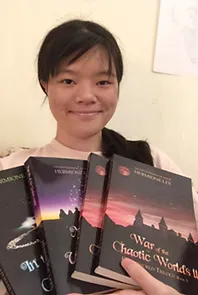 HL: I am a hybrid author, which means I have a publisher (World Castle Publishing), but I also self-publish books. I don't have an agent, but I would love to have one. I hope to get into a big publisher and have at least one big hit. World Castle is nice though, and they're helpful in distribution. They let authors have the last word on the covers, too, which I'm very grateful for.
AF: What is in the future for you and your writing? 
 HL: It's my dream to write a book of every genre—fantasy, romance, horror, young adult, middle-grade, paranormal, mystery, sci-fi, literary, thriller, and western. Also, I aspire to hit #1 on the New York Times bestsellers list one day, win the World Fantasy Award, a Nebula, a Hugo, and have at least a book featured on the American Library Association Notable Books List. My ultimate goal is a rather insane one—I hope to win the Nobel Prize for Literature and be remembered as the Shakespeare of this era for many centuries to come. 
AF: What advice would you give other writers hoping to write trilogies and find success?
HL: Believe in yourself, follow your heart, and heed your mind. And remember, always remain humble. The poison of pride will only impede your improvement and smother your potential.
AF: Who are your influences and favorite books? 
HL: One of my favorite authors is Jodi Picoult, her books are terrific! I love My Sister's Keeper and Nineteen Minutes. I also adore the Harry Potter series, the Diary of a Wimpy Kid series, and the Magic Tree House series. There are also quite a couple of distinguished authors who work with my publisher. I am not naming names though, because many of the authors there are my close friends, and I do not wish to leave anyone out.  
AF: Finally, what is the ultimate goal/career for Hermione Lee? 
 HL: I hope the world will know my name, and that I will publish more than a hundred books in this lifetime. I have a hundred and twenty story ideas, so it shouldn't be difficult. When there's a will, there's a way!
Thank you for interviewing me.
About the Author
Latest Posts
Angelique Fawns writes horror, fantasy, kids short stories, and freelance journalism. Her day job is producing promos and after hours she takes care of her farm full of goats, horses, chickens, and her family. She has no idea how she finds time to write. She currently has stories in Ellery Queen, DreamForge Anvil, and Third Flatiron's Gotta Wear Eclipse Glasses. You can follow her work and get writing tips and submission hints at http://fawns.ca/.