FlowerSong Press is Open To Speculative Fiction Novels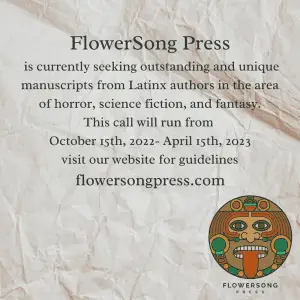 Deadline: April 15th, 2023
Payment: Royalties
Theme: horror, science fiction, and fantasy
Note: Seeking Latinx authors
FlowerSong Press is currently seeking outstanding and unique manuscripts from Latinx authors in the area of horror, science fiction, and fantasy.
Please review the following guidelines for authors. If you feel your manuscript meets our needs and is consistent with our mission, we welcome the chance to read it.
Guidelines for Fiction
We are seeking already finished, full-length novels from Latinx authors ranging from 75,000 to 150,000 words. We are not currently accepting short stories, novellas, or short story collections. If your novel is the first of a trilogy or series, be aware that we will not commit to publishing more than one book at a time.
Stories should emphasize careful and thoughtful development of complex, three-dimensional and fallible characters, complicated relationships and conflicts, and strong, coherent plots with satisfying resolutions.
We will consider historical (any time period or culture), traditional fantasy, horror, and science-fiction genre stories as long as they meet the criteria above.
Although we prefer adult fiction, we will consider manuscripts aimed at a young adult audience, as long as the writing is intelligent and does not condescend to that age group. We are not considering juvenile fiction at this time.
If your manuscript conforms to the above guidelines, send a query by electronic submission. Each query must include the following for consideration:
A cover letter with a pitch, your story synopsis (500 words or less), the total word count of your manuscript, and an author bio. Your pitch should explain why your manuscript is perfect for FlowerSong Press. Your synopsis should describe the whole story, including the ending–we want a synopsis, not a teaser. Your bio should focus on your writing and/or publishing experience and credits and other background specifically relevant to your manuscript content.
The first three chapters of your manuscript in standard manuscript format: 12-point type, 8-1/2″ x 11″ pages with one inch margins, with page numbers, your name and the manuscript title in a header at the top of each page. Use this format whether submitting electronically. Electronic files should be sent as attachments in Microsoft Word, Word Perfect or PDF. Do not send a zipped, or HTML attachment. These attachments will be deleted unopened.
Full contact information for the author, including full legal name, pen name or pseudonym if any, mailing address, e-mail address and telephone number.
Query materials will not be returned. Do not send your only copy of anything.
Do not send a full manuscript unless we have requested it.
Please note that it may take anywhere between 4-6 weeks to hear back from us as we want to give each submission ample time to read them and thoughtful analyses of your work.
This call will run from October 15th, 2022- April 15th, 2023 with accepted manuscripts set for publication the following year, 2024. We look forward to reading your work. Good luck!
Via: Flower Song Press.
About the Author
Latest Posts
Stuart Conover is a father, husband, published author, blogger, geek, entrepreneur, horror fanatic, and runs a few websites including Horror Tree!