Taking Submissions: Mirrors Reflecting Shadows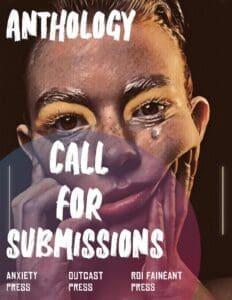 Deadline: April 15th, 2023
Payment: $40
Theme: A charity anthology to donate to The Trevor Project open to most genres to help on suicide prevention among LGBTQ+ youth
Mirrors Reflecting Shadows: A Trevor Project Charity Anthology
Considering the increasing marginilazation LGBTQ+ individuals and the attack on gender affirming care through legislation Outcast Press, Anxiety Press, and Roi Fainéant Press have teamed up to curate a charity anthology with proceeds going towards The Trevor Project. For over 20 years, The Trevor Project has worked tirelessly on suicide prevention among LGBTQ+ youth, who are more than four times as likely to attempt suicide than their peers (Johns et al., 2019; Johns et al., 2020).
We are open to most genres, including, but not limited to, literary, transgressive, horror, crime, noir, and speculative fiction. The pieces can be about most anything, so don't feel you need to write about LGBTQ+ issues. We want a smorgasbord of short stories and flash fiction. Of course you can touch on these topics, and are encouraged to do so, but the point is to gather excellent short fiction in service of a great cause.
(We aim to publish approximately 30 pieces)

Guidelines:
Flash: 300-1,000 words (roughly)
Short Stories: 1500-7,000 words (roughly)
Submission Window: Feb 15th – April 15th, 2023. Acceptances and rejections will be sent out around May 1st.
Tentative Publication Date: June 15th, 2023
Reprints are allowed, but it's your responsibility to ensure your piece, if accepted, doesn't violate another publisher's contract. 
Compensation: Due to a very generous donation from Mythic Picnic, we can pay authors a flat $40 for licensing their piece.
How to Submit:
In the subject line of your email: [type of submission], [name]. Content should be emailed as an attachment. Acceptable formats include: (.doc, .docx, .txt, pdf, .rtf, 12 point Times New Roman preferred, double spaced preferred). All personal information should be in the email body or as a separate attachment.
Via: A Thin Slice of Anxiety.
About the Author
Latest Posts
Stuart Conover is a father, husband, published author, blogger, geek, entrepreneur, horror fanatic, and runs a few websites including Horror Tree!