Top 6 Netflix Horror TV Shows for 2023 To Inspire Your Writing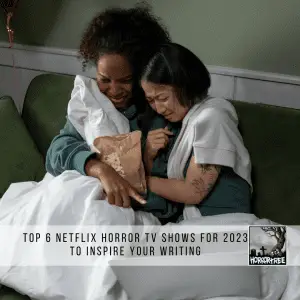 Horror television series have gained popularity over the past few years, and Netflix has emerged as one of the most popular platforms for such content. Anyone who enjoys the great ghoulish genre will find something on Netflix, spanning horror comedy to animated horror; when your hitting writers block, one of the ways you can address it is to dive headfirst into the genre. So, we're happy to share some of the best horror shows you can stream on Netflix right now. I will say that there are a TON of other options, many of which are superior when we go with subtitled or dubbed works, but we'll mostly save those for another post. 
With the debut of Resident Evil, Netflix returns to the battlefield with what they believe will become a significant television horror series in the future. With that being said, today's post will cover the trending horror shows for 2023 that can be streamed via Netflix. 
1. Resident Evil 
Andrew Dabb's version of Resident Evil is completely devoted to the world of Capcom's computer games, even though it isn't the version you remember from its video game. Ella Balinska and Adeline Rudolph, who represent Albert Wesker's daughters, serve as the show's central characters, while Lance Reddick portrays him as a cunning and stone-faced villain. 
Dabbs authors use the Resident Evil IP to create something new while keeping to Umbrella's sinister viral testing, touching on all the viciousness and corporate despicability prevalent throughout the games. There are many intriguing notions, from future aberrations to the perplexing atrocities of New Raccoon City, so it doesn't need to be a replica like Resident Evil: Welcome to Raccoon City.
2. Black Summer 
Black Summer, a sequel to Z Nation, unexpectedly became a Netflix sensation and debuted Season 2 in June 2021. The Asylum, who frequently works with Syfy, developed the show, which depicts a special forces team as it battles a zombie outbreak that is spreading long before the happenings of Z Nation. 
In a tale influenced by The Walking Dead and the idea that people are worse than zombie enemies, Jaime King plays a mother looking for her kid. Despite being another zombie serial, which doesn't always require zombies to communicate fear, it's remarkably intriguing.
3. Sweet Home 
If you can get over Sweet Home's haphazard nature, there is a fantastic Korean monster saga that is worth the experience. In a depressed state, our main character enters the apartment building Green Home. 
When a monster apocalypse occurs, this despair becomes a minor issue. The monsters in the horror regulations are roughly related to zombies, but they have titles like "Glutton" and "Demon." While moral compass starts to cause anguish behind fortified walls, residents protect Green Home against growling, angry threats outdoors. 
Expect your standard horror survival situation with a new paint job. Nothing groundbreaking but fun if you enjoy a variety of demon animals that seem to fit any given scene.
Since Netflix is a movie streaming app for android and iOS, accessing these excellent series is no longer a hassle. Just a few clicks and downloads, and you have it all at your disposal. 
4. All of Us are Dead 
Considering their television shows, Netflix is going all-in on the South Korean horror industry. The most recent piece to be added to their collection, All of Us Are Dead, unleashes zombies on a high school with a massive student body. 
What begins as a science professor cover-up turns into a devastating plague of the undead, which makes for interesting enough horror entertainment. Class presidents and lazy buffoons must cooperate to survive the apocalypse, tossing clique ranks out the window, much like uniformed corpses in the first episode. This one definitely doesn't go well for the kids.
5. Wynonna Earp 
The lead role of Wynonna Earp, a great-great-granddaughter of Wyatt Earp who hunts Revenants in the Canadian Rockies, is played by Melanie Scrofano. She defends her homeland of Purgatory from the wicked spirits of criminals killed by Wyatt's pistol and resurrected. 
Fighting a curse she acquired due to her ancestry, Wynonna shoots her way through this peppy sci-fi western along with an ageless Doc Holliday (Tim Rozon). With each defeated rival, Scrofano takes ownership of her quick-draw protagonist identity, making it one of the most entertaining representations of subsequent generations carrying their ancestor's baggage.
6. Reality Z
Dead Set from the UK was remade in Brazil as Reality Z. The Big Brother show is replaced with one that resembles it, named Olympus. The same basic premise applies, contestants are confined to their reality-show castle as a zombie virus infects outside, but this time it takes place in Rio de Janeiro. So ensure that you check out Reality Z if you liked Dead Set.
Wrap Up 
Even though October is the height of the scary season, there is never a specified time of year to savor a few spooks. Fans of horror movies and television shows often yearn for the excitement of a good scare. There is no scarcity of entertainment that will make you squeal, including gore fests, haunted experiences, and philosophical nightmares. I hope some of these are new to you and will help open up new creative paths for you. 
About the Author
Latest Posts
The Horror Tree is a resource for horror authors which was created in 2011. The main goal when starting the site was to include all of the latest horror anthologies and publishers that are taking paying submissions. A resource useful for both new and experienced publishers alike looking for an outlet for their written material!