Catherine Weaver: Weaving tales of magic for young and old alike.
Catherine Weaver: Weaving tales of magic for young and old alike.
By Angelique Fawns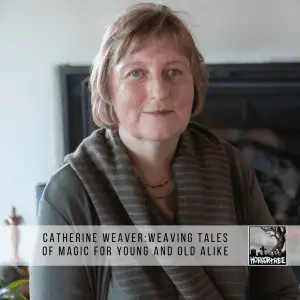 Writing is in Catherine Weaver's blood. From a grandmother who interviewed Amelia Earhart to a mother who taught and created poetry, Weaver continues the family tradition. She's published several books for children and is currently focusing on winning Writers of the Future. I met this remarkable wordsmith through the DreamForge Magazine DreamCaster's writing group and Wulf Moon's Wulf Pack. Curious about her literary journey, I asked her a few questions.
AF: When did you first decide that you wanted to become a writer?  What was your inspiration?
CW:  I come from a long line of writers. My grandmother was a newspaper reporter for the San Francisco Call-Bulletin, which later became the San Francisco Examiner, from the 1930s into the 1980s. I have a picture of her interviewing Amelia Earhart hanging on my wall. My mother was an English professor and a poet. She was pretty well-known among poets and poetry-readers, and published many books of poetry.
Because of the above, I grew up being schooled in English from an early age, and was also encouraged to write, and I've enjoyed making up stories since I was quite young.  My friend and I even wrote a musical when we were 14 years old.
AF: Who are your influences?
CW: I've been a Science Fiction fan since 1966 when Star Trek first came out, and my father let me stay up late to watch it on TV, and I've read every Sci Fi book I could lay my hands on since then starting with Robert Heinlein, and moving on to Clarke, Asimov, Vonegut, LeGuin, Hubbard, Niven, and then to Kim, Stephenson and Weir. I've lived in the Silicon Valley since 1978, and have been part of the developing Tech world from its inception, and living in this world.has been a huge inspiration.
My grandmother had the original edition Oz books at her house, and I read them when I visited, my mother read the Chronicles of Narnia to my brothers and me when we were young. 
I read The Hobbit when I was ten, and shortly after that, the Lord of the Rings. Rudyard Kipling, original fairy tales by Hans Christian Andersen and the Brothers Grimm, the complete 1001 Arabian Nights, which I took out from the library over and over again because it was so long, lots of French stories, including The Little Prince, the full Discworld series by Sir Terry Pratchett, everything by Neal Gaiman, Diana Wynne Jones, and Madeleine L'Engle have been some of my fantasy inspirations, and I also read a lot of mysteries by Dashiell Hammett and others.
AF: What types of work have you done, and how has it influenced your writing?
CW: I was professionally trained in music and the theater, and have performed on my trumpet in jazz bands, sung in choirs in many venues around California, including a major symphony hall, and performed in or managed many theatrical productions and musicals. I am a trained mime, and made up and performed mime shows, and I've been in a lot of improv shows as well. All of these things have contributed to my story-telling chops, and given me the ability to make up stories easily.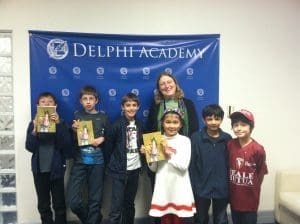 I love people and am an avid student of human nature, and have spent the bulk of my adult life volunteering in my church, counseling people, and helping them with everyday problems like relationships, feelings of self-worth, becoming literate and competent in life, becoming free of drug or alcohol dependency, raising kids, and making good moral choices.
In helping educate kids and adults, I studied many many texts on English grammar and punctuation, and word meanings and etymologies. I also learned Spanish and French, and also some Chinese, Greek, Latin and Japanese, and am really pretty obsessed with language in general. I have been a professional proofreader now for over ten years, and have helped hundreds of self-published authors of fiction and non-fiction bring their books into the world. I feel like a literature midwife, and enjoy it quite a bit.
I currently offer services which include proofreading services, writing custom poems to include inside holiday or greeting cards, and coming to classrooms to read from my books and talk about writing. Anyone may contact me at [email protected] about any of these services, or to ask me anything. I enjoy hearing from people.
AF Your novel Gold Dust is part of The Island of California series. Tell us about the series and how you chose your location?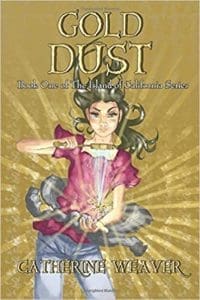 CW: I'm a fourth-generation Californian, and have lived in and around the San Francisco Bay Area for my entire life, as did my mother, my grandmother, and my great-grandmother, and I believe this is a magical place. I noticed most fantasies are set in Europe or a European-type world, and I felt that my magical part of the world deserved some fantasies set here. I researched the origin of the name "California," and found it came from a Spanish novel the sailors were reading around the time the Spaniards came to California, Las Sergas de Esplandían by Garci Rodriguez de Montalvo. It was about a magical island called California, inhabited by amazons, griffins and centaurs. They originally thought that California was an island when they found it, because of the big peninsula of Baja California.I found the book in my local library, but they wouldn't let me check it out, so I went into the library basement and read some of it every day until I finished it. (It was in old Spanish, like Don Quixote was, so took some time to read.) After that, I wrote books and short stories based in this world, called The Island of California. I added quite a bit of additional lore, including how leprechauns and the phoenix came to California.
AF: What is the difference between writing speculative fiction for children versus adults?
CW: People are people, and every one of every age likes to read engaging stories that make them care about the main character and want to know what happens next. There are specific vocabulary parameters for different age groups, and the sentences and stories are usually shorter for kids than for adults. Kids love fast-paced stories with humor, and friendships and family are very important to them. The main character in a kid's book needs to be just a little older than the age of the kids reading the story, or maybe about the same age. Stories for adults might have more financial worries or worries about the structure of the wider world and communities, and of course can have more intimate relationships. They include a bigger vocabulary and word count than kids books and move a little slower without so much slapstick or embarrassing situations. I often shorten the explanation to: there aren't as many fart jokes in books for adults.
AF: What challenges do you find writing novels versus short stories?
CW: Novels are easier for me. I have the time to develop a whole story and all the characters in it. Short stories are a distillation, and I'm still practicing them. However, I have written a number of successful fairytale-like short stories set in my world of the Island of California. This is a different type of story than you read in typical anthologies or magazines. An artist friend of mine and I will be releasing a beautifully illustrated compilation of these stories next year, so be on the lookout for these.
AF: How have you marketed your books?

CW: Facebook has been great for finding groups of people who might like my books. I've used Amazon sales and BookBub. I've sent free copies to book review blogs, and then shared their great reviews. I've gone to classrooms and read my books to kids, who bought copies, and I've had great word-of-mouth sales.
AF: Why Writer's Of The Future?
CW: I submit to Writers of the Future every quarter because it's the best way I know to improve my writing career. It's the most supportive community for writers of speculative fiction that I know of, and winning the contest opens many doors. Through the contest website I found the Writers of the Future Forum, and through the Forum I found Wulf Moon's Super Secrets. Using the tools and community help I've found there is bringing my writing up to the next level.
AF: Any recommendations for other writers hoping to break into the children's fiction market?
CW: I took a class from the Institute of Children's Literature, which helped me a lot. I also recommend spending as much time with kids as possible, having kids of the correct age group beta-read your books, and reading a lot of books that are popular with kids of the age group you want to write for.
AF Do you have any advice/tips for writers who wish to make sales to pro-speculative markets?
CW: The book "The Writer's Market" is a great resource. They recommend writing short stories every month and keep sending them out to short story magazines and contests while concurrently writing your book, so you have some sales under your belt. Wulf Moon's Super Secrets have helped me a lot in improving my craft and learning the market. I recommend joining the Writer's of the Future Forum and reading Wulf Moon's thread there, as well as taking the free online workshop that Writers of the Future offers. Keep learning, keep writing, and keep submitting. Get a good mentor and a good network of people to critique with and beta readers. Make sure you have a social media presence. Use a dictionary, a thesaurus, and grammar and style manuals. Be considerate of editors and follow their submission guidelines. Help out others whenever you can.
AF: Finally, what is the ultimate goal/career for Catherine Weaver?
CW: I would like to win Writers of the Future and be published in some great anthologies and/or magazines. I will continue to put out books and would like them to be widely read. Then I'd really like to be part of an editing team for anthologies. I want to continue to help authors get their books and stories out into the world.
I also really like working with artists, and want to continue to produce works that promote artists.
Anyone may contact me at [email protected] to ask me anything. I enjoy hearing from people.
About the Author
Latest Posts
Angelique Fawns writes horror, fantasy, kids short stories, and freelance journalism. Her day job is producing promos and after hours she takes care of her farm full of goats, horses, chickens, and her family. She has no idea how she finds time to write. She currently has stories in Ellery Queen, DreamForge Anvil, and Third Flatiron's Gotta Wear Eclipse Glasses. You can follow her work and get writing tips and submission hints at http://fawns.ca/.