Epeolatry Book Review: Unthinkable: A Queer Gothic Anthology, ed. Celine Frohn


Disclosure:
Our reviews may contain affiliate links. If you purchase something through the links in this article we may receive a small commission or referral fee. This happens without any additional cost to you.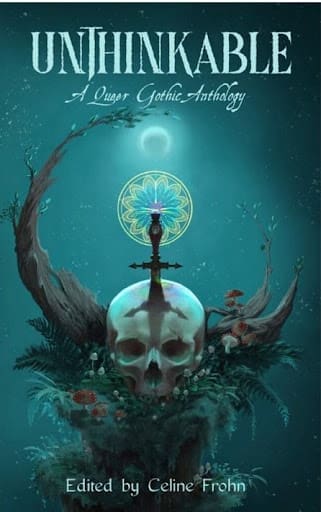 Title: Unthinkable: A Queer Gothic Anthology
Author: Various, ed. Celine Frohn
Publisher:  Haunt Publishing
Genre: Gothic
Release Date: 27th, October, 2022
Synopsis: Unthinkable: A Queer Gothic Anthology collects eighteen original Gothic tales primed to unsettle and entertain.
From a Southern Gothic tale of destruction and revenge, to haunted houses and cursed lovers, to an eco-Gothic saga, Unthinkable's tales present undying themes of love and tragedy, life and death, all suffused with queerness.
Following on from the success of its predecessor Unspeakable: A Queer Gothic Anthology, Unthinkable features stories from a fresh batch of authors, showcasing the depth and breadth of queer Gothic literature.
Edited by Celine Frohn and featuring an introduction by S.T. Gibson, Unthinkable promises to haunt the reader long after the final page has been turned.
Contributors: K. Blair, Jillian Bost, Adriana C. Grigore, Stewart Horn, Kallyn Hunter, Diana Hurlburt, Gillian Joseph, G.T. Korbin, Solstice Lamarre, Hunter Liguore, Sydney Meeker, Antonija Mežnarić, Elisabeth R. Moore, Valentin Narziss, Tabitha O'Connell, Arden Powell, Kimberly Rei, Jamie Rose, M. Špoljar.
The present anthology supposedly shares two specific characters: gothic atmospheres (or themes) and LGBTQ conditions. While the queer element is always present, I will contend that the term "gothic" can really apply to the majority of the featured stories. Anyway, never mind labels. And never mind that most of the contributors are scarcely known in the area of horror fiction. What is really important to the reader is the quality of the stories, and that, in my opinion, is quite uneven. Thus, I will focus only on that bunch of stories which, in my opinion, are the more accomplished.
The best story, perhaps, is the very first piece in the book, "All Sweet Souls". Written by Croatian author Antonija Meznaric, this true Gothic story with a lesbian content is told in a fascinating narrative style, setting the tone of the anthology.
Another wonderful tale is the offbeat "Vestal" by Dee Holloway, depicting the fatal attraction between a village "healer" and the assistant of a rival "doctor".
Hunter Liguore provides "Raion Kuin", a dark tale of secret loves and hidden violence taking place in a convent of nuns in medieval Japan.
"The Dead Space" by Stewart Horn is an original, quite entertaining vampire story served with a spicy taste of queerness.
"An Epytaph, Epistolary" by M Spoljar, not quite a gothic tale, is actually a melancholic, perceptive piece where a ghost observes the long grieving of her former girlfriend.
The publisher has also reprinted a new edition of a previous, similar anthology by the same editor, entitled Unspeakable, published in 2020. I'll talk about that soon.


/5
About the Author
Latest Posts
Mario Guslandi was born in Milan, Italy, where he currently lives. A long time fan of dark fiction (especially short stories)he's probably the only Italian who reviews horror and supernatural tales in English. Over the years his reviews have appeared in many genre sites such as Horrorworld, The British Fantasy Society, Hellnotes, Emerald City, SF Revu, Thirteen O' Clock, etc.