Epeolatry Book Review: The Wind Through the Keyhole by Stephen King


Disclosure:
Our reviews may contain affiliate links. If you purchase something through the links in this article we may receive a small commission or referral fee. This happens without any additional cost to you.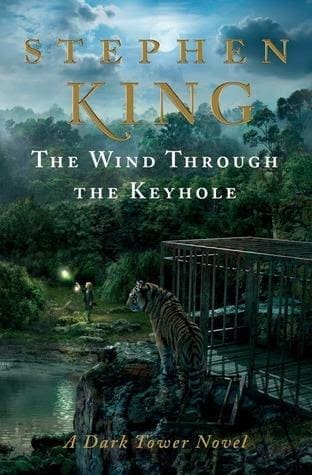 Title: The Wind Through the Keyhole
Author: Stephen King
Genre: Horror, Sci Fi, Fantasy
Publisher: Scribner
Release Date: April 2012
Synopsis: Stephen King returns to the rich landscape of Mid-World, the spectacular territory of the Dark Tower fantasy saga that stands as his most beguiling achievement.

Roland Deschain and his ka-tet—Jake, Susannah, Eddie, and Oy, the billy-bumbler—encounter a ferocious storm just after crossing the River Whye on their way to the Outer Baronies. As they shelter from the howling gale, Roland tells his friends not just one strange story but two . . . and in so doing, casts new light on his own troubled past.

In his early days as a gunslinger, in the guilt-ridden year following his mother's death, Roland is sent by his father to investigate evidence of a murderous shape-shifter, a "skin-man" preying upon the population around Debaria. Roland takes charge of Bill Streeter, the brave but terrified boy who is the sole surviving witness to the beast's most recent slaughter. Only a teenager himself, Roland calms the boy and prepares him for the following day's trials by reciting a story from the Magic Tales of the Eld that his mother often read to him at bedtime. "A person's never too old for stories," Roland says to Bill. "Man and boy, girl and woman, never too old. We live for them." And indeed, the tale that Roland unfolds, the legend of Tim Stoutheart, is a timeless treasure for all ages, a story that lives for us.

King began the Dark Tower series in 1974; it gained momentum in the 1980s; and he brought it to a thrilling conclusion when the last three novels were published in 2003 and 2004. The Wind Through the Keyhole is sure to fascinate avid fans of the Dark Tower epic. But this novel also stands on its own for all readers, an enchanting and haunting journey to Roland's world and testimony to the power of Stephen King's storytelling magic.

~from first edition jacket
Growing up, I wasn't a horror reader. I tended to stick to titles like Lord of the Rings and Dune. But my mom packed her shelves with books by Stephen King, Peter Straub, and Dean Koontz. The spooky covers didn't look anything like the stuff I read, so I steered clear.
Fast forward to my college years, and I accomplished almost no reading for pleasure at all. AP English had killed my love of books, until I decided to pick up Stephen King's The Gunslinger. His story blew me away. I hadn't known horror could be more than slasher flicks and blood and gore.
King threw his brand of spices into genres I loved, including fantasy and science fiction. Plus, who isn't at least a little interested in westerns? (I love Tombstone with Kurt Russel, Val Kilmer, and Sam Elliot.)
Gunfights happened across post-apocalyptic landscapes, populated by monsters and ghosts, and littered with rusting futuristic tech and nuclear fallout. Awesome stuff for me.
I then spent the next couple years digging through the whole Dark Tower series, enjoying every page. (Book three, The Waste Lands, is my favorite by the way.) Hooked and curious, I wondered what else was out there in the horror genre—but that's a story for another review.
Fast forward to the present—I read quite a bit more of King's work plus I've explored a chunk of the horror fiction ecosystem. And I decided it was time to revisit the Dark Tower universe. But I wanted to read the other connected King novels as well. I found a good list to loosely follow(http://thetruthinsidethelie.blogspot.com/2016/11/a-suggested-reading-order-for-extended.html), and dug in.
Coming back to these characters—Roland, Susana, Eddie, Jake, Oi—is like coming home.
But this time around the wheel of Ka (if ya ken it) has a little something extra that didn't exist on my first outing with Roland and his Ka-tet: a whole new book!
The Wind Through the Keyhole
This new tale fits snuggly between books four and five, picking up right after our intrepid adventurers after the events at the end of Wizard and Glass. Much like Wizard and Glass, this novel mostly consists of a story within a story, but taken up a notch. This one is a bedtime story within a story within a story.
We follow the ka-tet as they ride out an insanely destructive ice storm. To pass the time, Roland tells a story from his past giving us more insight into the complicated relationship between him and his mother. He also tells us about his next adventure after the catastrophes of Destry. His father sent him to investigate reports of a 'skin changer' who killed residents at the edge of Gilead's domains. A skin changer is sort of like a werewolf but can transform into several different animals. Here, Roland finds a small boy who witnessed the 'skin man' transform, and took the boy into protection.
As Roland and the boy wait out the night as the suspects are rounded up, he tells the boy a story his mother once told him back in the castle towers of Gilead. A tale about a boy who also was in a dire situation. This inner fable makes up the bulk of the book.
Usually, I'm not a fan of novels which abandon the main plot for long stretches of time to tell an inner story, but King pulls it off. As usual, his characters are magnetic and believable. I would fight a dragon to save the boy from the fable, since he's already been through so much, and he fights his way through a great deal more for his mother's health and safety.
And now, I will leave the review here. Without giving anything more away, let me say The Wind Through the Keyhole is worth picking up, even if you have not read any of the other Dark Tower books. The story stands on its own, but, if you are a Towerphile—like me—you will find treasures to enrich the full experience. (A certain figure, important to the whole Stephen King universe, makes an appearance in the fable.)
Please, for the love of Mike, make sure to read this stellar entry in Stephen King's oeuvre.

 out of 5 ravens.
About the Author
Latest Posts
Joe lives with his wife and son in the Pacific Northwest where the Cascade Mountains meet the Salish Sea. He enjoys writing in the weird, horror, and fantasy genres.
Growing up he enjoyed R. L. Stine's Goosebumps books as well as classics like Dune, and Lord of the Rings. In college he discovered Stephen King, and later Mark Danielewski's House of Leaves and authors like Clive Barker and Laird Barron.
Joe's short story, 'Gustav Floats', was published in Dim Shores Presents Volume 2. In the spring of 2021 his story, 'The Pigeon Lied' comes out in Howls From Hell.
You can follow Joe on the following social media sites:
Twitter, Good Reads, Facebook, and Instagram!