Epeolatry Book Review: The Other Emily by Dean Koontz


Disclosure:
Our reviews may contain affiliate links. If you purchase something through the links in this article we may receive a small commission or referral fee. This happens without any additional cost to you.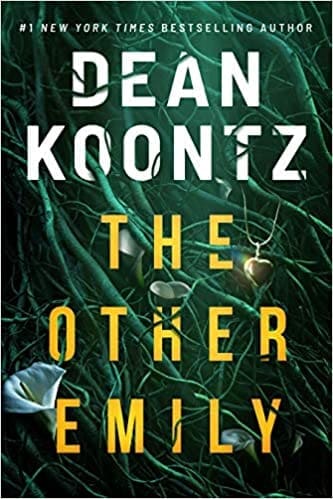 Title: The Other Emily
Author: Dean Koontz
Genre: Thriller
Publisher: Thomas & Mercer
Release Date: 23rd March, 2021
Synopsis: Number one New York Times bestselling master of suspense Dean Koontz takes readers on a twisting journey of lost love, impossible second chances, and terrifying promises.
A decade ago, Emily Carlino vanished after her car broke down on a California highway. She was presumed to be one of serial killer Ronny Lee Jessup's victims whose remains were never found.
Writer David Thorne still hasn't recovered from losing the love of his life, or from the guilt of not being there to save her. Since then, he's sought closure any way he can. He even visits regularly with Jessup in prison, desperate for answers about Emily's final hours so he may finally lay her body to rest. Then David meets Maddison Sutton, beguiling, playful, and keenly aware of all David has lost. But what really takes his breath away is that everything about Maddison, down to her kisses, is just like Emily. As the fantastic becomes credible, David's obsession grows, Maddison's mysterious past deepens―and terror escalates.
Is she Emily? Or an irresistible dead ringer? Either way, the ultimate question is the same: What game is she playing? Whatever the risk in finding out, David's willing to take it for this precious second chance. It's been ten years since he's felt this inspired, this hopeful, this much in love…and he's afraid.
This is the story of a writer, David Thorne, recovering from guilt. A decade ago, he lost his fiancé, Emily, to a serial killer on a lonesome stretch of California highway. When David makes his annual trip back to California, he meets Maddison—a dead ringer for Emily.
I originally picked up this book because of the title; in essence, it asks, who is the other Emily?  When I started reading, I expected serial killer hijinks. But like the Sixth Sense, this story was not what I thought it was. Tension built throughout, and when Koontz tied all the threads together in the third act, I felt overjoyed. He swung for the fences and knocked out a home run. 
Koontz is at the top of his game here in this page-turning suspense novel. The first time David and Maddison meet at the café, the two characters exchange a snappy dialogue, and I squealed like a schoolgirl while immersed in the chemistry between these two characters. Koontz gives just enough information throughout the book to keep me wondering. 
Koontz also does an excellent job with setting, which I found distinct and memorable. This is my first time reading his work and I enjoyed getting lost in the locations. I have driven those highways in California—he got me feeling like I was there.
This book is for readers who like Harlan Coben, thrillers, and suspense. For us horror fans, there is a healthy dose. The Other Emily is the perfect summer beach book for 2021. Try not to learn too much about the plot before you start reading, and hopefully you will experience the same thrill I did.  I could not put this book down. It reads quickly, and you will root for David Thorne to see if he finds his true love again. 
5 out of 5 stars.
About the Author
Latest Posts
Warren Nast is a freelance writer with articles in Harrisburg Magazine. Nast can be reached at his website: Penshido.com or followed on twitter @penshido. Nast lives in Camp Hill, PA.