Epeolatry Book Review: A Mirror Mended by Alix E. Harrow


Disclosure:
Our reviews may contain affiliate links. If you purchase something through the links in this article we may receive a small commission or referral fee. This happens without any additional cost to you.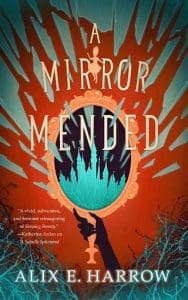 Title: A Mirror Mended
Author: Alix E. Harrow
Publisher: Tordotcom
Genre: Fantasy, Fairy Tale, LGBTQ Literature
Release Date: 14th June, 2022
Synopsis: Fairy-tale fixer and former Sleeping Beauty Zinnia Gray is done with princesses. Until evil's gorgeous face appears in her mirror and pulls her into another world, and a different story. Snow White's Evil Queen has no name, no one to turn to, and no way out of her story. But she has learned the horrible ending that awaits her, and she wants Zinnia's help to escape it. Will Zinnia accept this poison apple, or forge another path?
A Mirror Mended is the second installment of Harrow's Fractured Fables and follows Zinnia Gray out of the world of Sleeping Beauty and into Snow White. While both novellas retell well-known fairy tales with a feminist twist, A Mirror Mended dives into the negative narratives that trap women. Here Zinnia encounters the evil queen who appears not only in Snow White but throughout fairy tales and folklore in various guises—the evil stepmother, the aging crone, the wicked witch. Such tropes are common in contemporary work, too, and that's one of the purposes of this novella: to expose the ways in which conventional narratives strip women of their power, their voices, and their identities. 
The Evil Queen has no name, which emphasizes this theme. Her identity has been reduced to a queen who's evil. Snow White has always been the protagonist and the victim in this fairy tale, but A Mirror Mended forces the reader to reconsider their preconceptions about the story's characters. We simply take for granted that the queen is just evil, without ever considering the reasons or experiences influencing her actions and behaviors. Zinnia and the queen grapple with this throughout the story, and Harrow's punchy dialogue makes these exchanges heartfelt, powerful, and real, never cheap or forced for the sake of making a statement. It felt meaningful for Zinnia to call the Evil Queen Eva and celebrate her identity, story, and power of her own even if no one, including herself, knows her name.
Beyond a retelling of Snow White, this piece of metaliterature engages various elements, themes, and versions of this and other fairy tales. I really loved how the book opens up many questions about stories we think we know. How many Snow Whites are out there, and how many Evil Queens? A band of Snow Whites helps Zinnia rescue Eva, displaying the immense possibilities that exist when we put a critical eye to the systemic narrative frameworks that form the foundation of so many classic and popular stories. Harrow puts this version of the story into dialogue with the classic, then twists it to reveal other universes with completely different Snow Whites and Evil Queens.
This story reads like looking at Snow White through a broken mirror: lush, dark, and romantic, but not without horror, or danger. The people in this book are real; the reader feels for Eva, just like Zinnia does. The characters' choices and consequences are distinctly un-fairytale-like, which only enhances the developing relationships. The places are real, too, and Harrow's prose evokes various landscapes that Zinnia and Eva travel through as they move between versions without ever bogging down the story in over-description. For me the ending was perfect specifically because it wasn't fairy tale perfect. Even though I would have wanted another outcome for the characters, I left the book with a sense of completion knowing they chose the way their stories ended. 
Readers who enjoy retellings of classic stories and fairy tales should pick up this novella, along with the first in the series, A Spindle Splintered.


/5
About the Author
Latest Posts
B. A. Kockaya writes horror and Gothic stories. She is currently working on her first novel, a feminist retelling of Beowulf with horror elements. Originally from Buffalo, NY, she lives here and there with her husband and son.
You can also follow B.A. on Instagram at @totsbels!