Epeolatry Book Review: Hellboy: The Bones of Giants by Mike Mignola & Christopher Golden


Disclosure:
Our reviews may contain affiliate links. If you purchase something through the links in this article we may receive a small commission or referral fee. This happens without any additional cost to you.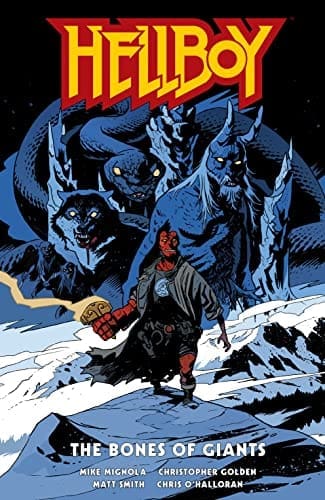 Title: Hellboy: The Bones of Giants
Authors: Mike Mignola, Christopher Golden
Illustrator: Matt Smith
Colorist: Chris O'Halloran
Genre: Graphic Novel, Horror, Comics
Publisher: Dark Horse Books
Release Date: July 27, 2022
Synopsis: When a startling discovery is made in Sweden, the B.P.R.D. sends Hellboy and Abe Sapien to investigate. What ensues is a wild adventure full of Norse legends, mythical creatures, and a threat that could bring not just Earth but the Nine Realms of Norse mythology to their knees.
Based on the illustrated novel by Mike Mignola and Christopher Golden, this hardcover collection brings readers into Hellboy's fight against the Frost Giants with stunning art by Matt Smith and colors by Chris O'Halloran.
Hellboy is back! After finishing The Devil You Know arc of the comics, I didn't know if I'd ever return to the Hellboy universe. Sure, delving into the middle years between the stories can be fun, but it's not the same as riding the edge of the known character. But Mignola and Golden pulled me back in with their new graphic novel rendition of The Bones of Giants.
Hellboy always dealt supernatural entities from a variety of world mythologies, but I do not remember him running into anything from the Norse myths, until now. This brand-new set of adversaries and allies drew me in. Plus, the authors wrote it with the old Norse legends tying directly into the mythos developed for Hellboy and his story universe.
In The Bones of Giants a mysterious body falls from the sky, burnt to a crisp and holding a hammer. The B.P.R.D. (Bureau of Paranormal Research and Defense) arrives on scene and Hellboy is the only one able to lift the hammer, but he can not release it. From here he must unravel the machinations of an evil that was never meant to rise again.
Anyone who appreciated the many Hellboy story arcs over the years, as well as anyone who loves myth-based fantastic stories, will absolutely enjoy this new entry into the Hellboy universe.

/5
About the Author
Latest Posts
Joe lives with his wife and son in the Pacific Northwest where the Cascade Mountains meet the Salish Sea. He enjoys writing in the weird, horror, and fantasy genres.
Growing up he enjoyed R. L. Stine's Goosebumps books as well as classics like Dune, and Lord of the Rings. In college he discovered Stephen King, and later Mark Danielewski's House of Leaves and authors like Clive Barker and Laird Barron.
Joe's short story, 'Gustav Floats', was published in Dim Shores Presents Volume 2. In the spring of 2021 his story, 'The Pigeon Lied' comes out in Howls From Hell.
You can follow Joe on the following social media sites:
Twitter, Good Reads, Facebook, and Instagram!