Epeolatry Book Review: Hidden Pictures by Jason Rekulak


Disclosure:
Our reviews may contain affiliate links. If you purchase something through the links in this article we may receive a small commission or referral fee. This happens without any additional cost to you.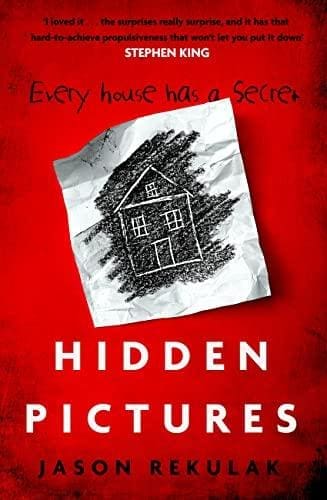 Title: Hidden Pictures
Author: Jason Rekulak
Publisher: Flatiron Books
Genre: Horror/Ghost/Thriller
Release Date: 10th May, 2022
Synopsis: Mallory is delighted to have a new job looking after gorgeous four-year-old, Teddy. She's been sober for a year and a half and she's sure her new nannying role in the affluent suburbs will help keep her on the straight and narrow.

That is until Teddy starts to draw disturbing pictures of his imaginary friend, Anya. It is quite clear to Mallory and to Teddy's parents, even in his crude childlike style, that the woman Teddy is drawing in his pictures is dead.

Teddy's crayons are confiscated, and his paper locked away. But the drawings somehow keep coming, telling a frightening story of a woman murdered… and they're getting more sophisticated. But if Teddy isn't drawing the pictures anymore, who is? And what are they trying to tell Mallory about her new home?
Hidden Pictures by Jason Rekulak comes in at a lean 384 pages of text and full-page pictures. The story is about Mallory Quinn, who takes a job as a babysitter for the Maxwell's, looking after their five-year-old boy Teddy.
Recovering addict Mallory cannot believe her good fortune as she now has her own living space and goes out for nightly runs. She bonds with Teddy, a sweet, shy boy who is never without his sketchbook and pencil. His drawings are the usual fare: trees, rabbits, balloons. Until one day, he draws something different—a man in a forest, dragging a woman's lifeless body.  Teddy's artwork becomes increasingly sinister, well beyond the ability of any five-year-old. Mallory sets out to decipher the images and save Teddy before it's too late.
I enjoyed the use of drawings to flesh out the story. The artist did a great job interrupting the words in order to provide strong imagery to go with the story. Pictures shift from child-like to full-out horror. With about fifty drawings in the book, it makes reading possible in one sitting.
Rekulak writes with a strong voice for each of his characters. Mallory, an unreliable narrator, is the story's protagonist. 
"My name is Mallory Quinn and I am twenty-one years old.
I've been in recovery for eighteen months, and I can honestly say I have no desire to use alcohol or drugs.
I have worked the Twelve Steps and I have surrendered my life to my lord and savior Jesus Christ. You won't see me on street corners handing out Bibles, but I do pray every day that He will help me stay sober, and so far, it's working."
All the characters have unique voices, and it'll be fun to see who they cast (if the eventual movie gets made).
I would classify this as "Cozy" horror.  There is a sinister element and some gore and violence, but it's low-key. Twists and turns in the plot make this book a very satisfying read. Enjoy.


/5
About the Author
Latest Posts
Warren Nast is a freelance writer with articles in Harrisburg Magazine. Nast can be reached at his website: Penshido.com or followed on twitter @penshido. Nast lives in Camp Hill, PA.