Epeolatry Book Review: The Lonesome Hunters


Disclosure:
Our reviews may contain affiliate links. If you purchase something through the links in this article we may receive a small commission or referral fee. This happens without any additional cost to you.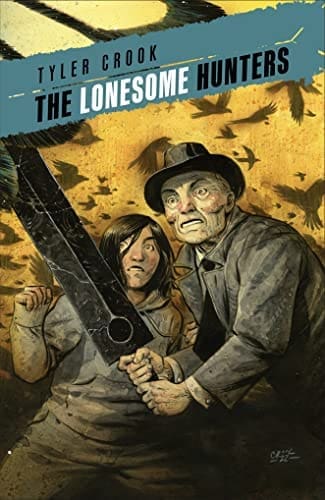 Title: The Lonesome Hunters
Author: Tyler Crook
Genre: Graphic Novel, Horror, Fantasy, Comics
Publisher: Dark Horse
Release Date: February 1st, 2023
Synopsis:  From Russ Manning Award-winning and Eisner-nominated Harrow County co-creator Tyler Crook comes this supernatural fantasy about loss, power, and destiny. 

An old and out-of-practice monster hunter in hiding crosses paths with a young girl that forces him to confront these chaotic creatures. As the beasts invade their tenement, they set off on a supernatural road trip to stop these ancient evils in a story that explores the ways that youth informs adulthood and how early traumas can haunt us in old age.
A good monster hunter story is always a treat. Especially when it approaches the story in a new fashion.
Crook has given readers just that with his fresh take on the monster hunter. Plucky sidekick: check. Mystical hunting implement: check. Interesting monsters to face off against: check. It's all here in Lonesome Hunters by Tyler Crook, both writer and artist. But what is different? Well, the hero was forced to carry the weapon, and—now that he is now much older and alone—he must hide it away to not draw attention. And the plucky sidekick? She's much more eager than the hero, but out of necessity. These characters collide and neither of them can return to their semblance of normal lives afterward. But are they better in this new partnership? Readers will have to grab a copy to find out.
The wonderful artwork in this volume is renascent of many titles from the Hellboy universe, which is no surprise since Crook did much of the art for the B.P.R.D Hell on Earth arc years ago. The strongest aspect of Lonesome Hunters is the characters. Readers will instantly fall for the hero and his helper. It's like a twisted version of Pixar's Up crossed with the Hellboy comics.
If you're looking for an awesome new monster-of-the-week comic series, definitely give Lonesome Hunters a look. Though apparently, just based on this collection of the first four issues, there is much more to the larger arc than picking off a monster at a time. This was really a blast to read.

/5
About the Author
Latest Posts
Joe lives with his wife and son in the Pacific Northwest where the Cascade Mountains meet the Salish Sea. He enjoys writing in the weird, horror, and fantasy genres.
Growing up he enjoyed R. L. Stine's Goosebumps books as well as classics like Dune, and Lord of the Rings. In college he discovered Stephen King, and later Mark Danielewski's House of Leaves and authors like Clive Barker and Laird Barron.
Joe's short story, 'Gustav Floats', was published in Dim Shores Presents Volume 2. In the spring of 2021 his story, 'The Pigeon Lied' comes out in Howls From Hell.
You can follow Joe on the following social media sites:
Twitter, Good Reads, Facebook, and Instagram!