Epeolatry Book Review: Silk Hills by Brian Level, Ryan Ferrier and Kate Sherron


Disclosure:
Our reviews may contain affiliate links. If you purchase something through the links in this article we may receive a small commission or referral fee. This happens without any additional cost to you.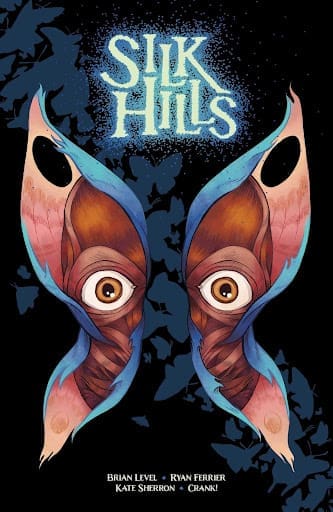 Title: Silk Hill
Author: Brian Level, Ryan Ferrier, Kate Sherron
Publisher: Oni-Lion Forge Publishing Group, LLC.
Genre: Horror Manga/Sci-Fi
Release Date: 14th June, 2022
Synopsis: This atmospheric and stylish mystery set in the Appalachian region is perfect for fans of Twin Peaks, The X-Files, and Sons of the Devil.
When Beth Wills comes to Silk Hills, a small Appalachian town that's seen better days since the mines were abandoned, she expected a bit of culture shock… But not like this! Beth is someone who has a talent for finding people who don't want to be found, and when she's called to Silk Hills by a local titan of industry, she can tell that something's not right. Little does she know…
Silk Hills was once booming, but the only reason people tend to come through town anymore is to buy Mothman merchandise. Before long, Beth finds out just how wrong things can get in the woods, as her search for a missing troubled youth finds her running afoul of the local drug trade, too-friendly creepers, a very sinister deer, and psychoactive moth dust. after all this time, for a new friend to sing his song… to take his hand and disappear?
Currently, there is a boom in great horror graphic novel content. Multiple labels seem to pump out title after title of quality content to satisfy every horror hound of the comic world, and Silk Hills represents some of the best in new graphic novel horror.
A private investigator, still dealing with trauma from her recent past while deployed with the army, arrives in a small town, Silk Hills, to help find a missing son. Things get more and more strange as she digs into the town's dark past.
Much of the plot deals with how a small town can trap and doom its inhabitants. In this case, this doom is very much a physical and terrifying thing. Uncanny creatures—including a grotesque deer with a human face embedded in its neck, and possible mothman-like beasts—lurk in the outskirts ready to ambush when least expected. The creatures really added to the level of grotesque in many panels. Much of the gore and creature artistry is reminiscent of illustrative works like B.P.R.D. Hell on Earth. 
Super creepy, that deer! Love mothman (always a plus). But the ending was abrupt.
The artwork is some of the creepiest I've come across recently in horror comics. The deer scenes will forever live in the back of my brain. Also, overall, the plot just works. The gradual build and introduction to the story world allows the reader to dive deep. My only complaint is that the abrupt ending left many questions unanswered. I hope there will be a sequel to further explore the town of Silk Hills and the characters within.


/5
About the Author
Latest Posts
Joe lives with his wife and son in the Pacific Northwest where the Cascade Mountains meet the Salish Sea. He enjoys writing in the weird, horror, and fantasy genres.
Growing up he enjoyed R. L. Stine's Goosebumps books as well as classics like Dune, and Lord of the Rings. In college he discovered Stephen King, and later Mark Danielewski's House of Leaves and authors like Clive Barker and Laird Barron.
Joe's short story, 'Gustav Floats', was published in Dim Shores Presents Volume 2. In the spring of 2021 his story, 'The Pigeon Lied' comes out in Howls From Hell.
You can follow Joe on the following social media sites:
Twitter, Good Reads, Facebook, and Instagram!