WiHM 12: Taking Back Our Voices: The Necessity of Representation in Horror

Taking Back Our Voices: The Necessity of Representation in Horror
By Spinster Eskie
There's a new thing I do before watching any movie I suspect will include a rape scene. I check the name of the director to see if it is male or female, and because the nuances of gender make names less of a giveaway, I then investigate further by reading the filmmaker's Wikipedia bio before deciding if I am willing and able to stomach the content I am about to view. But why should I care? Why does the identity of the filmmaker matter so much? There are plenty of artists that imagine rather than experience. The reason it matters is that bias is inherent within the artist and any themes relevant to my gender and/or queer experience means that I expect to connect with the art.
Since the internet emerged well after I had already become a horror connoisseur, being able to diligently research filmmakers before watching their babies thrive upon my television screen, is a relatively new habit. In the 90s I couldn't always cherry-pick to the extent that I do now and my options were limited, as far as gender identities went. Carrie and Rosemary were fabulously chilling and inspiring characters, but they were, of course, invented by men.
My father, a charismatic, sadistic horror fiend introduced me to the genre at my most absorbent age, but I liked the girls I saw the most. Lydia and Elvira dazzled me. Frankenstein's Bride enticed me, and knowing that she was conceived by a female author was encouraging when I began to write, myself, and discovered that alongside Mary Shelley were Charlotte Perkins Gilman, Toni Morrison, and Shirley Jackson. All members of this beautiful, sinister club known as horror, but all names that were unfairly overshadowed by the white cis men that have ruled the genre, as well as the industry, for decades.
However, if we are to examine the last few decades of the 21st century, we should acknowledge the progress made, as the industry has finally begun to open its doors to artists of racial, sexual, and gender diversity. One cannot stress enough the importance of representation, nor can one understate what it means to have representation as the creative voice.
I recently watched Netflix's documentary on the history of trans representation in Hollywood, called Disclosure, and if one thing was made clear about modern-day representation, it's that authenticity is reliant upon the storyteller. This very notion can be seen over and over again within horror. The more queer and female-identified artists sit in the writer/director's chair, the more queer and female the future of horror will be. And frankly, the shift could not have happened soon enough, because I am pretty sure I can no longer sit through another rape-revenge film written and directed by a cishet man.
The genre is loaded with talents from all walks of life, and I have great admiration for certain male icons, namely Stephen King, to name one of thousands. Yet, King's unrelenting productivity and solidified fame has allowed him to escape scrutiny over how often he writes about female victimhood (Dolores Claibourne, Gerald's Game, and IT to cite a few), and while I am convinced that King cares deeply for his female characters, he very much writes from an outsider perspective. King is not the only man to do this. Cis white men have appropriated the stories of others in all kinds of media, and when they do so, messages get lost and points are missed.
There are sincerely too many examples in Hollywood of female-focused stories that
portray sexual assault as a woman's awakening or coming of age. I recoil with nauseum when this occurs in horror and I can honestly say, those portrayals are often male-directed. Then there are the "fantasy rapes". The onscreen rapes that seem a little too similar to soft-core porn to be an accurate depiction of the trauma that occurs. Take a look at the movie poster for Sidney Furie's The Entity, a 1983 horror film that was based on supposed true events. The woman at the center of the story claimed that she was being assaulted by a spirit or force in her home, and while we can argue endlessly over whether or not those claims were real, the image of actress, Barbara Hershey, sprawled out on a bed wearing a revealing robe, as if she has just had the greatest orgasm of her life, completely undermines and demeans the reality of assault (and yes, I speak as a survivor).
I can no longer be subjected to the sexualized thrill of violence. Thus, I am skeptical when a rape-revenge film's protagonist is a woman and the filmmaker is a man. Certainly, men are capable of telling honest, sensitive stories with delicacy and empathy, but they should be very careful when deciding if and how they are going to tell a narrative that is not their own. Had Get Out been written and directed by a white person, not only would it have been an extremely uncomfortable one hour and forty-four minutes, but the personal knowledge of racism and its effects would not have been so poignantly expressed. Even with the best intentions in mind, a lack of personal insight into an identity-related experience can cause characters to be one-dimensional and stories to feel disingenuous.
Therefore, we must celebrate the women who are behind the camera. Recent rape-revenge films, such as Promising Young Woman by Emmerald Fennell, Revenge by Coralie Fargeat, and M.F.A by Natalia Leite are all stories by women, about women, and for women. This is no small milestone, as female artists seek justice and healing through their projects. The truth of one's experience shows through in storytelling. Women need to tell their own stories. Black people need to tell their own stories. Indigenous people need to tell their own stories. LGBTQ people need to tell their own stories, and so on and so forth. Whether the work is visual or written, fiction or nonfiction, diversity among artists is essential. We the fans are looking for ourselves in these divine mirrors and we want to know we are not alone.
As women, queer people, and people of color claim their rightful places among the horror elite, creatives like myself finally feel seen and heard. We are no longer just victims in a horror movie. We control the narrative and why shouldn't we? As filmmaker, Karyn Kusama, puts it, "women have a lot to be really f-cking afraid of". Just being female-bodied or female-presenting is terrifying enough in this world, so the amount of stories capable of materializing from the genre is plentiful. Stories that are original, unique, and speak truths that other genres can't touch. What can possibly be more brutal than a woman's truth?
Spinster Eskie
Author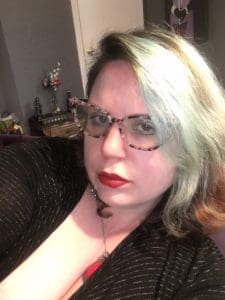 Spinster is a resident of California and has an M.Ed in creative arts education. With a background in women's studies, her focus as a writer is to expose the female experience through unsettling tales that highlight the dilemmas of misogyny and oppression. By combining the genres of feminist theory, dark comedy, horror, and science-fiction, she aims to not only disturb readers, but deliver a message that is informative and thought provoking.
In 2005 Spinster's play, Tell Me About Love, was featured in the Provincetown Playwright Festival. She has been featured in various online magazines such as Bad Moon Rising and 69 Flavors of Paranoia. Spinster has a number of short stories published by Pill Hill Press, Post-Mortem Press, Scary Tales Publications, Cruentus Libri Press, and many others.
About the Author
Latest Posts
The Horror Tree is a resource for horror authors which was created in 2011. The main goal when starting the site was to include all of the latest horror anthologies and publishers that are taking paying submissions. A resource useful for both new and experienced publishers alike looking for an outlet for their written material!