Epeolatry Book Review: October Nights by Kevin Lucia


Disclosure:
Our reviews may contain affiliate links. If you purchase something through the links in this article we may receive a small commission or referral fee. This happens without any additional cost to you.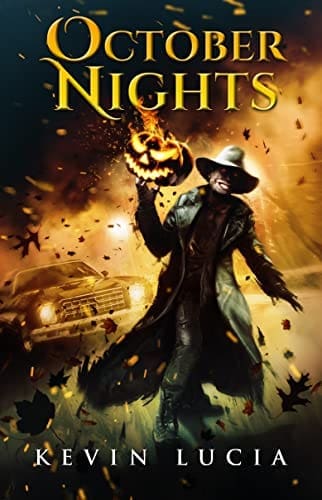 Title: October Nights
Author: Kevin Lucia
Genre: Horror
Publisher: Crystal Lake Publishing
Release Date: 22nd October, 2021
Synopsis: This Halloween…
On a night when anything seems possible…
We dare you to spend an evening in the small town of Clifton Heights.
October nights here are long and strange, filled with both dread and transformation, and in these four shared-world tales of small-town Halloween horror, you'll encounter things both wondrous and terrifying, in equal measure:
– A priest hears a ghostly confession on Halloween night which will mark him forever.
– A young man is offered a supernatural chance to remake his fortune, at the risk of losing everything.
– A pastor fleeing the death of his daughter comes to Clifton Heights to face his fears, but finds himself living a nightmare instead.
– Two people with supernatural talents face-off with an engine of darkness and pain on Halloween night.
Four connected Halloween tales, evoking echoes of Ray Bradbury and Charles L. Grant, taking place in a town where every day is All Hallow's Eve.
Proudly represented by Crystal Lake Publishing—Tales from the Darkest Depths.
Kevin Lucia is an excellent writer, but–to me, at least–is a big cheater. I'm a fan of short fiction, not very fond of novels, but since the book was presented as a collection of four novellas, I decided to give it a try.
While each novella can be read as a stand-alone narrative, they can also be regarded as four parts of one novel. Each novella takes place around Halloween in the same location, the town of N.Y.
Many characters appear in more than one story, linking them further and developing their own narrative, for example the priest who can't reveal what he heard during a confession, a former pastor fighting with his own demons, a promising baseball player whose career gets ruined forever etc.
I won't spoil anything by revealing the possible links between one "episode" and the next, but I will simply comment on the two novellas that I've especially appreciated.
"The Rages of Achilles" is a heartbreaking piece portraying the sad destiny of a kid affected by autism and of his unhappy parents.
"The Last Will and Testament of the Not-So-Good Reverend Ford" is a complex, insightful novella featuring a former pastor, fond of horror movies, overwhelmed by guilt for his daughter's suicide. Relocated into a small community he will face horrible local secrets bound to clarify the faults of his own past.
Good storytelling, perfect characterization, and captivating narrative style are author-features that you will certainly enjoy while reading this book.


 out of 5 ravens.
About the Author
Latest Posts
Mario Guslandi was born in Milan, Italy, where he currently lives. A long time fan of dark fiction (especially short stories)he's probably the only Italian who reviews horror and supernatural tales in English. Over the years his reviews have appeared in many genre sites such as Horrorworld, The British Fantasy Society, Hellnotes, Emerald City, SF Revu, Thirteen O' Clock, etc.