Epeolatry Book Review: No One is Safe! by Philip Fracassi


Disclosure:
Our reviews may contain affiliate links. If you purchase something through the links in this article we may receive a small commission or referral fee. This happens without any additional cost to you.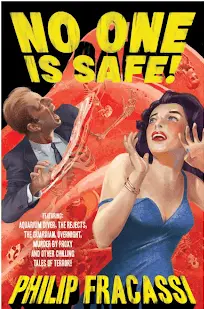 Title: No One is Safe!
Author: Philip Fracassi
Publisher: Lethe Press
Genre: Horror
Release date: April 2024
Synopsis: Good gracious, if you could hear him screaming in here! He knows now that it's too late.
NO ONE IS SAFE presents fourteen stories of macabre, pulpy terror; a book filled with futuristic noir mysteries, science fiction thrillers, alien invasions, and old-school horror tales that will keep you up late into the night. Inside these covers, you'll discover haunted dream journals and evil houses, birthday wishes gone wrong, a neighborhood cat that cures any disease, a flesh-eating beach, and mysterious skeletons on a hidden moon base. You'll meet wise-cracking detectives, suburban vampires, murdered movie stars, and monsters of the deep. And remember—don't get too attached to the characters you'll meet on these pages because there's no holding back in this book. Anything can happen, and no one is safe. Featuring an introduction by Ronald Malfi.
​
A successful author of gothic novels and short stories, Philip Fracassi returns with a new collection featuring twelve tales that previously appeared in various venues, plus a brand new novella.
A gifted storyteller able to spellbind the readers, Fracassi deserves to be known and acclaimed not only by his usual admirers but also by lovers of dark fiction still not acquainted with him.
Among the stories included in the present volume are the ones I've particularly enjoyed.
In the excellent "The Wish" a kid expresses a risky desire that will accompany him longer than he would have liked.
"Murder by Proxy" is an engrossing mix of crime, SF and horror, too complicated to be described without spoilers.
"My Father's Ashes" revolves around a vampire's son. It's quite enjoyable and an original take of a time-honored theme.
"Overnight" is an outstanding, unforgettable tale of greed and crime where a night guard, who's supposed to protect the trailer of a movie star, gets involved in a fatal chain of events.
"Marmalade" is an offbeat story about a cat endowed with uncommon abilities.
The deeply horrific "The Guardian" takes place on an island inhabited by deadly, invisible, tiny creatures.
"Row" is a tense novella endowed with a movie-like character, where paranormal agencies and human crimes merge in a violent fashion.
Needless to add, I strongly recommend this excellent book.

/5
About the Author
Latest Posts
Mario Guslandi was born in Milan, Italy, where he currently lives. A long time fan of dark fiction (especially short stories)he's probably the only Italian who reviews horror and supernatural tales in English. Over the years his reviews have appeared in many genre sites such as Horrorworld, The British Fantasy Society, Hellnotes, Emerald City, SF Revu, Thirteen O' Clock, etc.