Epeolatry Book Review: Stealing God and Other Stories by Bruce McAllister


Disclosure:
Our reviews may contain affiliate links. If you purchase something through the links in this article we may receive a small commission or referral fee. This happens without any additional cost to you.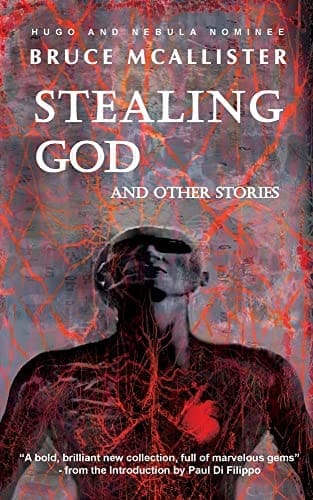 Title: Stealing God And Other Stories​
Author: Bruce McAllister
Publisher: Aeon Press
Genre: Science Fiction
Release Date: 17th June, 2022
Synopsis: Stealing God And Other Stories: A young woman in an abandoned house brings ruin to every man she meets. A wise-cracking hitman is recruited by an angel of God to kill the oldest vampire on Earth. A son travels into the past to find the mother he lost. In these and other tales, Hugo and Nebula nominee Bruce McAllister invites you into a universe where nothing is more important than what it means to be human.
The eighteen stories here will fascinate and intrigue, and some of them will break your heart.
-Ellen Datlow, multi-award winning editor and anthologist.
In these wide-ranging and beautiful short stories, readers will feel the characters' emotions as their own.
-Sheila Williams, editor, Asimov's Science Fiction.
These stories are love letters… and ransom notes from half-remembered dreams… and sometimes both.
-Trevor Quachri, editor, Analog Science Fiction and Fact.
One year ago, Hugo and Nebula nominee, Bruce McAllister, released his short story collection Stealing God and Other Stories. He calls it "his best 'new millennium' science fiction, fantasy, and horror short stories."
The anniversary of its release is a great time to revisit this exploration into what it means to be human– even if you're a supernatural being. Each tale is touched with magic, love, and strangeness. 
From re-imagined tropes, like sea sirens and ancient vampires, to starkly alarming explorations into religion and childhood, readers will find this book hard to put down. 
McAllister explains, "They were written as I always write:  a short story idea (and main character and "voice") inspires me to write it; and by that I mean the emotion is pretty intense. I don't "think" my way through the fiction I write—which people tell me puts me in a Bradbury camp rather than an Asimov camp by "method" and in turn brain-and-heart wiring."  
The story that stayed with this reader long after I put down the book was "The Blue House" where a young woman trapped in an old house is the downfall of every man she can lure inside.
"Bringing Them Back," is a thought-provoking and sad piece, "La Signora" is a delightful love letter to the Ligurian coast of Italy, and "Blue Fire" is a fantastic flip on the vampire tale. 
McAllister says, "Four stories I like particularly from the collection are:  (1) The title story, a horror piece, "Stealing God."  Why?  Because it's so autobiographical—autobiographical beyond what any reader could possible imagine—and because its central event, the theft imposed on me, I still carry with me, haunted by it.  (2) "Blue Fire."  Why?  Because I love Bonifacio.  Who wouldn't?  I'm not a Catholic, and yet two of the stories in the collection seem to be "Catholic" (capital "C").  They're not really.  That's simply a Judeo-Christian-iconographic away to reach for the mystical, which I do often in my fiction (including "Kingdom Come," which appeared in OMNI under Ellen Datlow's directorship back in the day).  They're about something else entirely.   (3)  "Courtship of the Queen."  Why?  Because I lived a childhood like this—yes, all those seashells and battle and "first love"—and because it's a gentle, loving story when so much of what we read is darkness, though of course "the light shines brightest against the darkness" even in a story like this.  (4)  "My Father's Crab."  Again, an autobiographical story and one driven by love—love of more than one kind.

/5
About the Author
Latest Posts
Angelique Fawns writes horror, fantasy, kids short stories, and freelance journalism. Her day job is producing promos and after hours she takes care of her farm full of goats, horses, chickens, and her family. She has no idea how she finds time to write. She currently has stories in Ellery Queen, DreamForge Anvil, and Third Flatiron's Gotta Wear Eclipse Glasses. You can follow her work and get writing tips and submission hints at http://fawns.ca/.