Epeolatry Book Review: Mexican Gothic by Silvia Moreno-Garcia


Disclosure:
Our reviews may contain affiliate links. If you purchase something through the links in this article we may receive a small commission or referral fee. This happens without any additional cost to you.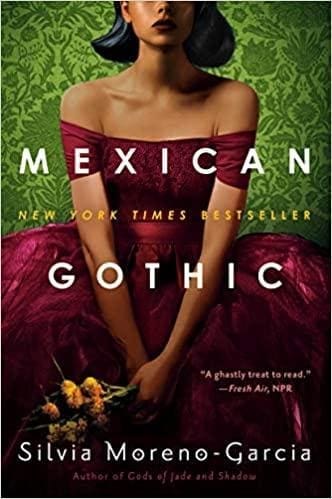 Title: Mexican Gothic
Author: Silvia Moreno-Garcia
Genre: Horror
Publisher: Del Ray
Release Date: 15th June, 2021
Synopsis: After receiving a frantic letter from her newly-wed cousin begging for someone to save her from a mysterious doom, Noemí Taboada heads to High Place, a distant house in the Mexican countryside. She's not sure what she will find—her cousin's husband, a handsome Englishman, is a stranger, and Noemí knows little about the region.   
Noemí is also an unlikely rescuer: She's a glamorous debutante, and her chic gowns and perfect red lipstick are more suited for cocktail parties than amateur sleuthing. But she's also tough and smart, with an indomitable will, and she is not afraid: Not of her cousin's new husband, who is both menacing and alluring; not of his father, the ancient patriarch who seems to be fascinated by Noemí; and not even of the house itself, which begins to invade Noemi's dreams with visions of blood and doom. 
Her only ally in this inhospitable abode is the family's youngest son. Shy and gentle, he seems to want to help Noemí, but might also be hiding dark knowledge of his family's past. For there are many secrets behind the walls of High Place. The family's once colossal wealth and faded mining empire kept them from prying eyes, but as Noemí digs deeper she unearths stories of violence and madness. 
And Noemí, mesmerized by the terrifying yet seductive world of High Place, may soon find it impossible to ever leave this enigmatic house behind.
I'm not sure what to expect going into this book. Mexican Gothic got a ton of positive press and was nominated for the 2020 Superior Achievement in a Novel Bram Stoker Award. But, I wasn't interested at first. Not sure why. Then, after a little convincing from some friends (I did my best to avoid spoilers), I finally convinced myself to give it a try. I suggest that you readers do the same; go into this one blind. The less you know, the more you'll enjoy.
But, if you do want a little taste of what's in store, here's what I have to say…
So, our protagonist, Noemi, travels to a remote estate in Mexico to check on her cousin. There, she meets the residents of the old family estate. Of course, the family's fortune is haunted by a bloody past. What secrets hide beneath the deteriorating walls? Will Noemi save her cousin or get pulled into the intrigue herself? 
It's a bit of a slow burn. Silvia (can I call her Silvia?) luxuriates in the gloomy descriptions of the spooky, and somewhat familiar, gothic settings. But once things start to wrap up, the end comes at a blistering pace.
Think Crimson Peak crossed with Haunting of Hill House and Dracula with a touch of horrifying moldy mansion. All of this is topped with a healthy dose of Hispanic culture.
I give this

  out of 5 ravens.
About the Author
Latest Posts
Joe lives with his wife and son in the Pacific Northwest where the Cascade Mountains meet the Salish Sea. He enjoys writing in the weird, horror, and fantasy genres.
Growing up he enjoyed R. L. Stine's Goosebumps books as well as classics like Dune, and Lord of the Rings. In college he discovered Stephen King, and later Mark Danielewski's House of Leaves and authors like Clive Barker and Laird Barron.
Joe's short story, 'Gustav Floats', was published in Dim Shores Presents Volume 2. In the spring of 2021 his story, 'The Pigeon Lied' comes out in Howls From Hell.
You can follow Joe on the following social media sites:
Twitter, Good Reads, Facebook, and Instagram!