Epeolatry Book Review: Generation X-Ed, ed. Rebecca Rowland


Disclosure:
Our reviews may contain affiliate links. If you purchase something through the links in this article we may receive a small commission or referral fee. This happens without any additional cost to you.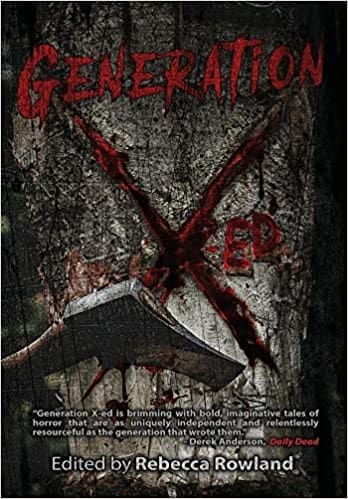 Title: Generation X-Ed
Author: Various, ed. Rebecca Rowland
Genre: Horror
Publisher: Dark Ink Books
Release Date: 26th January, 2022
Synopsis: Bestselling editor Rebecca Rowland (Unburied: A Collection of Queer Dark Fiction) and Dark Ink Books (Savini, Unmasked: The True Life Story of the World's Most Prolific Cinematic Killer) present a unique anthology of monster, folk, paranormal, and psychological horror as glimpsed through the lens of the latchkey generation. In this assortment of spine-chilling tales, twenty-two voices shine a strobe light on the cultural demons that lurked in the background while they came of age in the heyday of Satanic panic and slasher flicks, milk carton missing and music television, video rentals and riot grrrls.

These Gen-X storytellers once stayed out unsupervised until the streetlights came on, and what they brought home with them will terrify you.

Featuring brand new fiction from Kevin David Anderson, Glynn Owen Barrass, Matthew Barron, C.D. Brown, Matthew Chabin, L.E. Daniels, C.O. Davidson, Douglas Ford, Phil Ford, Holly Rae Garcia, Dale W. Glaser, Tim Jeffreys, Derek Austin Johnson, Eldon Litchfield, Adrian Ludens, Elaine Pascale, Erica Ruppert, Kristi Petersen Schoonover, Rob Smales, Mark Towse, Thomas Vaughn, and Thomas K.S. Wake.
Generation X-ed is a twenty-two-story collection written by this generation's authors. Editor Rebecca Rowland put together a main thread, which leaves the subject matter and story type broadly open, ensuring that the anthology provides something for everyone. Like creature features? There's a story for you. Science fiction horror? There's a story for you. No matter your taste or preferences, you are sure to find a delight. 
Here are some standouts for me:
"A Genealogy of Hunger" by Thomas Vaughn. The voice of the POV character, Bunny Rae Darrow, is well done. Bunny is a smart and manipulative predator, and while this story is quite disturbing in places, Vaughn never resorts to extreme gore. The subtle and implied make his tale–a gift for the reader–stand out. We are never handfed, just given enough to fill in the blanks. 
"Sacrifices" by Douglas Ford is exactly the type of story I hoped for when opening the anthology. This story reminded me of growing up in the late 80s/early 90s, and hit all the marks in terms of small-town paranoia and fear—fear of kidnapping, stranger danger, and Satanic Panic. Even the writing style was reminiscent of those old horror paperbacks I read as a kid. 
Kristi Peterson Schoonover's "Nothing to See Here," was my personal favorite. An overwrought woman faces the realities of family life. This deep and complex story examines the role of women as wives, mothers, and caregivers. Women give away parts of themselves. But what happens when a woman is no longer able to embody this role? What happens when she's given all that she's able? Is she replaced? Does she vanish? Schoonover offered me the emotional resonance that only horror and dark fiction can embrace. 
"The Crimson Church" by Thomas K.S. Wake was creepy, unsettling folk horror at its best. I've long been a fan of the folk horror genre, and I'm excited to see its resurgence. I really can't describe this one without giving too much away, but Luke and Sean search out an urban legend for a series' pilot episode that they want to shoot. Weird events lead them to the horrifying truth behind the legend, and something is unleashed in the forest, ushering in a new era.
Eldon Litchfield's "Pay Heed to the Preacher Man" began with a stop at Jim Holiday's Gasoline and Service. Confounded by Google's directions (I mean, who of us hasn't ever been steered wrong by a GPS before?), Tyler decides to navigate the old-fashioned way and purchases a map. Strangeness goes afoot when Tyler leaves, and the boy behind the counter asks, "Paw, what's a Google?" 
The anthology ends on a strong note, with Holly Rae Garcia's "Regulators." When the story began, I thought I knew where it was leading, but the surprise twists and turns won me over. Garcia transformed what might have otherwise been a depressing read with a streak of dark humor and pulpy goodness—the good guys aren't entirely good, and the bad guys get what they deserve. 
Although I've only mentioned a few standouts here, this collection is a keeper. I'm a big fan of Rebecca Rowland as an editor; she has a penchant for curating variety without sacrificing quality. If you'd like to sample a mix of excellent authors and a variety of subgenres, I highly recommend picking up this volume and giving it a read. 


 out of 5 ravens.
About the Author
Latest Posts
Holley Cornetto was born and raised in Alabama, but now lives in New Jersey where she writes dark fantasy, horror, and weird fiction. To date, her writing appears in over a dozen magazines and anthologies. To indulge her love of books and stories, she became a librarian. She is also a writer, because the only thing better than being surrounded by stories is to create them herself. In 2021, she earned an MFA in fiction writing from Lindenwood University. She is a proud member of the Horror Writers Association.