Epeolatry Book Review: In Somnio, ed. Alex Woodroe


Disclosure:
Our reviews may contain affiliate links. If you purchase something through the links in this article we may receive a small commission or referral fee. This happens without any additional cost to you.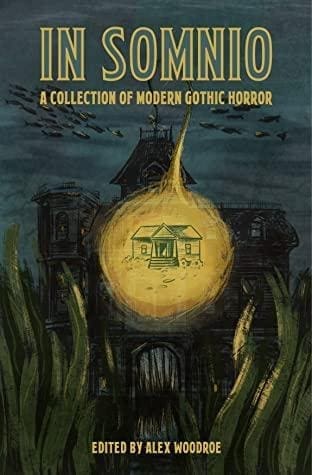 Title: In Somnio
Author: Various, ed. Alex Woodroe
Genre: Horror
Publisher: Tenebrous Press
Release Date: 1st November, 2021
Synopsis: Twenty-five women and non-binary writers from the worlds of Horror Fiction and Illustration form an unholy union and drag the blackened heart of Classic Gothic Horror into modern daylight! In the process, they have sculpted an altogether sleeker, more feral beast.
In the hands of Mary Shelley, Daphne Du Maurier and Shirley Jackson, Gothic Horror explored the bleak shadows of our homes; the darkest corners of the human mind; madness, personal transformation, the occult. IN SOMNIO recasts the legacy of the original Gothmothers in a chilling contemporary light.
Within the walls of an arcane modern art gallery; upon the shores of a hostile but compelling sea; into the blackest burrows of the animal kingdom; tableside at the world's last restaurant on the eve of the apocalypse; from the deep deep South to a Lovecraftian Steampunk theatre, a cornucopia of disturbing vignettes await you.
Fans of twisted takes on the classics such as Sense and Sensibility and Sea Monsters; Netflix's The Haunting of Hill House/Bly Manor; moody, secretive novels like Night Film and A House at the Bottom of the Lake; and traditional Gothic Horror and ghost stories will all find something to chill their bones in IN SOMNIO.
This collection features eighteen vibrant, unique stories ranging from deeply intimate one-room settings to sprawling fantasy worlds; from the depths of darkness to comedy and adventure. Each story brings a new perspective to our inherent love of Gothic Horror and what those vital elements of terror still have to say today.
Editor Alex Woodroe has put together "a collection of modern Gothic horror," and if this is just the start of what Tenebrous press has to offer, I can't wait to see what they come out with in the future. This collection was fantastic.
Some of the collection's highlights for me:
"The Blight of Black Creek" by Mary Rajotte was hands down the best story in this anthology. The price of the book is worth it for this story alone. I'm familiar with Rajotte's work, but this tale stands out as one of her best. It was breathtakingly beautiful, taking on themes of family, tradition, love, and resilience. As soon as I finished, I read it a second time. 
Aster S. Monroe's "Trespass" is worth highlighting for the creative use of point of view. The voice of the protagonist was interesting, funny, and kept me hooked to the end. Monroe impressed me with how he told a complete tale by carrying on only half a conversation. This is a story I won't forget any time soon. 
"What We Sow" by Taylor Jordan Pitts told the story of sisters Bea and Rose. When Pa dies, they are left alone to face some mysterious force known as "the reapers". Together, the sisters plant a garden, but not all is as it seems in a world Bea and Rose do not understand. 
A.P. Howell's "Always an After" surprised me. When the story started, I didn't think I was going to like it, but the author and her account won me over. Clarie wakes up dead. Memories of what it means to be alive and how she lived her own life begin to resurface. The parenthetical interruptions were done well, and those are things I often find myself disliking. This author changed my mind and reminded me that this type of technique can be quite effective. 
The last story I want to highlight is my second favorite, and one I didn't know I needed. "Self Storage" by Barbara A. Barnett is equal parts weird, unsettling, and creepy. Drawn in by an oddly specific sign advertising a storage facility, Mia and Steve bond over their unusual collections. Like Rajotte's story, the price of the book alone is worth it. It's quite unlike anything I've read before. 
Alex Woodroe has hit the ball out of the park with this collection. All of the stories were good, some I enjoyed more than others, but there were no duds. I recommend this for anyone looking to find some new horror authors, or fans of quiet and creeping horror instead of in-your-face extreme splatter horror. 
Highly recommended.

 out of 5 ravens.
About the Author
Latest Posts
Holley Cornetto was born and raised in Alabama, but now lives in New Jersey where she writes dark fantasy, horror, and weird fiction. To date, her writing appears in over a dozen magazines and anthologies. To indulge her love of books and stories, she became a librarian. She is also a writer, because the only thing better than being surrounded by stories is to create them herself. In 2021, she earned an MFA in fiction writing from Lindenwood University. She is a proud member of the Horror Writers Association.