Epeolatry Book Review: Flowers for the Sea by Zin E. Rocklyn


Disclosure:
Our reviews may contain affiliate links. If you purchase something through the links in this article we may receive a small commission or referral fee. This happens without any additional cost to you.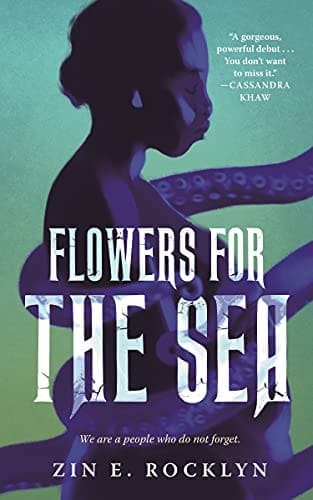 Title: Flowers for the Sea
Author: Zin E. Rocklyn
Genre: Sci-fi/dark fantasy
Publisher: Tordotcom
Release Date: 19th October, 2021
Synopsis: We are a people who do not forget.

Survivors from a flooded kingdom struggle alone on an ark. Resources are scant, and ravenous beasts circle. Their fangs are sharp. 
Among the refugees is Iraxi: ostracized, despised, and a commoner who refused a prince, she's pregnant with a child that might be more than human. Her fate may be darker and more powerful than she can imagine.
Zin E. Rocklyn's extraordinary debut is a lush, gothic fantasy about the prices we pay and the vengeance we seek.
Few novels, let alone novellas, elicit the kind of atmosphere and body-ness that Flowers For The Sea by Zin E. Rocklyn evokes. Iraxi is a pregnant outcast, attempting to survive on board an ark that is beginning to fall apart. Her fellow passengers scrap together a meager existence alongside her, after embarking with a calamity nipping at their heels. Spurned by everyone around her, Iraxi turns inward and little does she realize how much may be in store for her.
A mixture of both dark fantasy and dystopia come together for a blended immersion, and one cannot shake the eeriness. Iraxi, a strong, but wounded character, carries the story through sheer force of will. We feel every tooth grating, cramp, and soreness. 
Rocklyn captures the bodily, while also the dissociation that comes with pregnancy. Iraxi's struggle with her desire to get rid of her baby, but knowing her child may be the only one born on the ark at all, is disquieting. The hard choices of duty and personal sacrifice eclipse whatever personal freedoms Iraxi would otherwise have amid all of this, which isn't to say she has many to begin with. She did not choose motherhood, the pregnancy was not planned nor was it hoped for. "I abhor my present state, but termination is not an option." Up to this point, previous pregnant women had miscarried or had stillbirths. Iraxi is in her final days of her pregnancy and it terrifies her.

Readers should be cautioned that there are some disturbing scenes. Leaning fully into the Gothic heritage that came before Flowers is a dark tale detailing a woman's resolve to continue, despite losing everything. Iraxi's dissonance to her body echoes what pregnant women experience as well, but Rocklyn dials this up to enhance the increasing dread with each page turn. Keeping to that, the details of the world are only enough to characterize Iraxi and the other players in this novella. There is much left up to the reader's imagination, which plays as a strength. It feels more mythical and tale-like due to this style and furthers what Flowers For The Sea seems to tell us: what you sow, you will reap.

For better and much much worse, this tiny, powerful story will leave the reader gasping, swallowing seawater, hoping (dreading?) for more.


 out of 5 ravens.
About the Author
Latest Posts
Alexander Pyles is a writer and reviewer. He holds an MA in Philosophy and an MFA in Writing Popular Fiction. His fiction and nonfiction have appeared in Radix Media, Trembling with Fear, Three Crows Magazine, Dark Matter Magazine, and other venues around the web. When not writing or reading, he is attempting to cook or play video games when his two toddlers allow it. You can find him at @Pylesofbooks on Twitter or www.pylesofbooks.com.