Epeolatry Book Review: Floaters by Garrett Boatman


Disclosure:
Our reviews may contain affiliate links. If you purchase something through the links in this article we may receive a small commission or referral fee. This happens without any additional cost to you.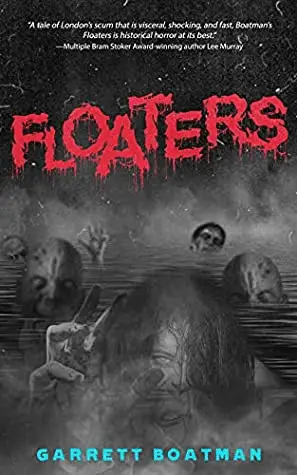 Title: Floaters
Author: Garrett Boatman
Genre: Horror
Publisher: Crystal Lake Publishing
Release Date: 1oth September, 2021
Synopsis: London 1890s. Out of the Thames' fetid depths the undead rise to feast upon the living. While floaters seek blood, another army takes advantage of the chaos. Boiling out of their rookeries of crime, marauders swarm through London's affluent neighborhoods looting and burning.
While the beleaguered police and the Queen's army battle twin plagues—human and inhuman—London's criminal youth gangs join forces to save their city. Will Tagget, leader of the Lambeth Lads, together with his enemies Bill Drummond of the Drury Lane Gang, bull-necked George Fish of the Elephant and Castle Gang, shillelagh-wielding Dirk Bogart of the New Cut Gang, Quincy Bird of City Road, along with their female counterparts—Lambeth Kate, Queen Jane, New Cut Beth, Razor Lil and Dirty Deidre—set out on an adventure the telling of which might earn a man a lifetime of free drinks. If he lives to tell it.
Will these violent youths be able to put aside their rivalries long enough to get the job done?
The synopsis of this novella promises rival gangs in Victorian London and zombies. The book certainly delivers. The author did his research on the time period, which is evident in the reading. For the most part this is welcome, although at times there was too much history and too little plot. (This coming from someone who studied history in college). For example, in one part of the book, the author lists all of the different gangs present at a meeting. I'm talking a paragraph of them. When introducing characters and during dialogue, the reader is also often given information regarding what gang said character is affiliated with. I get why; the point is that rival gangs who hate each other have come together to fight the more immediate threat of the undead. But it might have been better handled with more subtlety. As it is, I felt hit over the head with this theme repeatedly.
Another minor complaint I have is the sheer number of exclamation points used in internal monologue, though admittedly, this might just be a pet peeve of mine. Additionally, the repetitive use of certain phrases/ideas bothered me. The biggest offender is the phrase "and no mistake." 
For this reader, the strongest part of this work was the opening chapters where the characters discover the threat and first come together to face it. Boatman captures the time period and the atmosphere well, and the fear is palpable. The author's style flows well, and even scenes with blood and gore are written in lovely prose.
Recommended for those with special interest in Victorian England, gangs in aforementioned setting, historical fiction, and zombies. Ideally, all of those things combined. 
3 out of 5 ravens

About the Author
Latest Posts
Holley Cornetto was born and raised in Alabama, but now lives in New Jersey where she writes dark fantasy, horror, and weird fiction. To date, her writing appears in over a dozen magazines and anthologies. To indulge her love of books and stories, she became a librarian. She is also a writer, because the only thing better than being surrounded by stories is to create them herself. In 2021, she earned an MFA in fiction writing from Lindenwood University. She is a proud member of the Horror Writers Association.