Book Review: The Book of Accidents by Chuck Wendig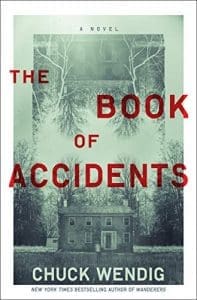 TW: graphic animal death, graphic animal abuse, parent/child abuse, mentions of sexual abuse, mentions of spousal abuse, homophobic terms, murder, gore, descriptions of child death/murder
Disclaimer: This article contains affiliate links. If you purchase something through the links in this article we may receive a small commission or referral fee. This happens without any additional cost to you.
Nate Graves' estranged abusive father wants to leave Nate's childhood home to him when he dies. Not wanting to live in a house full of bad memories, Nate wants to sell the house and move on with his life; however, Nate's wife Maddie convinces him to uproot their lives in Philadelphia and move to his childhood home hoping that it will bring the family closer together and give their son Oliver a fresh start.
Immediately after moving into the house, Nate begins to see visions of his dead father and a long-dead serial killer that used to kill his victims near the Graves' home. Animals in the area exhibit odd behavior and show physical malformations. Maddie loses consciousness and all sense of time while working on her art. Oliver makes new friends, one of whom is obsessed with exposing him to dark magic that is contained in a logbook of accidents from an abandoned mine. The longer the family lives in Nate's childhood home, the stranger the world around them becomes.
This book is not what I expected it to be when I initially began to read it. In the earlier chapters of the book when Nate saw the apparition of his dead father, I thought this would be a book about a haunted house. This book is so much more than a haunted house book. This book is about family and those we choose to bring into our family, about the evils of the world, second chances to right wrongs, and the lengths we will go to be with and protect the ones we love. 
The story is full of slow-building tension, from moments of disgust and unease leading all the way up to wildly gruesome episodes of violence. The heart of this story is the family unit of Nate, Maddie, and Oliver. The bond that this family has, the love and the trust that they share, make the story even scarier for me. To me, nothing is scarier than knowing your family is in danger and not being able to keep them safe. You want the best for them and come to care about them. From the first chapter, you are invested in this family. 
Clocking in at over 500 pages this book is a hefty read. Sure, there are things that Wendig could have cut in the story, but the book does not feel overly long or full of extraneous detail. Even after finishing all 528 pages, I was still left wanting more of this story. I was not ready for this story to end.
The Book of Accidents is the very first book by Chuck Wendig that I have read but it will not be the last book of his that I read.

Thank you #NetGalley and #DelReyPublishing for providing me with a copy of this book to read and review. All thoughts and opinions of this work are my own.
You can find 'The Book of Accidents' on Amazon and Book Shop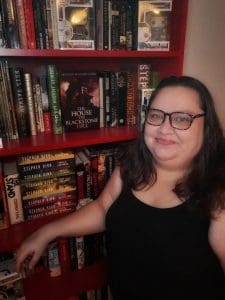 Reviewer Bio:
Brandi Guarino is a voracious reader and has a To Be Read list that never ends. She is passionate and committed to championing the work of independent writers and publishers in horror, science fiction, and fantasy.
She is on Twitter at @bgbibliophile
Ad Instagram at www.instagram.com/brandi_the_bibliophile.
About the Author
Latest Posts
The Horror Tree is a resource for horror authors which was created in 2011. The main goal when starting the site was to include all of the latest horror anthologies and publishers that are taking paying submissions. A resource useful for both new and experienced publishers alike looking for an outlet for their written material!