Epeolatry Book Review: Even in the Grave edited by James Chambers & Carol Gyzander


Disclosure:
Our reviews may contain affiliate links. If you purchase something through the links in this article we may receive a small commission or referral fee. This happens without any additional cost to you.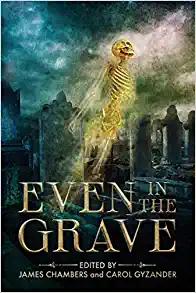 Title: Even in the Grave
Editors: James Chambers & Carol Gyzander
Publisher: Neoparadoxa
Genre: Horror
Release Date: 1st July, 2022
Synopsis: "In death – no! even in the grave all is not lost." -Edgar Allan Poe
Wandering souls! Restless spirits! The vengeful dead! Those who die with unfinished business haunt the living and make their presence known from the world beyond:
A scientist's invention opens a window onto a terrible afterlife.

A New York City apartment holds the secrets of the dead.

A grandmother sends text messages from the grave.

A samurai returns to his devastated home for a final showdown with his past.

A forgotten TV game show haunts a man with a dark secret.

A tapping from behind classroom walls leads to a horrible discovery.

The specter of a prehistoric beast returns to a modern-day ranch.

And the one seeing eye knows all-including what you did.
Haunted from the other side, these stories roam from modern cities to the shadowed moors to feudal Japan to the jungles of Central America, each providing a spine-chilling glimpse into the shadows not even death can restrain.
Do you dare open these pages and peer into the darkness they reveal?
Stories by Marc Abbott, Meghan Arcuri, Oliver Baer, Alp Beck, Allan Burd, John P. Collins, Randee Dawn, Trevor Firetog, Caroline Flarity, Patrick Freivald, Teel James Glenn, Amy Grech, April Grey, Jonathan Lees, Gordon Linzner, Robert Masterson, Robert Ottone, Rick Poldark, Lou Rera, and Steven Van Patten.
Here's another short story anthology by a small imprint, featuring twenty tales (most of which are previously unpublished) penned by a group of not-so famous authors trying their best to produce good fiction to arouse the interest of genre-readers. Some succeed and some fail, but as it frequently happens with this type of anthology, the accomplished stories are, regrettably, only a few. The remaining contributions are bound to be forgotten as soon as you move to the following tale.
I will briefly mention the tales which, in my humble opinion, are the best in the book.
"What's Your Secret?" by Trevor Firetog is an original story revolving around an old TV show in Black and White, while "Blind Spot" by Steven Van Patten is a well told piece where revenge for an old physical injury must take place in order to make things right.
In the entertaining "Old Spirits and Fine Tobacco" by John P Collins, a classical ghost story is told during an evening of drinking and smoking among a group of friends.
"The Bells" by Marc L Abbott is a nice variation on the subject of the haunted house, featuring the ghosts of two women whose lives were ended because of cheated love.

/5
About the Author
Latest Posts
Mario Guslandi was born in Milan, Italy, where he currently lives. A long time fan of dark fiction (especially short stories)he's probably the only Italian who reviews horror and supernatural tales in English. Over the years his reviews have appeared in many genre sites such as Horrorworld, The British Fantasy Society, Hellnotes, Emerald City, SF Revu, Thirteen O' Clock, etc.