Epeolatry Book Review: Bloodlines: Four Tales of Familial Fear, Various


Disclosure:
Our reviews may contain affiliate links. If you purchase something through the links in this article we may receive a small commission or referral fee. This happens without any additional cost to you.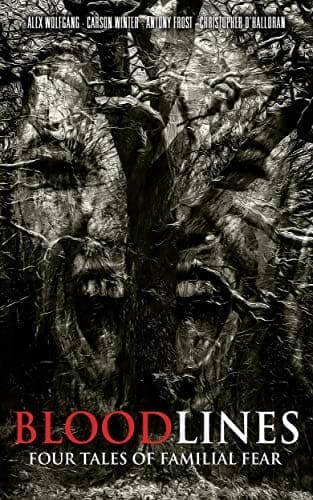 Title: Bloodlines: Four Tales of Familial Fear
Author: Alex Wolfgang, Carson Winter, Christopher O'Halloran, Antony Frost
Genre: Horror
Publisher: Independent
Release Date: 11th January, 2022
Synopsis: If you've ever dreaded a family dinner, felt terror at the blood pumping in your veins; if you've ever thought maybe the people you call kin just aren't quite right—Bloodlines will hold you in its thrall with its literary daring, blood-soaked wit, and taste for carnage. From quiet horror to caterwauling bloodshed, this quadruple feature is fun for the whole family.
A trio of sisters take turns sharing a migraine that challenges their pain tolerance—and sanity ("Our Migraine," Christopher O'Halloran).
A man struggles with his inheritance when his absent father—and namesake—dies, leaving him with disturbing visions and an unwanted purpose ("Nos Da, Tad," Antony Frost).
A young ghost watches a sinister family gathering complete with a prettier, smarter replica of herself—then, makes sure it's their last ("I Am Not to be Replaced," Carson Winter).
Following the death of his mother, the eldest of five siblings must uncover the true nature of his family's strange, isolated existence while an apocalyptic event looms ("The Heads of Leviathan," Alex Wolfgang).
This is where the family tree meets the family plot. This is Bloodlines.
The horror writer community is one big family. Not as massive a community as science fiction or romance, so when big things happen–like an author's passing or the shuttering of a beloved small press–the whole family feels it and reaches out to help and comfort. Also, established horror writers are generally generous in sharing their hard-earned knowledge through mentorships, quick chats over social media, or email. Reach out to your favorite horror authors, and you'll probably get replies (unlikely if you tweet Stephen King; he's inundated with more than he can handle). The horror family is smaller than the other genres. We're a tight knit. We laugh, cry, and bleed. So, what better theme for a collection of horror than family?
Bloodlines: Four Tales of Familial Fear is an awesome set of stories toying with different facets of family. Each has a completely different style. Where one is more visceral with knives and slashes, another is quieter yet weird and darkly fantastic.
My favorite of the bunch is "Our Migraine" by Christopher O'Halloran. This is an absolute awesome opener. I went in knowing only the title and the authors. I loved diving in to such a wild concept, and watched it devolve into a worse and worse scenario until it all flew apart in horrifically glorious ways.
"Nos Da, Tad" by Anthony Frost also led me down a winding path I never expected. Once it took off, it ran toward a looming end. The way the story progressed offered hints of Hereditary in wonderful ways.
Carson Winter offers "I Am Not to be Replaced." The hook is a one two punch; the protagonist is a ghost and has been replaced within the family by a more perfect copy of herself. Genius! I blazed through, engrossed in learning how it happened and why. This has a deviously voyeuristic feel as another work of Winter's, Reunion Special.
Everything closes with a flip in flavor. Alex Wolfgang's "The Heads of Leviathan" is a dark fantasy brimming with beautiful imagery. Like many of the story's siblings, I was filled with wonder throughout as Wolfgang revealed the story world tidbit-by-tidbit.
Indie horror is thriving and filled with absolute gold. Bloodlines is a prime example of the best out there amongst the nuggets waiting for you.



About the Author
Latest Posts
Joe lives with his wife and son in the Pacific Northwest where the Cascade Mountains meet the Salish Sea. He enjoys writing in the weird, horror, and fantasy genres.
Growing up he enjoyed R. L. Stine's Goosebumps books as well as classics like Dune, and Lord of the Rings. In college he discovered Stephen King, and later Mark Danielewski's House of Leaves and authors like Clive Barker and Laird Barron.
Joe's short story, 'Gustav Floats', was published in Dim Shores Presents Volume 2. In the spring of 2021 his story, 'The Pigeon Lied' comes out in Howls From Hell.
You can follow Joe on the following social media sites:
Twitter, Good Reads, Facebook, and Instagram!