Disclosure:
Our reviews may contain affiliate links. If you purchase something through the links in this article we may receive a small commission or referral fee. This happens without any additional cost to you.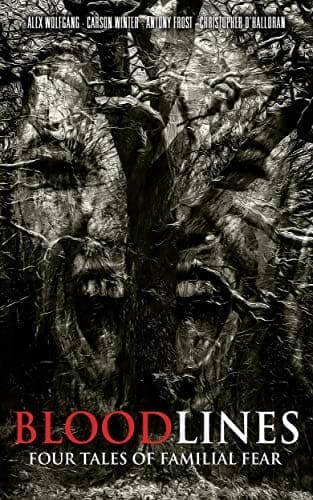 Title: Bloodlines: Four Tales of Familial Fear
Author: Alex Wolfgang, Carson Winter, Christopher O'Halloran, Antony Frost
Genre: Horror
Publisher: Independent
Release Date: 11th January, 2022
Synopsis: If you've ever dreaded a family dinner, felt terror at the blood pumping in your veins; if you've ever thought maybe the people you call kin just aren't quite right—Bloodlines will hold you in its thrall with its literary daring, blood-soaked wit, and taste for carnage. From quiet horror to caterwauling bloodshed, this quadruple feature is fun for the whole family.
A trio of sisters take turns sharing a migraine that challenges their pain tolerance—and sanity ("Our Migraine," Christopher O'Halloran).
A man struggles with his inheritance when his absent father—and namesake—dies, leaving him with disturbing visions and an unwanted purpose ("Nos Da, Tad," Antony Frost).
A young ghost watches a sinister family gathering complete with a prettier, smarter replica of herself—then, makes sure it's their last ("I Am Not to be Replaced," Carson Winter).
Following the death of his mother, the eldest of five siblings must uncover the true nature of his family's strange, isolated existence while an apocalyptic event looms ("The Heads of Leviathan," Alex Wolfgang).
This is where the family tree meets the family plot. This is Bloodlines.