Epeolatry Book Review: Blood & Bone, ed. A.R. Ward


Disclosure:
Our reviews may contain affiliate links. If you purchase something through the links in this article we may receive a small commission or referral fee. This happens without any additional cost to you.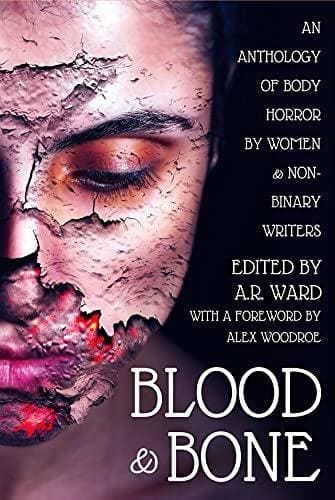 Title: Blood & Bone: An Anthology of Body Horror by Women and Non-Binary Writers
Author: Various, ed. A.R. Ward
Genre: Horror
Publisher: Ghost Orchid Press
Release Date: 22nd September, 2021
Synopsis: Since the earliest creation myths, womens' bodies have been a site of conflict, venerated and feared in equal measure. In this collection, talented female and non-binary writers let rip with twenty-two powerful, visceral body horror stories that explore, celebrate and dissect (sometimes literally) femininity and the female experience. The stories traverse difficult and sometimes controversial ground, digging into subjects like eating disorders, the beauty industry, pregnancy, infertility, body dysmorphia, domestic violence, rape and sexual abuse–all done with passion, humour, and creativity. Approach with an open mind and a strong stomach.
According to the website TV Tropes, body horror is horror "involving body parts, parasitism, disfigurement, mutation, or unsettling bodily configuration, not induced by immediate violence," which may give you an idea for what's in store within the latest anthology from Ghost Orchid Press, Blood & Bone: An Anthology of Body Horror by Women & Non-Binary Writers. Most of the stories in this anthology hit the above threshold definition of body horror, with few exceptions. 
In the Foreword, Alex Woodroe mentions, "One of the greatest things about body horror is that it's unlikely anyone reading this anthology right now is doing so by accident. You know what you want." I have to hand it to Woodroe, going in to this anthology I had expectations for the types of stories that I would encounter, and I wasn't let down. Being an anthology about both women and bodies, I expected tales of pregnancy, motherhood, self-image, identity, and troubled relationships. This anthology delivered on all of those expectations. 
 "Siphonophore," by Saoirse Ní Chiaragáin, opened the collection on a high note. The creative use of point of view and beautiful prose took a tale we all know and created something interesting and original. 
Caitlin Marceau's story, "Gastric," took on issues of body image and self-esteem and combined them with gaslighting in a heartbreaking story about a woman who is repeatedly told how she should look and feel. 
Another highlight of this collection was Evelyn Freeling's "What Goes Down, Must Come Up." Freeling puts a fresh spin on her story with creative use of second person point of view. This story was at turns intense, disgusting, and heartbreaking. 
"Knit, Purl," by Nicole M. Wolverton was another horrific tale. Very early in the story, I knew the direction the narrative was going to take, but the inevitability of the outcome didn't detract from my enjoyment. It was a horrifying accident that I couldn't tear my eyes from. 
The last story I'd like to mention is Nico Bell's "Written on her Skin." This story about the way people speak to (and about) women was absolutely stunning.  
This collection is for more than just fans of body horror. This collection speaks to the deeper horrors that women face on a regular basis, just by virtue of being female. While I didn't enjoy all of the stories equally (as to be expected with any anthology), the stories listed above make reading the book well worth your time. 

out of 5 Ravens.
About the Author
Latest Posts
Holley Cornetto was born and raised in Alabama, but now lives in New Jersey where she writes dark fantasy, horror, and weird fiction. To date, her writing appears in over a dozen magazines and anthologies. To indulge her love of books and stories, she became a librarian. She is also a writer, because the only thing better than being surrounded by stories is to create them herself. In 2021, she earned an MFA in fiction writing from Lindenwood University. She is a proud member of the Horror Writers Association.