Epeolatry Book Review: The Burning Boy And Other Stories by Denver Grenell


Disclosure:
Our reviews may contain affiliate links. If you purchase something through the links in this article we may receive a small commission or referral fee. This happens without any additional cost to you.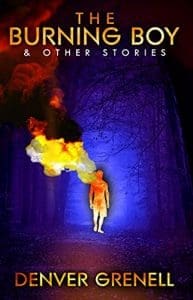 Title: The Burning Boy And Other Stories
Author: Denver Grenell
Genre: Horror
Publisher: Beware The Moon Publishing
Release Date: August 2021
Synopsis:
"A funnel of thick, black smoke rose from his body, billowing through the trees, another chimney expelling its fumes into the bitter night. The heat of the fire melted a perfect circle in the snow around him. His eyes radiated white-hot light, and they were looking straight at me."
After a tragic accident on Guy Fawkes Night, three teens are haunted by a spectral figure burning for revenge. Can they make amends before the burning boy comes calling?
The Burning Boy & Other Stories, the debut collection from Denver Grenell, delivers twists, turns, and a myriad of dark delights. Among the fifteen original tales that are sure to terrify and thrill: a young girl inherits a deadly legacy; a medical experiment goes cosmically wrong; a cruel boss finally pushes the wrong employee too far; and a watery end is just the beginning.
Whether you are a seasoned horror fiend or are venturing into dark fiction for the first time, these stories will scare you, surprise you, keep you on the edge of your seat, and won't let you go until they're done.
 I was first introduced to Denver's writing through the short story The Burning Boy, which served as the opener to Bitter Chills, an anthology from Blood Rites Horror. I remember being so enthralled with what he was able to accomplish that I immediately sent him a message praising his work. The reason for my need to communicate with him instantly was because I was quite simply in awe of this man's writing.
Within The Burning Boy Denver quickly establishes a connection between the reader and his characters – who are sympathetic and relatable, even the nasty ones – while at the same time providing a fantastical premise. This is something that he establishes again in the collection's opening story The Offering, a tightly written tale about Gods and rituals that despite its short length has surprising nostalgia for the relationships of its characters.
The Burning Boy follows – think Stephen King's Firestarter but from beyond the grave and you've got a good idea what this story is about. What I liked about it, other than the descriptions of the Burning Boy himself, was the way it showed the complicit nature people sometimes fall into because of their friends as the story's protagonist, Jamie, is forced to keep a dark secret. In its short length, the author pulls off what takes some writers entire novels to delve into with their characters. 
Like any short story collection is able to showcase the range of his writing in Ichor the reader gets a more playful side to Denver's writing.  A story that feels like it could be expanded on at a later date, fingers crossed. In The Grave, the reader gets to experience heart-wrenching loss that twists marvelously. I won't continue to give away the premises for each tale, only that each one is like a blow to the reader's imagination leaving them in awe of Denver's storytelling ability.

 out of 5 ravens.