David Hankins: Kickstarting Death & The Taxman

David Hankins: Kickstarting Death & The Taxman
By Angelique Fawns
David Hankins, a winner of The Writers of the Future contest, has written his first novel based on his award-winning short story, "Death and the Taxman." During the month of August, he has been running a Kickstart to help fund its publication, which ends on September 7th. He initially asked for $1500 US and reached his goal in two hours. As of the writing of this article, the fund was over $8500 US. I sat down to learn more about his project.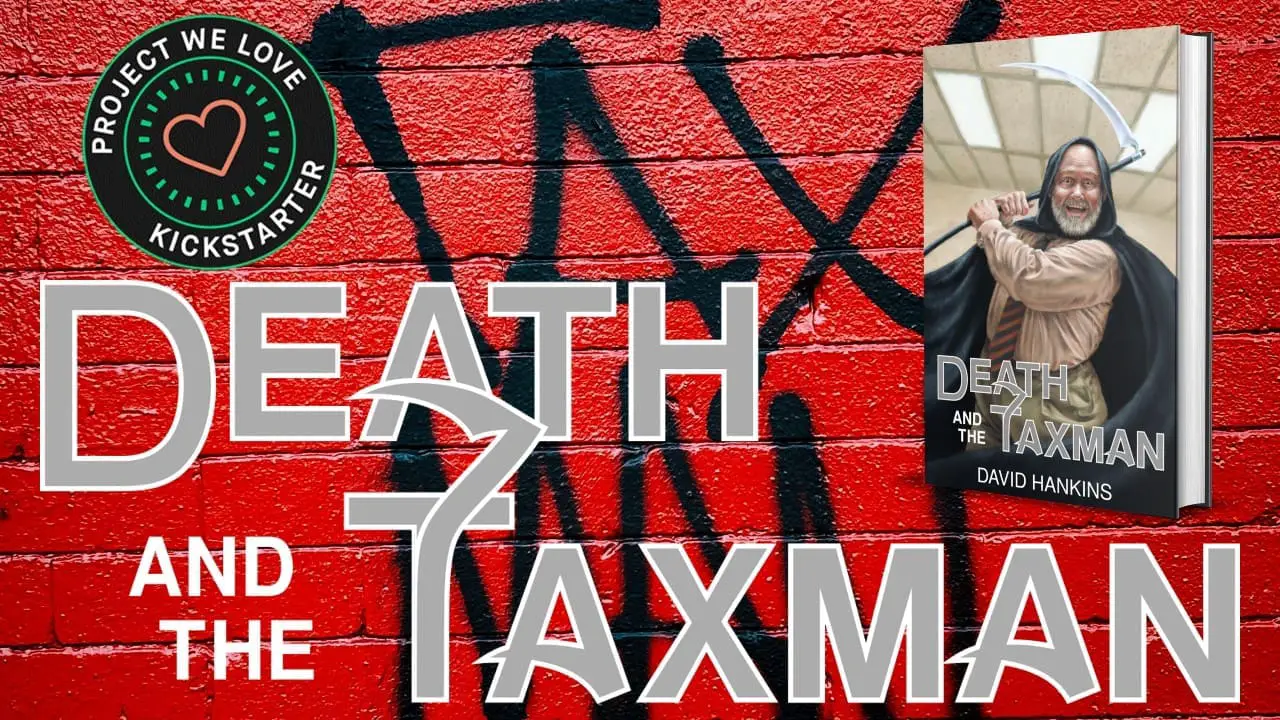 AF: Why did you choose Kickstarter, and how did you get ready for your campaign?
DH: My primary reason for launching Death and the Taxman via Kickstarter is because it's a discovery platform with its own reader ecosystem. Only a quarter of my current backers came from my established fanbase, and I'm thrilled to have reached so many more excited readers. I watched Wulf Moon's campaign for his book How To Write A Howling Good Story in January 2023, and realized Kickstarter's potential. With a successful campaign, not only will I cover my baseline publication costs (cover illustration, professional proofreader, buying ISBNs, etc.), but through stretch goals we get to add even more to the book!
I prepared for my campaign by studying as much as I could about Kickstarter. Dean Wesley Smith has a free Kickstarter Best Practices for Fiction Writers course on Teachable that provides a fantastic baseline for the platform. I also asked for advice from authors who have run successful Kickstarters, which led me to the Facebook group Kickstarter for Authors. That group has a treasure trove of advice on all those niggling little details. Like international shipping. And—this is important—I backed quite a few projects to watch the process from start to finish. Kickstarter is its own community and ecosystem, and you need to be part of it to be successful. The first fact that Kickstarter presents to potential backers is how many projects YOU have backed. So, I dove into the community and was welcomed warmly (and I got some fantastic books!).
Finally, I prepared by reaching out to the people who owned the rights to the things I wanted to provide as add-ons. I'm a new author, so I don't have a backlist of novels to provide. However, I do have quite a few short stories published in anthologies. The editors of those anthologies agreed to provide paperback copies at wholesale which I could offer to backers. I've also been working closely with Sarah Morrison, my illustrator, who is providing prints of several of her award-winning illustrations.
AF: Which resources helped you the most, and why? 
DH: I pulled equally from Dean Wesley Smith's course and the Kickstarter for Authors Facebook group. When I attended Writers of the Future in Hollywood, Wulf Moon gave a presentation on Kickstarter with a fantastic handout of dos and don'ts, but that's not a resource available to the general public. The best resource I can recommend is to dive into the community itself and start asking questions.
But beware! As with EVERYTHING in writing, you will find opposing opinions on the 'right' way. My biggest angst was reward pricing. There is no right way, but there are best practices that will lead you to success. You have to choose what works best for you.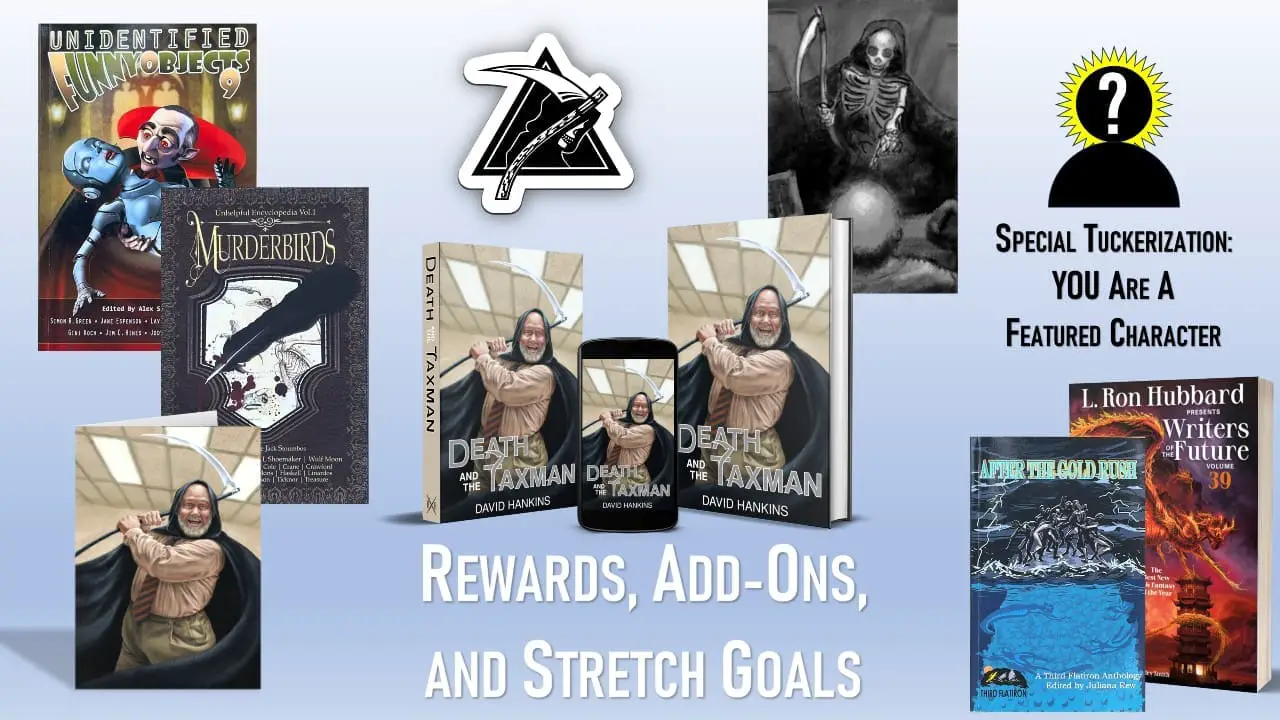 AF: Which rewards have been the most popular?
DH: By far, my "Digital Devil" eBook tier is the most popular, followed by the "Paperback Devil" tier. I set up my Kickstarter with an ala cart menu, so folks could either pick a tier with bundled extras, or just add-on what they wanted. That has worked well with many folks picking the lower tiers and then adding on anthologies or art prints to get what they want and only what they want.
AF: If you could give advice to another author (asking for a friend, who is me) on how to run a successful Kickstarter, and what to avoid, what would it be?
DH: Two bits of advice: 1. Give yourself time to set it up correctly. I took three months to learn the platform and build my campaign, and I that was about right for me. Any longer and I would have gotten itchy looking at that 'Launch' button. But others start prepping even further out. It depends on your available time. Prepping and running your first Kickstarter (if you want to do it right) takes a LOT of work. 2. Listen to the experts but know that in the end it's YOUR campaign. Make it your own, written in your voice, with your style, providing a product that you are proud of.
Huh. That sounds a lot like advice I'd give for writing a novel too.
AF: If you run another Kickstarter, what would you change? What would you double down on?
DH: For my next Kickstarter, I'll adjust my add-ons and stretch goals based on what was popular. Some items that I put a lot of time into preparing have sold…less well than expected. I think that's just part of the learning curve, though. The ala cart add-on menu worked great for me, so I'll definitely do that again. 

AF: What is next in the career of David Hankins? Will there be a sequel to the adventures of your Grim Reaper?
DH: Oh yeah, there will DEFINITELY be a sequel! Grim's next adventure will be through the bowels of Hell's Bureaucracy. HR is the worst!
AF: How has your life changed since winning Writers of the Future?
DH: Life has been non-stop since I received that call from Joni last year. I can't express how grateful I am to the folks at Writers of the Future for their pay-it-forward attitude and all the help and resources that they've provided. Death and the Taxman (the novel) was started the day after Joni called me, and now it's on the cusp of becoming a reality.

Thank you so much for inviting me back to Horror Tree! I'm thrilled at the enthusiastic support I've received so far on the Death and the Taxman Kickstarter and look forward to seeing how far it goes! The campaign ends September 7th. Check it out here:  
https://www.kickstarter.com/projects/davidhankins/death-and-the-taxman?ref=13oioi 
About the Author
Latest Posts
Angelique Fawns writes horror, fantasy, kids short stories, and freelance journalism. Her day job is producing promos and after hours she takes care of her farm full of goats, horses, chickens, and her family. She has no idea how she finds time to write. She currently has stories in Ellery Queen, DreamForge Anvil, and Third Flatiron's Gotta Wear Eclipse Glasses. You can follow her work and get writing tips and submission hints at http://fawns.ca/.