Book Review: To Offer Her Pleasure by Ali Seay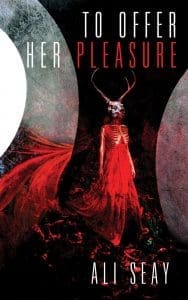 'To Offer Her Pleasure' by Ali Seay
Reviewed by: Brandi Guarino
TW: Animal death, gore
Disclaimer: This article contains affiliate links. If you purchase something through the links in this article we may receive a small commission or referral fee. This happens without any additional cost to you.
Sixteen-year-old Ben Schon, still reeling from the death of his beloved father, is faced with the loss of his mother. Not to death, but abandonment, by checking out of life with booze and men, unable to deal with the loss of her husband. Now his mom has left him, taking off on a booze- filled trip with her boyfriend. Ben is used to being the adult in the house, so very little changes with her departure, other than the emptiness and silence of the house.

Desperately missing his father, Ben begins seeking out relics of his father's short life- wearing his Doc Martens, sipping his port, smoking his pipe, and exploring his dad's books in his man cave. While perusing his dad's bookshelves, he comes across a book titled To Offer Her Pleasure. Inside the book is a robed, horned woman standing in profile. Soon the robed figure communicates with Ben through the book with one word: Sacrifice.
Soon Ben is seeking to fulfill the robed woman's every appetite and whim, it only takes blood and sacrifice.
When Weirdpunk Books offered the opportunity to review To Offer Her Pleasure, I jumped at the chance. Having just read and reviewed another of their titles, I knew I was in for a good read. I was most definitely not disappointed. Ali Seay knocked this book out of the park. I was hooked from page one and could not put it down until I finished Ben's story. It is provocative, gory, and gripping.
I loved the character development Seay put into creating Ben. He starts out as this sad, lonely kid who misses his dad and morphs into a cold, uncaring shadow of his former self. When I was reading this, I kept thinking of the stages of grief and how Ben's character changes throughout the story to almost epitomize those stages: beginning in grief for his father, isolating himself in his house away from others, anger with his mother's abandonment, bargaining with the entity to obtain his wishes, rage when dealing with his mother and her lover, and finally acceptance of how his life will be from here on out. A wholly satisfying read from beginning to end.

/5 Ravens
Available at Amazon.
Thank you to Sam Richard at Weirdpunk Books for providing me with an e-ARC of this book for me to read and review. All thoughts and opinions are my own.
Reviewer Bio:
Brandi Guarino is a voracious reader and has a To Be Read list that never ends. She is passionate and committed to championing the work of independent writers and publishers in horror, science fiction, and fantasy.
She is on Twitter at @bgbibliophile
And Instagram at www.instagram.com/brandi_the_bibliophile.
About the Author
Latest Posts
The Horror Tree is a resource for horror authors which was created in 2011. The main goal when starting the site was to include all of the latest horror anthologies and publishers that are taking paying submissions. A resource useful for both new and experienced publishers alike looking for an outlet for their written material!