WiHM 12: Quick Six Questions With Naching T. Kassa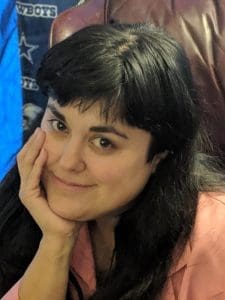 Welcome to The Horror Tree, and thank you for participating in Women In Horror Month. First, tell us a bit about yourself and your interest in horror. 
Thank you for having me, Selene. Always a pleasure.
My name is Naching T. Kassa and I'm a wife, mother, and horror writer. I'm also an Assistant at Crystal Lake Publishing and Head of Publishing for HorrorAddict.net. Horror has been a part of my life since the age of three, when my dad showed me King Kong on TV. I was hooked on horror after that and was lucky enough to grow up during the Golden Age of horror in the 80s.
Why is Women In Horror Month important, and what do you say to someone who says 'Oh, I don't care if it's by a man, a woman, etc., as long as it's a good story'?"

I think it's important because it celebrates these unsung writers and brings attention to their work. There are so many women writers out there and no one knows their names. 
What would I say to such a person? I'd say, "If you don't care, then can I give you some suggestions? Here are some books you can read, they're all by women writers."
Who are some Women in Horror (or other women) who have influenced your work, and why?
One of my biggest influences in horror is Kathy Ptacek. I read her book, Ghost Dance at the age of fifteen and it really resonated with me. Fast forward to 2014, when I joined the Horror Writers Association and volunteered as a proofreader for the HWA Newsletter. Who should I meet? I met Kathy Ptacek! She was editing the newsletter! I couldn't believe it.
Kathy writes horror, mysteries, and romance. She also edited the first anthology featuring all women authors. Everyone should check out Women of Darkness Vols. 1 & 2.
2020 will probably be remembered as a TERRIBLE year for many of us; tell me something GOOD that happened in the past 12 months.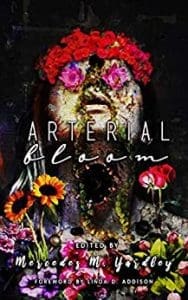 Well, on the writing front, I had eleven short stories, fourteen flash fiction stories, and one poem published. I also started writing stories about my other great love—Sherlock Holmes. Last year, I was published in three anthologies featuring the great detective. And, this year, I will be published in three more! I also joined a Sherlock Holmes scion called The Sound of the Baskervilles, based in Seattle.
What have you got planned for Women in Horror Month, and the coming months of 2021?
I interviewed several ladies for Women in Horror Month, and it will appear in the HWA Newsletter. I asked eleven women for their best piece of advice about writing. They had some terrific responses!
This year, I'll be writing more episodes for Still Water Bay, a fiction series on Crystal Lake Publishing's Patreon. The first three episodes are free and available here: https://www.amazon.com/Introduction-World-Still-Water-Bay-ebook/dp/B08L9QDPGL 
Is there anything else you'd like to tell our readers? Thanks for participating in Women in Horror Month! 
Sometimes, Crystal Lake will put out a call for pitches by guest authors. These are for episodes of Still Water Bay. I hope some of the ladies out there will consider submitting when the time comes. 
And, if you're looking for a good read, why not try some of these wonderful writers? 
Kathy Ptacek, Rena Mason, Mercedes M. Yardley, Nicole Givens Kurtz, Eden Royce, Linda D. Addison, Nemma Wollenfang, Marge Simon, Nina D'Arcangela, Erin Lydia Prime, Mary Ann Peden-Coviello, Mary Ann Back, Lisa Morton, Dana Fredsti, Elizabeth Massie, Nancy Holder, Nancy Kilpatrick, Emerian Rich, H.E. Roulo, Valjeanne Jeffers, Lee Murray, Christina Sng, Gwendolyn Kiste, Meghan Arcuri-Moran, Christa Carmen, Vonnie Winslow Crist, Theresa Derwin, Stephanie Ellis, Jessica Stevens, Selah Janel, Jeannine Hall-Gailey, Jess Landry, Gaby Triana, Sunni Ellis, Lori R. Lopez, Janine Pipe, L. Marie Wood, Ashley Davis, Patricia Watson, Anna Rose, Nattie O'Sheggzy, Melissa Mendelson, Shannon Lawrence, Sherry Decker, Lori Wolfe Safranek, Gemma Files, Alice Loweecey, Scarlett Algee, R.L. Merrill, Suzi Madron, Tara Vanflower, Renee DeCamillis, Monique Snyman, Alyson Faye, Nora B. Peevy, Adele Marie Park, Rose Blackthorn, Rie Rose, A.F.Stewart, MJ Sydney, Kami Garcia, Carina Bissett, Amanda Niehause-Hard, Sheikha A, Laura J. Hickman, Stephanie M. Wytovich, Querus Abuttu, Debbie Christiana, Stacey Turner, Sumiko Saulson, Lisa Mannetti, Jennifer Loring, Sara Tantlinger, Kat Hutson, Clarissa Johal, Elaine Pascale, J. Lincoln Fenn, Kathryn McClead, Nancy Scuri, Sephera Giron, Sandy Rozanski, Wendy Spurlin, Lisa Lane, Faith Dincolo, Mary Turzillo, Cheryl Alleyne, Angela Yuriko Smith, Selene MacLeod, and a host of other ladies. (I'm so sorry if I left anyone out.)
Thank you for having me!
Links:
FACEBOOK LINK: https://www.facebook.com/Shademistress
TWITTER: https://twitter.com/nachingkassa
WEBSITE: https://nachingkassa.wordpress.com/
About the Author
Latest Posts
Selene MacLeod is a night operator and sometime writing hobbyist. She holds a BA in Communications from Wilfrid Laurier University and resides in Kitchener, Ontario. Her work has appeared in several horror and crime fiction anthologies, most recently Shotgun Honey, Drag Noir (Fox Spirit Books); and the upcoming Freakshow: Freakishly Fascinating Tales of Mystery and Suspense (Copper Pen Press), and Tragedy Queens (Clash Media).She's most excited about editing a charity anthology for Nocturnicorn Books called Anthem: A Tribute to Leonard Cohen, due out late 2017.