I've brought plenty of "cheese on toast" (to complement my customary pot of tea) for this Spooky Six interview with author Megan Taylor!
(Interested in haunting the UK Ghost Story Festival yourself? Check out the exciting lineup of the festival events here: https://www.ukghoststoryfestival.co.uk/schedule and purchase your tickets here: https://www.ticketsource.co.uk/ukghoststoryfestival.)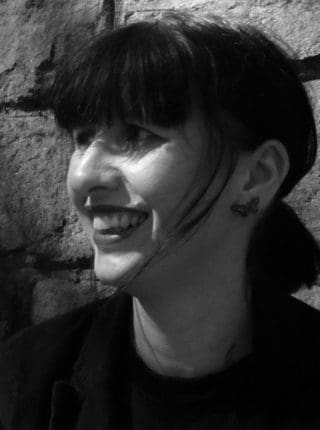 Megan Taylor is the author of four dark novels. Her first, How We Were Lost, an unsettling coming of age story, was published by Flame Books in 2007 after placing second in the 2006 Yeovil Prize. This was followed by The Dawning, a domestic thriller set over the course of a single night, in 2010, and The Lives of Ghosts, a mystery about repression, inheritance and motherhood in 2012 (both published by Weathervane Press). Her fourth novel, We Wait, published by Eyrie Press in 2019, is a haunted house story, exploring first love, prejudice and betrayal.
Megan also writes short stories, some of which form her collection, The Woman Under the Ground (Weathervane Press, 2014), beautifully illustrated by Nikki Pinder. Further stories have been shortlisted in various competitions, including the Brighton Prize and The Walter Swan Short Story Prize and Tin House's Shirley Jackson competition. TSS Publishing released Megan's Waiting for the Rat as a chapbook single after choosing her as one of their Selected Writers, and Megan's short stories can also be found in a variety of other publications including Neon Literary Magazine, The Invisible Collection from Nightjar Press, and the Dark Lane Anthologies. Most recently, her work has appeared in Undertow's Weird Horror #5 and GONE, a crime anthology from Red Dog Press.
Megan lives in Nottingham, where she provides Creative Writing workshops and courses when she isn't busy playing with her own stories.
To find out more, please visit www.megantaylor.info or her Amazon page, www.amazon.co.uk/Megan-Taylor/e/B004XIOAQU/ref=dp_byline_cont_book_1 or connect with her on Twitter @meganjstaylor.
You can also read Megan's short story, "Your Neighbour's Packages", online in the World Goedam Collection, http://www.bifan.kr/eng/program/project_10.asp, which united strange and scary tales from UNESCO Cities of Literature across the world, or listen to The Dining Room Ghost, from the Classic Ghost Stories Podcast https://podcasts.apple.com/us/podcast/episode-48-the-dining-room-ghost-by-megan-taylor/id1480201597?i=1000474062515.