WIHM 2022: The Haunted Shirley Jackson
The Haunted Shirley Jackson
When I told my husband about this article he said, "Who's Shirley Jackson?" I mentioned a few titles and he remembered her work. But he has a legit question. Who was Shirley Jackson? So many writers cite her as an inspiration. Who was the woman behind the words?
Shirley Jackson led a complex- some would say chaotic- life. Born December 14th, 1916 she was anything but conventional. Even her birth (a little over 9 months after her parents married) was borderline. Her parents hoped that their daughter would learn to think and behave the correct way, say the correct words. She did none of these things.

Shirley wrote every chance she got and from a young age. Some years were more productive than others but it was never stagnant. Her circumstances constantly influenced her writing. Things she might not have the courage to do in real life she could certainly do on the page. She created worlds and situations that we would call normal. But layer by layer she peels back revealing situations and characters that may or may not be a bit crazy in the end.
She never thought of herself as particularly strong. Yet with everything she fought through in her life she was. Her parents, her mother, in particular, were never satisfied with her. She wasn't considered pretty and she wasn't proper either. She also had these outlandish ideas for stories. Oh, and she was serious about her writing (her mother hoped that it would be a passing phase). Her choice in a husband was even wrong. Her husband was notorious for sleeping around on her. Society didn't accept her as a "real" writer. She just wrote that weird fiction.
Yet despite all that, she was a prolific writer. And her husband was the biggest supporter of her writing. Even before their marriage, Stanley Hyman would encourage Shirley's writing. While he became a well-known critic he was always aware that he would never be able to write like Shirley. He was always there pushing her to do her best on the page. She always turned over her writing for Stanley to edit.
Many of her essays and short stories were tongue in cheek. Especially the ones she wrote about her family life. She wrote full-time on top of caring for four children and a husband. And all the other modern ideas that she was expected to adhere to. But when she wrote about it it seemed like some silly big adventure that she was on.
But it is her other work that haunts us. When The Lottery was published in the New York Times the mail received regarding that story surpassed any other piece they have ever printed. People were shocked and outraged. That could never happen! Still, others wrote in fear because they saw similarities in local happenings.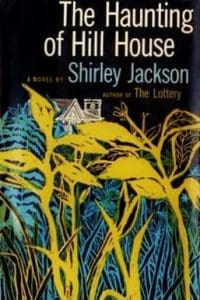 Other haunted works include The Haunting of Hill House, Hangsaman, The Bird'sNest and We Have Always Lived In The Castle. In her novels, she presents things as normal but slowly peels back the story to show how not normal things are. People are shocked when they read and can relate strongly with the main characters who "suddenly" develop these idiosyncrasies that reveal them to be far from normal. People begin to look at themselves and wonder if they too might be hiding something beneath.
But her strength on the page and what people saw was a contradiction to what was going on inside. The hurt and feeling of not being good enough that always came up when Stanley confessed to another affair took its toll. The snubbing and berating from her mother all those years also took their toll. Shirley always felt that she was lacking somewhere. Even with the overwhelming support of her husband. (It is interesting to note that everyone always said how in love that Shirley and Stanley had been. Despite his cheating, which he always said was merely physical because he loved only her, they were considered a perfect couple.) Shirley never felt like she was enough. She was always falling short somehow in her mind. Those feelings led her to pills and alcohol to try to cope. These "worked" for a while but not surprisingly failed in the end.
Shirley knew she could write and knew that she wrote well. She left us an amazing assortment of stories of horror, essays on domestic life, and even a children's book on the Salem witch trials The Witchcraft of Salem Village. (I was surprised to see that she had written a total of three children's books.) Shirley Jackson was an amazingly versatile writer! She appealed to her audience no matter what the venue. Her characters were believable and her situations plausible. Which is what made her horror so scary. Her essays on writing and raising children always brought a smile and usually several chuckles. Her unique take on things was evident no matter what she did. The world is a richer place because of that.
About the Author
Latest Posts
After losing my job of 15 years almost a year ago I decided to pursue my dream of being a freelance writer. I have a few novels and many short stories tucked away while I write for the local paper as well as write books reviews with the occasional interview.
I am the proud Mom of three Pitbulls, a turtle, a snake and many mice. I prefer horror and mysteries but I also have a vast selection of history books. I also love Minions.?