WIHM 2022: An Interview With Editor Nicole M. Wolverton
In celebration of Women in Horror Month, we are continuing to highlight some of the amazing work that women have been doing compiling and editing magazines and anthologies in the horror industry. We're continuing our Women Who Edit Interview series with Nicole M. Wolverton.
Could you introduce yourself, and tell us a little about you?
I'm Nicole M. Wolverton, a (mostly) horror novelist and Pushcart-nominated short story writer—and I also do a little bit of editing here and there. I was raised in the rural hinterlands of Pennsylvania (which I attribute to my interest in horror) and now live in the Philadelphia area, where my day job is mostly speechwriting. I'm also a part-time masters student, an elections official, and an assistant dragon boat coach.
My first novel, The Trajectory of Dreams, is an adult psychological thriller released by Bitingduck Press in 2013. Since then I've had more than two dozen short stories and almost a dozen essays and creative nonfiction pieces published in publications such as the Saturday Evening Post, Hungry Ghost, and the Nighty Night with Rabia Chaudry podcast and in anthologies from Ghost Orchid Press and Dark Ink Books, among others. 
Last year (2021) I had the distinct pleasure of being invited by the owner of Sliced Up Press to edit a horror anthology centered around menopause—it was an idea that I'd been kicking around, and Ben—the owner of the press—thought it would be a good idea. Turns out that it was! The quality of content that was submitted to what became Bodies Full of Burning was incredible, and I'm very proud of the final product.
What is (or was) the most rewarding aspect of editing an anthology, magazine, or collection?
Finding just the right combination of stories that a) represent the aesthetic you have in your head for the anthology. As I said, the quality of work submitted was stellar, and we had a very good response to the call for submissions—still, you never know what you're going to get when you take on this kind of project, and I'm still a relatively new name in the horror community. It was incredibly humbling that so many people were willing to trust me with their work. 
And once the stories were selected, it was even more rewarding to work with each individual writer to shine up the work and get to know them a little. I fully admit that I feel this strange . . . I don't want to say ownership, because that's not quite what I mean . . . it's more that I feel they're my people, like we're part of soul family (which also sounds insane). I really root for them when they have new work out, and I feel like I've made good friends through the editorial process. That's not something I anticipated, for sure, but it's definitely a nice bonus. 
What is (or was) the worst aspect of editing an anthology, magazine, or collection?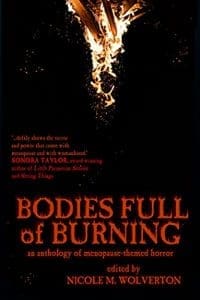 The rejection process is hideous. I'm a writer myself, so I know how crushing it can be sometimes to get a rejection—and I know I keep harping on this, but the submissions were all so good. I've seen a few of the submitted pieces that didn't end up in Bodies Full of Burning get published elsewhere, and it was so exciting to see. And I learned something from the rejection process: oftentimes, a rejection has nothing to do with the quality of your work—rather, it has everything to do with the story that the editor wants to tell and what pieces have already been accepted.
As an example, the submission call for menopause-centered horror fiction generated a lot of stories that included hot flashes, including many that made hot flashes the main plot point. Well, you can't have an entire anthology where it's story after story like that—because menopause is way, way more than hot flashes. The end result for the Bodies Full of Burning is that, no matter how much I loved some of these stories, I couldn't include them all. I try to keep that in mind when I'm submitting work of my own to a call—curation for an anthology is super subjective.
In your opinion, what are the most important aspects of creating a collection or issue?
The most important aspect for me when I was putting together Bodies Full of Burning is that I had a very strong point of view—and expectation for what I wanted the final product to look like. Not just the variety of stories told, but the range of experiences represented. Well-put-together anthologies seem to have that in common, and it's obvious when you read something that's had a lot of thought and care put into it. 
Is there anything you'd like people to know about you or your work?
I had a great time putting Bodies Full of Burning together, and I'd love to edit another anthology. I've had this idea for a fiber arts-centered horror anthology that I think would be brilliant—I'm waiting for some intrepid publisher to agree with me! A short story of mine that was published last year—"Knit, Purl," which appeared in Ghost Orchid Press' Blood & Bone anthology—is about grief and knitting, and I feel like there's so much more to mine in the areas of sewing, knitting, spinning, weaving, embroidery, etc. If I didn't already have a masters thesis chosen (horror consumption and resiliency), I'd be tempted to tackle it entirely myself for a collection. 
As much as editorial work has been fun, I continue to write. Currently, I'm concentrating on writing an adult horror manuscript—it will be a surprise to my agent because I'm pantsing it. I'm normally a super outliner, but the pandemic seems to have gotten me to a place where I need to try something different. It's inspired by the house across the street from mine that seems to be up for sale every other year, and which—mysteriously—no interior photos seem to exist. 
If we'd like to cyber stalk you, where can we find you online?
I'm a regular on Twitter at @nicolewolverton, or you can find me at my website, www.nicolewolverton.com.
Link(s) to anthology/magazine/etc. you'd like our readers to check out:
You can find out more about Bodies Full of Burning at the Sliced Up Press website, and it's available in a range of formats from a variety of shops, including Amazon and Kobo.
A selection of my more recently published works include:
About the Author
Latest Posts
Holley Cornetto was born and raised in Alabama, but now lives in New Jersey where she writes dark fantasy, horror, and weird fiction. To date, her writing appears in over a dozen magazines and anthologies. To indulge her love of books and stories, she became a librarian. She is also a writer, because the only thing better than being surrounded by stories is to create them herself. In 2021, she earned an MFA in fiction writing from Lindenwood University. She is a proud member of the Horror Writers Association.