WIHM 2022: An Interview With Editor Michelle River
In celebration of Women in Horror Month, we are continuing to highlight some of the amazing work that women have been doing compiling and editing magazines and anthologies in the horror industry. We're continuing our Women Who Edit Interview series with Michelle River.
Could you introduce yourself, and tell us a little about you?
Hello, my name is Michelle and I am the owner of Eerie River Publishing.
I have smart and feisty four year old daughter and fifteen month old son, so I pretty much survive on lukewarm coffee and determination these days. 
What is (or was) the most rewarding aspect of editing an anthology, magazine, or collection?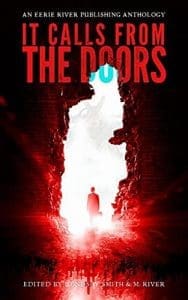 For me the most rewarding aspect of publishing and putting together these fantastic anthologies is getting to highlight the indie authors involved with them. Finding new and emerging voices, uplifting talented authors and getting to know them personally is so much fun.  That and being able to read all of their excellent work is the best part.
What is (or was) the worst aspect of editing an anthology, magazine, or collection?
Besides the hundreds of hours that goes into it, the worst aspect – or at least the hardest for me – is making the final selections. At the end we have around fifty stories that are honestly great in so many different ways. Fine tuning the final selections and having to say goodbye to the ones that maybe just don't fit, or are too close in story lines to other selections is difficult. I do not enjoy those final round emails when they are the unfortunately nots. 
In your opinion, what are the most important aspects of creating a collection or issue?
There are so many parts that make an anthology and every part is important. Editing, formatting, cover art and fine details like that are critical to make a book stand out from other anthologies. But I think the most important aspect is the quality of stories. The stories have to be well written, fit to the theme and interesting. No one wants to read a boring story … well I don't want to read a boring story. 
Is there anything you'd like people to know about you or your work?
Eerie River Publishing, independent publishing house devoted to offering indie authors paid writing opportunities and releasing high-quality works in dark fiction.
​From the moment we opened our doors we have prided ourselves with knowing that we have made it our practice to make sure that we pay our authors because we wholeheartedly believe that indie authors, like all artists, should be paid for their work.
​
What does that mean? It means that, outside of drabbles, each and every word published in our books and on our website has been paid for. We don't ask for free stories and we always make sure our authors are paid first. Every single time. As a new publishing house this is a huge commitment, but a necessary one. 
​
Growing a business like this is not done in a vacuum. It takes support, readers, followers, reviewers, editors, authors, and people that have our back. Thanks to those that buy our books, merchandise, support us on Patreon and routinely like, comment, share, and follow us on social media, we have been able to grow every year. 
If we'd like to cyber stalk you, where can we find you online?
Everywhere, seriously. I am everywhere.
https://www.eerieriverpublishing.com/
https://www.patreon.com/EerieRiverPub
https://twitter.com/EerieRiver
https://www.tiktok.com/@eerieriver?
https://www.instagram.com/eerie_river/
Link(s) to anthology/magazine/etc. you'd like our readers to check out:
https://books2read.com/afterseries
https://books2read.com/MonstersMayhem
https://books2read.com/SENTINELBOOK
https://books2read.com/MiracleGrowth
https://books2read.com/ITCALLSBOXSET
About the Author
Latest Posts
Holley Cornetto was born and raised in Alabama, but now lives in New Jersey where she writes dark fantasy, horror, and weird fiction. To date, her writing appears in over a dozen magazines and anthologies. To indulge her love of books and stories, she became a librarian. She is also a writer, because the only thing better than being surrounded by stories is to create them herself. In 2021, she earned an MFA in fiction writing from Lindenwood University. She is a proud member of the Horror Writers Association.